Perhaps it was spending formidable childhood years in the shadow of Mount Vesuvius that helped mold Michael Russotto's tastes — as a Navy brat living in Naples, Italy, he could see the apocalyptic volcano from the window of his family's apartment.
"I really love dark comedy that pushes the boundaries of what we can laugh at," says the 44-year-old thespian performing in The Faculty Room at Woolly Mammoth Theatre Company. "This play speaks to my sensibility. It's a little bit verboten."
In Bridget Carpenter's play, Russotto plays Carver Durand, a gay teacher with a past. Carver is one of the teachers playing out his role in the confines of a glum teachers' lounge.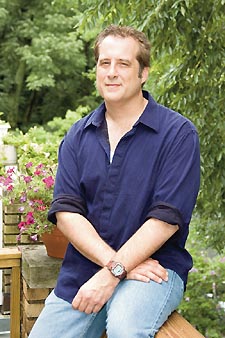 Russotto
"It's about these teachers," explains Russotto, who like Carver is also gay. "[Carver] is a nice guy who's trying hard to atone for his past…to the point where he's almost exiled himself. It's really quite fun. It's very dark, but it's very funny."
Some of the fun centers on two other teachers — one man, one woman, both straight — as they make a game of setting romantic sights on students.
Russotto admits to his own inappropriate romantic interest in his seventh grade gym teacher — "a redneck, but an educated redneck" — which no doubt helps him portray Carver. But student-teacher relations are beside the point, he insists.
"[Director] Howard Shalwitz really had a very helpful take," says Russotto. "He said the play is about love — the extreme measures to which people go when they find themselves smitten. In this play, there happens to be some inappropriate love. At first it's just a game. Then it takes a turn."
The turns, adds Russotto, have some audience members unfortunately fixating on the inappropriate, rather than on the universal messages Carpenter writes about.
"We do get a lot of young people and a lot of teachers coming to the show. Most of them understand that this is a play, but some are quite outraged…. Faculty Room is really about love, and being lost, and trying to find yourself. It's a struggle everyone goes through." — Will O'Bryan
The Faculty Room runs through July 9 at Woolly Mammoth, 641 D Street NW. Tickets are $30 to $48. Call 202-393-3939 or visit www.woollymammoth.net.