As the Rehoboth Beach high season began Memorial Day Weekend, it coincided with the trigger of an ongoing story with enough twists and turns to keep Jessica Fletcher, TV's fictional beachfront sleuth, running in circles. It's an as-yet-unresolved tale of peculiar business deals, obscenity, crimes and a community. And it's a story with roots nearly two decades old.
The cast of characters starts with Jeff Balk, publisher of the gay entertainment and nightlife magazine, EXP. During the summer, his magazine — operated out of Rehoboth with three editions covering the Mid-Atlantic, the Midwest and Colorado — prints a combined high-end total of about 28,000 issues every other week.
Whether Balk is victim or villain in this story depends on one's point of view. Either way, Dan Gaffney is his nemesis. Gaffney, general manager and program director for Rehoboth-based WGMD News Radio, "The Talk of Delmarva," is the host of a local call-in show.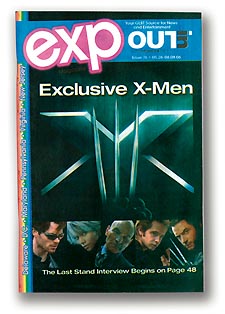 Cover of controversy-generating edition of 'exp' magazine
Rounding out the triumvirate of players is Ethan Interactive Inc., a gay media company based in Columbus, Ohio, better known by its online entity, Out in America. The company, which also holds print interests, touts its online network of city-specific gay Web sites as reaching a monthly average of seven million households in North America and Europe. The company says its print media reach 227,000 readers monthly.
According to a copy of a contract dated April 29, 2006, signed by Balk and Ethan Interactive Executive Vice President and CFO Greg McConnell, that was the date that Balk sold EXP to Ethan Interactive for 200 shares of that company. A separate deal employed Balk as "president of publishing" at EXP. One of the first issues printed under this new arrangement was the May 26-June 8 issue, featuring the Out in America logo on the cover, along with images from the summer blockbuster X-Men: The Last Stand. This issue also offered some new, Out in America content, including the advice column "Dear Doug."
It was a combination of content that left Gaffney decidedly unhappy.
While the Ethan Interactive-EXP deal is not of any apparent consequence to Gaffney, he's blasted the combination of the kid-friendly X-Men cover and the prurient content of "Dear Doug." In this installment, "Doug" — billed as "Out in America's resident sex and relationship guru" — fielded letters regarding penis aesthetics, voyeurism, watersports (not of the ocean resort variety) and freezing one's own excrement for use as a sexual device. That crossed Gaffney's line.
"Delaware law says it's illegal to distribute certain materials to minors. I believe this certainly falls within those boundaries," says Gaffney. "I'd like to see charges brought against [Balk]."
Gaffney adds, in a quote from the WGMD Web site, "It's a new way to abuse children that is not too far removed from what he did in the '80s." Gaffney is referring to Balk's criminal history, pointed out to him by a source he refuses to name. But Gaffney has posted archival stories from the St. Louis Post-Dispatch on the WGMD site detailing Balk's convictions in Missouri in 1988 for the sexual abuse of boys ranging in age from 13 to 15.
According to those reports, Balk, now 48, confessed to sex with five boys between January 1984 and April 1986 in return for cash and gifts. Brian Hauswirth, a spokesperson for the Missouri Dept. of Corrections, confirms that Balk was convicted in 1988 of one count of sodomy, 11 counts of deviate sexual assault in the first degree, and theft of more than $150. Allowed to serve his sentences concurrently, Balk was imprisoned for seven years, followed by three years of "conditional release," a Missouri-specific equivalent of parole. Balk was also placed in a program for sex offenders. A letter Balk wrote from prison to the Post-Dispatch extolling the virtues of such programs has also been added to the WGMD Web site.
Despite the breadth of Balk's crimes, he does not appear on either the Delaware or Missouri sex-offender registries. Delaware's registry only lists those convicted after June 27, 1994. And though the Missouri registry, established in 1995, was intended to list all convictions since 1979, the Missouri Supreme Court ruled June 30 that the state's law could not be retroactive. Accordingly, no one convicted before Jan. 1, 1995, is included.
Regardless, the convictions are germane not only to Gaffney, but to others who find the content of EXP, a free magazine readily available around Rehoboth and its other locales, to be inappropriate.
"I was extremely sad to leave," says Hassan Sudler, a D.C.-area board member of the National Lesbian and Gay Journalists Association, who edited EXP Mid-Atlantic's precursor, the Rehoboth Beach Gayzette, of which Balk purchased a majority share in early 2003. Within five months, Sudler had resigned. "I still believe [Rehoboth Beach Gayzette] was an excellent beachside gay newspaper. I was very sad to see it devolve into little more than pornography.
"Someone from the Gayzette contacted [Gaffney] about Jeff Balk, which is how I think he found out about the whole past," says Sudler, whom Gaffney interviewed on-air after Balk's convictions resurfaced.
But Balk's troubles did not end with an airing of his dirty laundry. They'd only begun. On June 29, Ethan Interactive issued a press release stating, in part: "Ethan Interactive/Out in America has rescinded all agreements with EXP Magazine concerning the acquisition of the magazine. A recently conducted in-depth review of EXP Magazine and its publisher revealed that it is not a good fit for Out in America's current business model, built on a mission to be the most respected LGBT media property."
Calls to Ethan Interactive regarding the deal were referred to Jonathan Mabry, director of marketing. Mabry did not respond to numerous requests for comment from Metro Weekly. He did, however, tell the Philadelphia Gay News for a story published July 7, "The due diligence wasn't finished. We were still in the review period." According to the PGN story, Mabry would say nothing more about the deal, though he did add that Balk could've exercised better judgment than to print the "Dear Doug" column that caught Gaffney's attention.
While Balk has no interest in revisiting his court convictions, save to emphasize that they are nearly 20 years old, he has certainly not been shamed into silence. Instead, he's issued his own press release calling Gaffney "right-wing" and questioning the legality of Ethan Interactive's attempt to back out of the purchase.
"On April 29, they purchased the assets of EXP. The second deal was I was offered employment, as the president of publishing, effective May 1," says Balk, who has provided Metro Weekly with copies of the purchase contract, the offer of employment and his stock certificate for 200 shares of Ethan Interactive as evidence. "When the radio show exposed my conviction and arrest from 20 years ago, they offered to buy [my 25 percent share of Ethan Interactive] back. But now they're saying I never owned it."
Balk, who won't reveal the value of the stocks, says he's hired legal representation in Columbus, Ohio, to challenge Ethan Interactive's attempt to back out of the deal. He also lays the "Dear Doug" controversy at that company's feet.
"The 'Dear Doug' column has been on Out in America for two years. This was the first time it appeared in EXP," says Balk, adding that his new features editor, Derrick Chinn of Ethan Interactive, selected the column. Whatever his publishing responsibilities at EXP, Balk says he did not read the column until after it hit the streets. "The first I read it was when there was a concern from an advertiser. It forced us to push deadlines up by two days [for additional time to review copy]."
Although Balk has pledged to continue publishing all three editions of EXP while the magazine's ownership is determined, he says he would like Ethan Interactive to honor the contract and to buy back his shares of the company. Whether he would remain with EXP as an Ethan Interactive employee is anyone's guess, he says.
Meanwhile, the question of just who owned EXP when it published the "Dear Doug" column that raised some Rehoboth eyebrows may take on greater weight in the coming days. Janice Fitzsimons, public information officer in the Delaware attorney general's office, says her office has received two calls about whether EXP violated the state's code in regard to distributing obscene materials to minors, and that the matter is under review.
Gaffney insists that his pursuit of obscenity charges has nothing to do with homophobia, but simply decency and the concerns of his listeners, who fill the WGMD online forum discussing Balk and EXP.
"When people call and complain, it's an issue. I get a lot of people saying, 'Keep up the good work.' It's a very hot topic," says Gaffney, adding that he's interviewed Balk in the past, and that Balk has advertised with WGMD. "[Balk] is incorrect when he portrays me as targeting gay businesses…. Some of the gay businesses have made this a great place."
On the other hand, Chris Riss, a well-known gay face in both D.C. and Rehoboth Beach, says the beach's gay community is not nearly as interested in the commotion as are Gaffney and his listeners.
"Partners [Bistro & Piano Bar] pulled their [EXP] ads in a sort of public display. Otherwise, I've not heard a peep, and I've got my ear to the ground all the time," says Riss, who compiles the "Rehoboth Beach Buzz" listings. He's also listed as an EXP columnist, though he says the magazine has merely pulled from his listings. He's also a longtime advertiser with EXP.
"As far as Dan Gaffney making it a topic on his radio show," Riss continues, "he'll do it as long as he gets enough calls. There've been dozens of things related to the gay community he's made a fuss over. And that's his job. I don't blame him for doing his job."
As Gaffney does his job, Balk has pledged to do his, saying, "Nobody has been terminated. We [at EXP] are all still employed with Ethan Interactive." But can readers expect the July 21 issue to hit the stands as scheduled?
"If we're all still employed."