Christina Aguilera brags, boasts and blusters her way through her new album, Back to Basics. Nothing surprising about that. She's told us before, and she tells us again: She's a fighter out to prove a whole host of things. That a woman can be sassy and classy. That a woman can be street-smart and sophisticated. That a woman can be slutty and sappily married. All at the same time. And also, she's out to prove that this woman's got staying power, that she's got skills and talent, that she can out-sing every other female pop singer around.
There's little that's subtle about Aguilera, and all her exaggerated actions and provocations seem to draw from some deep-seated insecurities, or a serious need for attention. At least she has gained confidence in the seven years she's been on the pop scene, and she displays stunning maturity on this, her third studio album, which also works to prove that she has nothing left to prove. She may not be as great as she says she is — on the "Intro" track she lines herself right up next to the greats she says inspired her in making this album, just after she's introduced as "the one and only, there will never be another." But on the evidence of Back to Basics, she shows herself to be as great as other contemporary pop singers, female and male. Make that pop singer-songwriter: Aguilera co-wrote every song and executive produced her entire album, a tribute to past generations' soul music that also manages to sound hot and fresh for today's hip-hop generation.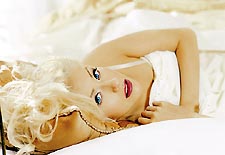 Aguilera
As much as Aguilera touts the greats, from Aretha Franklin to Etta James to Minnie Riperton, what you also hear is the influence of more timely predecessors that go unmentioned. She specifically seems to take inspiration, in strong-willed style and calculated ambition, from Janet Jackson and Madonna, who have both produced high-concept, retro-minded, soul-pop albums. You could say, then, that what you have in Aguilera is the newest blond-ambition gay diva, at least for the generation just coming into adulthood.
But really, it seems too early to say all that. Sure, Aguilera already earned gay cred by virtue of the brazen, sexually liberated antics stamped all over her last album, Stripped, and especially through that album's quiet, gay-affirmative hit ballad, "Beautiful." But she doesn't go gay again on Back to Basics. And the album suffers from her characteristic flaw to overdo things, to prove she's the opposite of subtle. She's too showy for her own good. Like Jackson, Aguilera creates sprawling albums — in this case, two. Disc two, save for a couple of tracks that would work just fine on disc one, should have been offered as a bonus or limited-edition EP, something dedicated fans could seek out. And speaking of that, her "Thank You (Dedication to Fans)" serves nothing so much as her own ego.
It's all part of a piece — it's not enough for Aguilera to show us what she can do, she insists on telling us, as well, stating the obvious and overstating her case. Yes, she has remarkable ambition, and Back to Basics is exceptionally strong because of her bold vision in producing it. But she spends too much time telling us about what she's doing, rather than letting the music speak for itself. And she still hasn't seemed to learn — as Mariah Carey finally has — that you don't always have to flaunt your vocal prowess. Sometimes the best way to get attention and gain respect is through restraint. Instead, Aguilera generally insists on beating the music into submission to her welterweight vocal weaponry.
She doesn't do it on "Save Me From Myself" though, and her restraint proves the point. Her sweet and sensitive delivery makes the track stand out. It also makes you overlook the song's otherwise over-the-top lyrics written to her new husband, music executive Jordan Bratman, about how great he is for loving her, blah, blah, blah. More than any other inspiration, Bratman is the star of this album and he almost steals the show, especially on fluttering first single "Ain't No Other Man." Aguilera spits out her boast: "You got soul, you got class/You got style, you're badass."
She may be singing to her man, but the way she sings it brings attention back to her. Yes, Aguilera, you do have soul, class and style, and you are badass. You win again.