The beginning and ending of Robert Wone's fatal last night are clear — it's the unknown story of how and why he was murdered that has left the D.C. gay community buzzing with rumors and unanswered questions.
Wone was stabbed three times in the chest in a second-floor bedroom of a renovated Dupont Circle townhouse on the night of Wednesday, Aug. 2. He was pronounced dead a short time later at George Washington University Hospital.
The lack of cooperation from the three gay men who live in the home has unleashed an unprecedented police forensics investigation. So far, there are more questions than answers.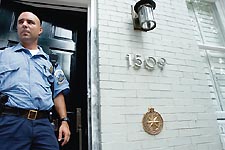 A police officer guards the entrance to the Swann Street townhouse where Robert Wone was murdered.
The victim was, by all accounts, a personable and accomplished young man. Wone, 32, who was the child of Chinese immigrants, grew up in New York City. He came to D.C. six years ago to work for the prestigious law firm of Covington & Burling. Earlier this summer he became general counsel for Radio Free Asia, a nonprofit organization that broadcasts news to Asian countries that lack a free press. He also was president-elect of the local chapter of the Asian Pacific American Bar Association.
Wone lived with his wife of three years in the Washington suburb Oakton, Va. But he often spent the night in town with friends from his college years, ostensibly because of his long work hours. Because some of those friends were gay, that has caused some to speculate about Wone's sexual orientation.
On the night of Aug. 2, Wone and a colleague attended a D.C. Bar association course and separated at about 9:30 p.m. Over the next two hours, Wone made his way to 1509 Swann St. NW, the house where he would later be brutally slain.
The house was purchased within the last year by Joseph Price, 34, and Victor Zaborsky, 40, for nearly $1.3 million. Price and Wone knew each other from their undergraduate days at the College of William and Mary. They exchanged e-mails earlier in the day on Aug. 2.
Price is an intellectual properties attorney with Arent Fox, a large D.C. law firm. He co-founded the gay rights group Equality Virginia and serves as its legal counsel. He has litigated several prominent gay rights cases on a pro bono basis, including the recent decision by the Vermont Supreme Court on child visitation for a lesbian couple who dissolved their civil union, with one returning to live in Virginia.
Price and Zaborsky were prominently featured in a 2004 article on gay parents in USA Today — each has provided sperm to a lesbian couple, producing two sons who live with their mothers in Maryland.
The third resident of 1509 Swann St. is Dylan Ward, who was the development director for Equality Virginia until May of this year. Price was instrumental in securing the grant that allowed Equality Virginia to hire Ward, according to the organization's Web site.
All three told police they were asleep when the attack on Wone occurred, at about 11:30 p.m., and that it must have been done by an intruder. The police became suspicious of that story when they could find no evidence of forced entry or burglary. Then the residents of the Swann Street house clammed up, each retaining a lawyer.
Police forensics technicians found evidence that the "crime scene had been tampered with, including the area where the victim's body was located had been cleanedÂ…trace blood evidence was located on the walls, floors, sofa bed and door frame of the bedroom where the decedent was killed," read the affidavit of Detective William Xanten III in seeking a search warrant from the court.
That kicked off a massive processing of the property, with the help of FBI forensics experts, for any piece of evidence that might contribute to proving who murdered Wone, or to demolish any alternative scenario that a future defendant might offer.
That investigation has stretched into a second week.
Smudges of black powder used to dust for fingerprints are clearly visible on the white front window frames and casings. There were reports of hammering and sawing coming from the townhouse, suggesting that portions of the blood-spattered walls and floor might have been removed for processing, to hold as evidence. .
"The owners are going to have to renovate the place before they move back in," said Sgt. Brett Parson, commanding police officer of the D.C. Gay and Lesbian Liaison Unit, who is participating in the investigation.
The warrant also extended to Price's office at Arent Fox. It was searched and his computer was taken for examination.
Parson acknowledges that with lawyers for the residents having become involved so quickly and the lack of cooperation from Price, Zaborsky and Wade, the department is particularly sensitive to the need to do everything by the book so that the case is not thrown out on a minor technicality.
That means taking the time to fully process all of the forensic evidence they have gathered, and then re-interviewing all of the residents of 1509 Swann in light of that evidence, sifting for inconsistencies.
Says Parson, "We are going to close this case, though it is going to take a while."