In these parts, the start of the Atlantic hurricane season means more than flash flooding and power outages. It means it's time for another Atlantic Stampede Rodeo — the weekend-long shindig sponsored by the Atlantic States Gay Rodeo Association (ASGRA). This year is no different, with cowpokes and cowpoke-wannabes saddling up the 15th annual event this weekend, Sept. 8-10.
For past participants and attendees, ASGRA's Patrick Hunter says there won't be too many surprises. The rodeo events will remain the same out at the Montgomery County Agricultural Fairgrounds in Gaithersburg, with in-town festivities at the Hyatt Regency Washington on Capitol Hill. It all kicks-off Thursday night, Sept. 7, with a party at Remington's, and wraps up Sunday night at the D.C. Eagle.
Hunter adds, however, that there will be a slight change to the offerings at the rodeo grounds: breakfast.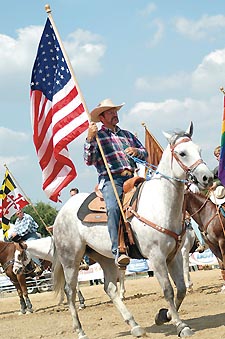 Atlantic Stampede 2005
(photo by Ward Morrison)
"New for this year is a food vendor for breakfast and lunch," he says. "You can have both desires satisfied. If you have other desires, you can probably have those satisfied at the rodeo as well."
The sly Hunter won't expound on what those desires might include, but there is a range on offer. The rodeo line-up includes the thrilling "bare-back bronc ride;" the crowd-pleasing camp events of goat dressing, steer decorating and the "wild drag race;" and assorted riding and roping to please any rodeo tastes. ASGRA's signature "Dolly Madison Race," held on Sunday, is a must-see. It's also open to anyone willing to pony up $10 and campily recreate Madison's efforts at preserving White House Americana from advancing British troops.
The D.C. Cowboys non-profit dance company will have to do their part to quench more salacious desires. Aside from dancing as only they know how, they'll only be selling the group's 2006 calendar and DVD at both the rodeo and host hotel, with some proceeds to benefit Whitman-Walker Clinic.
"Selling them at the host hotel is for people who don't want to carry that all way from the rodeo grounds," says Hunter. "They can carry a full year of the D.C. Cowboys right up to their hotel room. And who wouldn't want that?"
Joining the D.C. Cowboys, as they have for years, is the Manhattan Prairie Dogs. While rodeo regulars are surely familiar with this dance troupe, first timers can get an introduction from one of the founders, as well as the group's director and choreographer, Jon Lee.
"It's kind of night and day," explains Lee of his group's similarity to the Cowboys. "They're all about testosterone and taking off their shirts. It oozes sex. At the same time, they're very precise, very well rehearsed, and very well done. We, on the other hand, are much more comic. We're a little more free and easy. If they're oozing testosterone, we're probably oozing femininity.
"'Camp'," he continues, "makes it sound like we're being a bunch of big fags — which we are. But we're not doing drag…. We're men in skirts, and that makes you want to twirl. We don't always dance in skirts, but it's kind of become our trademark."
From the choreographed routines, back to the unchained, anything-goes chaos of the rodeo, ASGRA Board Vice President Jackie Thompson will be doing her part in the dust to keep attendees entertained with some "chute dogging" and calf roping. Just don't ask her to ride a horse. She's been horse-shy since one stepped on her foot when she was a girl at summer camp. She was wounded again more recently, during a chute dogging competition, an event in which competitors have limited time to wrestle steers to the ground.
"I got dragged by a steer," she recalls. "His horn stuck in my breast and he used it as a pivot point…. After that, I got a little more respectful of steers and decided to take a break from chute dogging. I didn't do it last year. But I realized I enjoyed it and really missed it. I tried it again at a rodeo in Fort Lauderdale in April, and I won." Fully recovered from her run-in, Thompson is aiming for more than the booby prize this year.
Though the steers and horses may not always cooperate, Thompson says the mood of the Atlantic Stampede is a laid-back good time, friendly to its core. Lee says the same, adding that he and his band of Manhattan Prairie Dogs regard their invitation as a privilege, and wouldn't miss the rodeo even if they weren't performing.
"It's just a really fun thing to do," says Lee. "People are coming in from all over the country. There's the mystique of the rodeo, and dancing going on constantly. It's just a great atmosphere to be in. We spend all year telling people up here they have to go. Generally, it's the highlight of our year."
Hunter nearly guarantees that anyone coming out to Atlantic Stampede will feel similarly.
"People should know that when they come to the rodeo, they should expect a good time and a friendly crowd," he says. "For people who are returning, it's a good chance to reconnect with some good friends. For everyone, it's a good chance to make some new friends. It's the best party you can have with your boots on."
For a complete schedule of Atlantic Stampede offerings, visit www.asgra.org/stampede2006.