If Adam Rapp were to compose a suicide note, he may as well point to his script for Red Light Winter and call it a day. A stark and deeply tragic play bloated with his own dark neuroses, Red Light Winter explores the very human need to matter to someone else. Masquerading under the premise of a seedy love triangle that stretches from the red light district of Amsterdam to the East Village in New York City, Rapp's solemn exploration of friendship and unrequited love is a disturbing odyssey into our own ideas of how we blur the boundaries between kindness and cruelty.
Matt (Jason Fleitz) and Davis (William Peden) have been close chums since freshman year at Brown University. Never mind that the two are worlds apart in compassion and pathos — Matt being the socially awkward playwright and Davis the handsome and gregarious life of the party — they are each other's best friend. As they enter their thirties and Davis prepares for his impending wedding, they tour Europe for one last ode to their fleeting youth, renting a tiny room in an Amsterdam hostel. They're such good buds that Davis has hired a prostitute from one of the street windows to cheer up his roommate, ailing from a recent intestinal virus.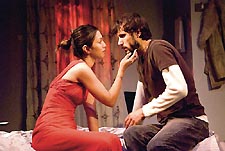 Bed buds: Aquino and Fleitz
(Photo by Scott Suchman)
It's obvious from the play's opening scene that Matt isn't a happy traveler. In fact, he's ready to take drastic measures until Davis pops in and interrupts the grim proceedings. His arrival is both a blessing and a curse, as Rapp soon divulges the thin line between savior and tormenter. Davis bestows his "gift" upon Matt, a pretty young Parisian who aspires to sing like Nina Simone. It isn't long before Christina (Regina Aquino) reveals that she has fallen for Davis, obsessing over the "dickish and macho" kind of asshole who puts ketchup in your milk carton when you're not around. And so Matt obsesses over Christina, a doe-eyed waif who isn't exactly naïve — or innocent.
Rapp asks, what is the difference between want and need, right and wrong when you love someone? And when do you stop forgiving those who hurt you over and over again? They're exactly the kinds of brooding questions we've come to expect from Rapp, who recently received a Pulitzer Prize nomination for his semi-autobiographical work. With his white hot, explicit writing and painfully acute awareness of how fragile the spirit can be, Rapp provides a perfect platform for the kind of gritty, unapologetic theatre that Studio is renowned for. And with Joy Zinoman at the helm of Red Light Winter, all of Rapp's awkward and lusty sexual encounters feel devastatingly realistic.
Zinoman directs with her signature style and nuance, beginning the evening with Fleitz pacing on stage pre-curtain. Her actors investigate all of the possibilities hidden in Rapp's rapid-fire dialogue, including squeamish sight gags and rich, lingering glances. Fleitz, who has been with the production since its Chicago premiere (under Rapp's direction), has mastered the body politics of a man who lives in a permanent state of lonely misery. His is a precise, crushing performance that is contrasted by Peden's obnoxious Davis, a despicable, loathsome antagonist with a slight glimmer of humanity that renders his interpretation unsettling and, alas, believable. Aquino is a livewire of contradictions, both ordinary and extraordinary, exotic and commonplace, and her desperation is as palpable as Fleitz's heartbreaking vulnerability.
Ultimately all three of Rapp's characters are two-dimensional people longing to connect with each other, a recurring theme that Rapp first presented in Nocturne. The evening ends as it begins, with no profound revelations, no optimistic resolution, no personal transformation. It's a cold and hollow message that flickers off and on, like cheap red neon beckoning men to believe that sex is an acceptable substitute for love.