Forget American Idol. These days, it seems you have to be a former Mouseketeer to catch a critical break in the pop music world. Okay, forget Britney too. Just think Justin and Christina.
All the praise heaped on Timberlake's and Aguilera's latest albums may be justified, but you can't help but feel for indie singer-songwriter upstarts like Alice Smith. Smith, who has as much talent and taste as those two Mouseketeers combined, actually cites them as being responsible for the death of rock 'n' roll.
"Boys and girls from the Mickey Mouse Club, clocked it in the head," Smith sings on her bluesy fight song "Fake Is The New Real." Aguilera only wishes she had been able to include such a musically glorious retro-rouser on her Back to Basics album.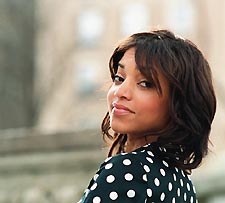 Smitten: Smith
(Photo by KT Auleta)
But D.C.-reared Smith isn't actually spiteful or angry elsewhere on her marvelous tour-de-force debut, For Lovers, Dreamers and Me. She's mostly happily in love — as smitten and passionately in love as you'll be, from the first song to the last. The sweet album opener, "Dream," is as winsome as they come, progressing from sweet lust to all-consuming obsession as her agile alto voice travels up its four-octave range. "There was a time when I didn't have you around," Smith sings about the new lover she intends to keep. "Back in them days my heart never made a sound/Now it's beating loud, my heads in the clouds/Never doubt that Imma always be down to hang around you."
She's still smitten and obsessed by album's end, when she channels Burt Bacharach, shifting through chord and time changes — all in a valiant, and what could only be successful, effort to win over a lover: "Oh baby, this love endeavor, don't have to last forever/Come on and share whatever you want with me."
Smith, 27, is in the same league as Jill Scott, Alicia Keys, N'Dea Davenport or (ahem) Aguilera: young neo-soul singers with powerful pipes and a real jones for old-school mid- and uptempo R&B. But those immediate predecessors have already succeeded in bringing soul back, and Smith successfully distinguishes herself with a serious passion for rock 'n' roll, to say nothing of jazz and blues, and even country.
Her Southern-tinged sound has an unpredictable but real grittiness, owing clear allegiance to similarly hard-to-categorize pioneers Tina Turner and Nina Simone. She sings about retreating from her current New York City base on "Woodstock," a place that allows her to unwind and get a little trippy and psychedelic. Later, she does more than create an oasis in a musical desert — by throwing her full voice into "Desert Song," she turns dry, barren land into a veritable swamp.
With her debut, one's tempted to say, Smith is bringing sultry back. It's unlike anything you've heard from those Mouseketeers.
Another charismatic female vocalist with a real verve for bluesy, psychedelic pop-rock is at the helm of Persephone's Bees. On its major-label debut, Notes from The Underworld, this San Francisco-based four-piece evokes the Rolling Stones and the Beatles. Especially weird and wonderful late-period Beatles, that is, when John Lennon and Paul McCartney were incorporating Eastern influences into their erstwhile Britpop. The Bees are fronted by Russian-born Angelina Moysov, who wrote all but one of the album's 11 songs. She mixes in sounds she heard growing up, from gypsy folk music to Russian punk to, of course, British rock and New Wave and the result is a fetching, eclectic brew.