Ah, the holidays, a time when all the old theatrical chestnuts come out. There's The Nutcracker and A Christmas Carol. And don't forget this other tale as old as time, set on The Feast of the Epiphany:
Dominatrix/mother of a mentally challenged adult daughter turns 40 and begins to doubt her chosen profession. Client of the dominatrix/single mum, a suburban dry cleaner with a fondness for being humiliated while wearing women's clothing, throws a party where the guest list includes the birthday girl's ultra-religious housecleaner and a Chinese Elvis impersonator-in-training. Oh, and the housekeeper suffers from a severe obsessive-compulsive disorder that causes her to count to five when anxious. And the daughter dreams of becoming a world-famous ice dancer. And the Chinese Elvis is actually Vietnamese. And gay.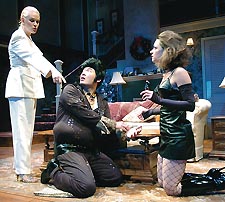 Holiday spirit: Hylton, Nam and Tiffany Fillmore
(Photo by Stan Barouh)
And there's a tent. And snow. And an aptly named lime green drink called "A Catastrophe."
Okay, so it's not actually a well-worn holiday chestnut, but with its production of Charlotte Jones' Martha, Josie and the Chinese Elvis Woolly Mammoth Theatre Company has turned the holiday show on its head to spectacular results. From its jewel box of a set to a cast that shines brighter than the silver tinsel tree in the center of the stage, Woolly has taken full advantage of this strange but brilliant play.
While there is an urge to rush forward and give proper praise and applause to the actors, full ovations must be given to playwright Charlotte Jones. Best known for her award-winning play Humble Boy (2001), Jones also wrote the book for The Woman in White (2004), an Andrew Lloyd Webber musical. A deft writer with the ability to take an audience from flat-out humor to genuinely heartfelt sadness, Jones offers an original and compelling voice. After all, it's not every show that ends a bitter mother-daughter battle with a line like, "I'm sorry Elvis. This has nothing to do with you."
Everyone in Director John Vreeke's cast is wonderful to watch on stage, although there is occasionally a desire to feel that some are in better control of their character.
Sarah Marshall plays Martha, the housekeeper, with a dryness and restraint that makes her a sheer delight to watch. Marshall has a keen sense of her audience and knows when to play a gag a bit longer or reel it in short. One is tempted to refer to her as a great comedienne but that would dismiss some of the lovely dramatic turns she takes during the show. In the end, Marshall is simply a great actor.
Martha, Josie and the Chinese Elvis
To Dec. 10
Woolly Mammoth
Theatre Company
641 D St. NW
$32-$52
202-393-3939
www.woollymammoth.net
Beth Hylton, as dominatrix Josie, appears to be having a great deal of fun in her performance, which would seem to be an easy task when one is playing a dominatrix suffering her way through a midlife crisis. Kimberly Gilbert is Josie's daughter Brenda Marie, who dreams of ice dancing for Canada (despite the fact that she lives in England). Here again is an instance where an actor's ability is seriously tested and absolutely proven. It would be easy for Gilbert to play Brenda Marie's disability for quick laughter. But Gilbert takes great care with her performance. The audience most definitely laughs with the young woman and not at her.
Tony Nam's Chinese Elvis is a marvelously written character whose true heart is sometimes lost beneath the sight gags. And David Bryan Jackson's Lionel wobbles a bit between being lonely and sweet, which appears to be Jones's intention, to coming off a bit lecherous and frightening. None, however, should feel anything but pride in their performances.
It is highly unlikely that Martha, Josie and the Chinese Elvis will become an annual holiday fixture. All the more reason to take advantage of this gift D.C. theater audiences have been offered by the people at Woolly Mammoth.