It is the best of albums, it is the worst of albums. With apologies to Charles Dickens, never before has there been a more polarizing release by Britpop idol Robbie Williams than his latest offering, Rudebox.
In a radical departure from his usual stadium rock and middle-of-the-road pop balladry, Williams has crafted an eclectic album that incorporates dance club beats, hip-hop and funk and filters them through an '80s prism. With a panoply of producers and a multitude of musical styles, Rudebox lacks the cohesiveness of the artist's previous releases, coming off as a mix tape for an ADD generation.
Undoubtedly the most adventurous album of his career, it's also the most superficial. Therein lies the rub. If you're looking for depth and substance, you certainly won't find it on Rudebox. However, if you're just looking for a few great dance songs to play alongside retro-inspired tunes by Justin Timberlake and Gwen Stefani, then this is the ticket.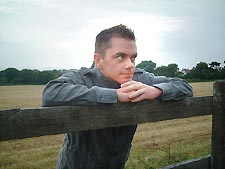 Electro-popster: Williams
Williams may be a late arrival to the electro-pop party, but he certainly knows how to make a grand entrance. Rudebox is an irreverent, cheeky collection that never takes itself seriously. It pays tribute to the music of the singer's youth with clever lyrical homages to artists ranging from George Michael and A Flock of Seagulls to Run DMC and the Beastie Boys.
It's immediately apparent from the moment the title track kicks off Rudebox that this is no ordinary Robbie Williams album. A bass-heavy floor-filler, "Rudebox" has a way of wedging itself in your brain with its infectious, yet utterly meaningless, chorus. The half-rapped song with nonsensical, stream of consciousness lyrics lifts the rhythm track and a portion of the chorus from Jamaican duo Sly & Robbie's '87 single "Boops (Here To Go)."
Williams shifts gears numerous times, from the dance-meets-bluegrass hick-hop of "Viva Life On Mars," to "Good Doctor," a silly, self-deprecating take on prescription pills and addictive behaviors delivered in a thick Manchester accent.
Cover songs account for a large percentage of Rudebox, and they're all over the map in terms of source and style. Williams channels Jamiroquai (or is it latter-day George Michael?) on his disco-funk cover of Lewis Taylor's "Lovelight," one of the most accessible and memorable tracks on the album. After experimenting with falsetto on the chorus of "Tripping" on his last album, Williams takes the plunge and this time sings the entire song in his upper register. The song is pure pop ecstasy. His most eccentric song choice is Manu Chao's "Bongo Bong and Je Ne T'Aime Plus" (aka "King of the Bongo"), a Matthew McConaughey-worthy reggae ditty that segues into French pop, with guest vocals by Britpop newcomer Lily Allen.
Also included is a faithful and unnecessary remake of Human League's "Louise," a synth-pop confection helmed by William Orbit. Its stagnant beats are so simple and dated that they could have been created in Williams's bedroom on a Casio 20 years ago. At the other end of the spectrum is a splendid update of "Kiss Me" by Stephen "Tin Tin" Duffy, who co-wrote and co-produced all of the songs on Williams's last album.
Advertisement

| | | |
| --- | --- | --- |
| Robbie Williams: Rudebox | Robbie Williams: Greatest Hits | Pet Shop Boys: Fundamental |
Synth-pop mainstays the Pet Shop Boys team with Williams on a pair of songs. In the land of derivation, he covers the Pet Shop Boys' cover of "We're the Pet Shop Boys" by New York City electronica collective My Robot Friend. Williams and Neil Tennant share vocals over a dream-like wash of synths and drum machines. The Boys return on "She's Madonna," which they produced and co-wrote with Williams. Taking its musical inspiration from Kraftwerk's "Tour De France," the song is an ode to Madge's irresistible sex appeal. "No man on earth could say that he don't want her," Williams declares.
Thankfully, Williams buries the self-indulgent autobiographical tracks "The '80s" and "The '90s" near the end of the album. "The '80s" juxtaposes personal experiences with pop culture references to ill effect: "Auntie Jo died of cancer / God didn't have an answer / Rhythm was a dancer." "The '90s" gets even more specific as it chronicles Williams's turbulent five-year stint with boy band Take That. Both songs are heavily influenced by the Anglo rap of The Streets.
Is Rudebox simply a creative diversion along the lines of Williams's swing and jazz standards collection Swing While You're Winning, or is he, at 10 years into his solo career, attempting to reinvent himself as his heroine Madonna routinely does? We won't know for sure until the next album drops. In the meantime, forgive the occasional nonsensical lyric and enjoy this for what it is — an album that's feisty and fun, if somewhat flawed, just like Robbie Williams himself.