For all the public furor Bond fans made when Pierce Brosnan was shelved after 2002's Die Another Day, only to be replaced for Casino Royale by the virtually unknown Daniel Craig — a fair-haired, blue-eyed, rugged-looking sort — you have to at least give producers Barbara Broccoli and Michael Wilson credit for making the second best decision in the series' 44-year history. (The first was Cubby Broccoli's hiring of Sean Connery in 1962.) Craig plunges into the role headfirst ready for action, ready to prove himself worthy of the 007 mantle. And, aided by a brilliant screenplay and stunning direction, he more than succeeds. A direct descendant of Connery's Bond, Craig is a virile, tougher secret agent whose strength lies in his determination to get the job done.
Casino Royale revives, rejuvenates and refreshes the series — it is the best, most enjoyable Bond in three decades. Watching it, you realize what it must have been like for 1962 audiences to experience Dr. No for the first time. Call it a view with a thrill.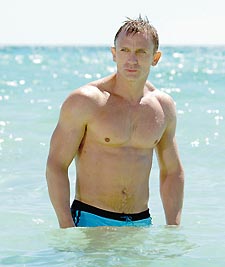 Secret agent stud: Craig
The movie remains within the parameters of Bond tradition, but tweaks the formula just enough to bring back the excitement. It is tremendously enjoyable from the opening scene: a violent, arduous bathroom killing in stark black and white that melts into a stylishly realized credit sequence, long the hallmark of Bond films.
Working with director Martin Campbell, who last took the helm for 1995's GoldenEye, Broccoli and Wilson have gone back to basics, dispensing with the crazy, over-the-top things that had driven Bond movies way over the edge (invisible cars, Denise Richards as a nuclear physicist), instead focusing energy on telling the story of how Bond came to be Bond. Throughout the film, there are subtle references as to how 007 became attached to his iconic preferences, including his sleek, silver Aston Martin and his thirst for martini. As for the supporting characters, there's been a scaling back. M and Felix Leiter are here, but there's no Q or Moneypenny (but there is a clever nod to M's romantically pining secretary in the script).
Craig's Bond starts out as a thug operative, a "blunt instrument" with, as MI-6 head M (Judi Dench, piercing as ever) notes, "an overdeveloped trigger finger." After his first two kills, he's promoted to "00" status, but is as yet an unformed spy. He's ego-driven, impatient, arrogant — qualities that he'll have to shed if he's going to live to see another adventure. Over the course of the movie, Bond is molded into the man we know and love, fast on the draw, quick with a quip, fearlessly bound to get the job done at the expense of his humanity. "If you do what I do for too long, there's no soul left to salvage," he soberly remarks to Vesper Lynd (Eva Green), a British treasury agent who's been assigned to see that Bond doesn't lose 10 million pounds at a high stakes poker game against Le Chiffre (the wonderfully understated Danish actor Mads Mikkelsen), banker to the world's terrorists.
Written by Neal Purvis, Robert Wade and Paul Haggis, the movie cleaves, more or less, to Ian Fleming's original storyline, even including the book's infamous torture scene, a moment that finds Sir James in the most vulnerable position of his life. It is, without question, the darkest, most shockingly realistic moment ever to find its way into a Bond film.
Campbell's action scenes are huge, heart-pumping and hyper-driven, yet they remain grounded in a reality that has escaped Bond since the Roger Moore days. There's gravity at work here, nowhere more evident than on a thrilling chase atop a high-rise construction site. Campbell doesn't gussy up the film with hyperactive editing. Rather, he lets the action carry the cinematography. It's how action scenes were shot thirty years ago and, as Campbell proves, it's still the most effective way.

Area Showtimes
CASINO ROYALE
Starring Daniel Craig, Mads Mikkelsen, Judi Dench
Rated PG-13
144 minutes
Area theaters
The movie traverses the globe, and every locale — from Montenegro to Venice — is given an exotic, sumptuous feel, recalling the Bond films of the '60s. David Arnold's score retains several signature Bond-isms, though the title song, performed by Chris Cornell, lacks punch. (Why not just hire Dame Shirley Bassey to belt out one of her signature retro-style melodies?)
Daniel Craig becomes the role and, more importantly, the role becomes him. Craig may not have the suave sex-appeal of Pierce Brosnan, but he is undeniably sexy. He's a far more buff, vigorous Bond, less superman than man. When this Bond gets in a scuffle, his face displays the bloody cuts and bruises like badges of honor. He's quick with a snappy comeback (mostly to Green's appealing Vesper, with whom he shares a potent chemistry), without resorting to corn. The evolutionary process of Craig's Bond is impressively subtle, and doesn't make itself fully apparent until the film's final, absolutely perfect shot.
It is remarkable that the Bond franchise has endured for 44 years and 21 films. After 2002's Die Another Day, many feared it had seen its finale. But no. With Craig in the driver's seat, this new and improved James Bond will die another day. Not today. Not tomorrow. And not for many, many years to come.