While the Democrats made gains by taking the U.S. House of Representatives Tuesday, the country's gay community got handed a mixed bag of results. The stench of 2004's across-the-board marriage amendment losses was in the air, but the odor was not nearly as pungent this time around.
In Arizona, with 97 percent of precincts reporting, voters seem to have voted down an expansive state constitutional amendment that would have banned same-sex marriage as well as all existing domestic partnerships between both same-sex and opposite-sex couples. According to the National Gay and Lesbian Task Force, the vote in favor was 51 to 49 percent as of Wednesday morning. The Arizona Elections Service Division did not have a declared outcome by Metro Weekly's Wednesday deadline.
"It is always wrong to put basic rights up for a popular vote and it is nearly impossible for any minority to protect itself when that happens," said Task Force Executive Director Matt Foreman, in a Nov. 8 release. "Today in Arizona it looks like the impossible happened."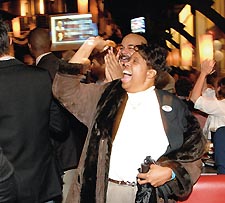 Donna Payne reacts to election results at a Human Rights Campaign and Victory Fund election party
(Photo by Henry Linser)
The "impossible" remained just that in the seven other states facing similar measures: Colorado, Idaho, South Carolina, Tennessee, South Dakota, Wisconsin and right here in Virginia. While pockets of the Old Dominion trounced Ballot Question No. 1 — 62.5 percent against in Williamsburg, nearly 70 percent in Richmond, 65 percent in Petersburg, 69 percent in Falls Church, 77 percent in Charlottesville, 70 percent in Alexandria — the commonwealth's unofficial data Wednesday morning shows the amendment passed with a 57 percent win.
"I had two objectives: One was to win, the other was to leave Equality Virginia and the LGBT community stronger," says Claire Guthrie Gastañaga, campaign manager for the Commonwealth Coalition, created to defeat the Virginia amendment. "We didn't accomplish the first, but we did accomplish the second."
While Gastañaga says the Coalition's resources, such as voter files, will fall to Equality Virginia, it's a lack of resources she blames for the loss — particularly in the face of incumbent Republican Sen. George Allen's juggernaut.
"Sen. Allen was spending millions to drive the issue to support his election," she says. "In our case, we had nothing in the environment to support us."
Similar to the Coalition, Kelly Young of Ballston founded To Keep Us Safe, a Web-based effort fighting the amendment. Despite losing, he was in good spirits Wednesday morning. "I want to stay and fight. I'm thinking about getting more involved in local politics now. Losing is always disappointing, but the numbers tell you where the wave is going. That the pro-amendment side had to fight at all surprised them."
Results in the Allen race were among the tightest in the country. As of Metro Weekly deadline, it was still uncertain whether he held his seat or lost to Democratic challenger Jim Webb. With nearly 100 percent of precincts reporting Wednesday morning, Webb was ahead by little more than a quarter of a percent, making a recount likely.
To the immediate north, Maryland did not face any homophobic ballot measures. Voters in that state did, however, have the opportunity to oust a governor who has opposed gay civil rights — and they took it. Incumbent Gov. Robert Ehrlich Jr. (R) lost to Baltimore Mayor Martin O'Malley (D). Equality Maryland, the state's leading GLBT advocacy group, counts this race as the most important Election Day battle.
"Ehrlich Â… vocally supported a constitutional amendment banning equal marriage rights, and supported a measure in Congress to prohibit gay adoptions in the District of Columbia," Dan Furmansky, head of Equality Maryland, wrote in part in a Nov. 8 letter to supporters. "O'Malley is a friend to the LGBT community who opposes a constitutional amendment and supports a number of measures pivotally important to the LGBT community Â…."
Larry Jacobs, chair of Equality Maryland's Political Action Committee, echoed Furmansky's sentiments Wednesday morning, saying the mood among the group's members was "very good," adding that the PAC will step to the back as the group's legislative arm moves to the fore to work with a gay-friendly governor and Legislature, including Maryland's first openly gay state senator, Rich Madaleno (D), currently serving as a delegate from Montgomery County.
The best mood Wednesday morning may have belonged to D.C.'s Alexander Padro, the openly gay ANC 2C commissioner who defended his seat Tuesday. His four-member ANC grabbed headlines this year as his fellow commissioners voted against him to protest a liquor license for the gay owned Be Bar at 1318 Ninth St. NW. While happy at retaining his own seat, Padro said he was "ecstatic" to see ANC 2C Chair Leroy Joseph Thorpe Jr. defeated by Kevin Chapple.
"We had five candidates come forward after the Be Bar mess. I think that's what made people wake up and smell the coffee," says Padro, explaing that he and former ANC 2C Commissioner Lydia Goring interviewed the possible candidates before choosing Chapple to challenge Thorpe. "It's a great step forward for everyone in our neighborhood."
Two gay men, John Tinpe and Richard Rogers, sought the two remaining ANC 2C seats, but were defeated by incumbents Doris L. Brooks and Barbara Curtis, respectively.
Across town, Bob Siegel, who served as proprietor or landlord for several of the gay-oriented businesses displaced by the proposed Washington Nationals baseball stadium, defeated a challenger for his ANC 6D seat in Southeast.
In other district races, there were no surprises. In partisan races, Democrats swept the field, save for openly gay independent incumbent David Catania, who held his at-large City Council seat. In nonpartisan races, Robert Bobb took Board of Education president, while Lisa Raymond and William Lockridge took the Board's District III and IV seats, respectively.