Andrew Hudson's life has always revolved around art. The native of Birmingham, England, who ended up in Washington in 1965, has painted, studied, taught and even critiqued other artists' work throughout his long career.
Now, after more than 35 years of teaching history and writing at the Corcoran College of Art & Design, the founder of the school's Department of Academic Studies is sharing artwork he created three years ago in new exhibit titled "Paintings and Drawings from 2003," on display through Dec. 14 at the Geoffrey Diner Gallery. It's Hudson's first show in 10 years.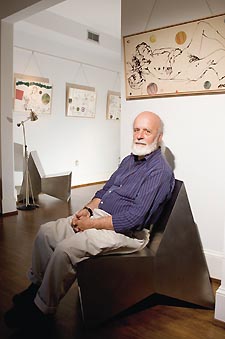 Hudson
"I had a sabbatical year from school, so I could spend more time in the studio," he says. "It was like a rebirth, a wonderful space to have time to do art, and I began working with models, which I hadn't done for some time. It's not too unlike the work [I did] 20 years ago, except it's not done in the same medium. [Those] I did in colored pastel canvas, and they were larger. These are done in acrylic in canvas."
The gay artist hasn't slowed down since creating the pieces featured in the exhibit, and is working on a book project with pieces created over 2004-2005.
His collection of nudes, portraits and self-portraits, among others, are bound to strike up unique reactions and emotions in viewers.
"Different people see different things in my work and I don't mind that a bit," says Hudson. "As long as it touches them and they get a feeling from it, that's the main thing."
"Paintings and Drawings from 2003" will be on display through Dec. 14 at the Geoffrey Diner Gallery, 1730 21st St. NW. Call 202-483-5005. Gallery hours are Thursday through Saturday, 1 to 5 p.m., or by appointment. Hudson will discuss his work during a special evening with the artist on Thursday, Dec. 7, from 6 to 8 p.m.