"In America, it's bling bling. Out here it's bling bang," says diamond smuggler Danny Archer (Leonardo DiCaprio) to American journalist Maddy Bowen (Jennifer Connelly), of the combustive situation in Africa's Sierra Leone in Edward Zwick's morality-enriched action-drama, Blood Diamond.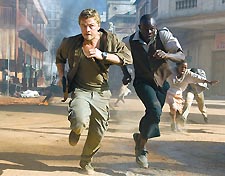 Screen gems: DiCaprio and Hounsou
The year is 1999, and Danny trades in "conflict diamonds," gemstones that fund weaponry for rebel forces — in this case the Revolutionary United Front. Through a plausible, albeit somewhat tidy, set of coincidences, Danny comes into the company of Solomon Vandy (Djimon Hounsou), a village fisherman whose life was demolished by the rebels. Solomon's wife and daughters escaped, only to be placed in "the world's largest refugee camp," a million people cordoned off in Guinea, while his young son Din (Kagiso Kuypers) was taken by the rebels and brainwashed into becoming a child solider. While toiling against his will for the R.U.F., Solomon found — and hid — a pink diamond the size of a walnut. It's a blood diamond, and everyone — from the evil R.U.F. leader, Captain Poison (David Harewood) to mercenary scum Col. Coetzee (Arnold Vosloo) — wants it.
Danny and Solomon set off to retrieve the diamond, aided during part of their journey by journalist Maddy, who romantically sidles up to Danny, and walks away with hard proof implicating the final, upscale London buyers on the conflict-diamond route. It's a story that will likely win her a Pulitzer, and she'll do anything to get it, though she loses her heart to Danny in the process.
Zwick's film is a slick, Hollywood-ized effort, though at nearly two-and-a-half hours, it's 45 minutes too long. Working from a screenplay by Charles Leavitt, the director puts forth a narrative structure best described as relentless. Every 20 minutes, like clockwork, Zwick introduces a massacre sequence, from which either Solomon or Danny or both must escape. Bullets hit every building, every tree, every car, every person in the vicinity of Solomon and Danny, yet they miraculously emerge unharmed. Zwick obviously realizes the suspension of disbelief is a little much to bear, so late in the film he allows a single bullet to provide one of his characters a shot at redemption.
The action sequences, filmed with a jerky hand-held camera to impart a sense of realism, are impressive, incorporating a palpable danger that sends shudders. The massacres are heartbreaking and shocking — and they're meant to drive home the point that a portion of the engagement and wedding rings purchased in this country are likely tainted with bloodshed.
If Blood Diamond has a failing, it's that it follows a path of happenstance that falls into place a little too neatly. Coincidences abound, deus ex machinas — great and small — loom over every life-threatening second. What gives Blood Diamond its luster is DiCaprio, who gives a gripping performance of a self-serving scoundrel who will never be on the docket for sainthood, and Hounsou, who can go from gentle to raging in an instant. Both men give rich, textured performances that move you in unexpected ways.

Area Showtimes
BLOOD DIAMOND
Starring Leonardo DiCaprio, Djimon Hounsou
Rated R
138 Minutes
Area Theaters
Connelly, unfortunately, is dead weight. While she serves her narrative purpose, she's too glamorpuss for the role (Cate Blanchett would have been a much better choice). But there are fine supporting performances by Vosloo, Kuypers and especially Harewood as the merciless Poison.
Most dramas, particularly those incorporating action, aim only for the brainless entertainment factor. Zwick, whose previous films include Glory and The Last Samurai, at least strives to be a message bearer. This underlying ambition gives his Blood Diamond a relevance that, much like a diamond, is forever.