Democratic Mayor-elect Adrian Fenty won't take office until Jan. 2, but his transition machine has been churning efficiently for weeks. Several cabinet-level appointments have been announced and Fenty-led "town hall" meetings are underway.
Two transition points of particular interest to the district's gay community, however, have not seen any movement. First, who will serve as director of Mayor Fenty's Office of LGBT Affairs? And second, what's to become of an undisclosed memo advising outgoing Mayor Anthony Williams on the legality of recognizing same-sex marriages?
Darlene Nipper, the current director of the LGBT office, has said repeatedly that, as a Williams appointee, she expects to hand the post over to a Fenty pick — such is mayoral prerogative. There's no word yet on who the new director might be, or even any confirmation that Nipper will be leaving. A spokesperson with the Fenty transition, Mafara Hobson, confirmed Dec. 11 that, as a matter of form, Williams's appointees submitted resignations by mid-November, but that the LGBT office appointment was not yet on the agenda.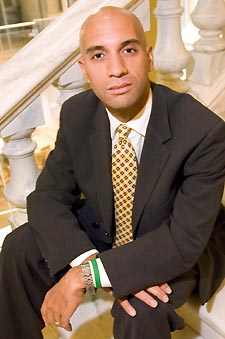 Fenty
Photo by Todd Franson/File photo
City Councilmember Jim Graham (D-Ward 1), the openly gay legislator who led the push to make the LGBT office permanent, acknowledges, "We've got a ways to go. That [position] is down about the third or fourth tier."
Peter Rosenstein, a gay activist who has served on the LGBT Advisory Committee under Williams and who was very active in the Fenty mayoral campaign, says he's been talking to Fenty about the appointment.
"I have recommended to Mayor-elect Fenty that he name his own person to run the LGBT office, but I do not know what his final decision will be," Rosenstein says, underscoring that it won't be himself. "I am hoping that once Adrian Fenty becomes mayor, I will continue to have access to him and his administration as an advisor. But I do not intend to take any position with the administration."
Regarding the second issue, former D.C. Attorney General Robert Spagnoletti wrote a memo in the wake of same-sex marriage becoming legal in Massachusetts in 2004. Williams instructed Spagnoletti, D.C.'s first attorney general — and a gay man — to offer a legal opinion on whether the district should recognize same-sex marriages performed in other U.S. jurisdictions. As the D.C. attorney general reports directly to the mayor, Williams alone was privy to the Spagnoletti memo. And that's the way it's remained.
Sharon Gang, Mayor Williams's deputy director of communications, confirmed that the memo would remain under wraps for the duration of Williams's term. Fenty — and his new attorney general, Linda Singer — will inherit the Spagnoletti memo.
Calling the decision not to release the memo "disappointing," Graham says he's encouraged Williams to disclose Spagnoletti's findings sooner rather than later.
"It's just going to become increasingly irrelevant," Graham says of the prolonged delay. "Whatever the outcome, people need to know, and are entitled to know, before they move to the District of Columbia. It's only fair…. You just can't get away from this. It's got to be dealt with."
Hobson says Fenty will likely confer with Singer before taking any action on the memo. That's the advice offered by Rosenstein.
"I have suggested to…Fenty that before he does anything with the Spagnoletti memo, which is now at least two years old, that he have his new attorney general review it," says Rosenstein. "I believe it may not even be appropriate to release anymore."
Rosenstein adds that's he's been overseeing input from the GLBT community for a report to be submitted to Fenty in about a week. Representatives from the community — such as the Gay and Lesbian Activists Alliance, Whitman-Walker Clinic, Us Helping Us, the Sexual Minority Youth Assistance League and the Mautner Project — gathered Dec. 4 to discuss the Fenty transition, says Rosenstein.
"They were all asked to submit issue papers," he explains. "I haven't seen everything that was submitted, but all of those papers will be included…in a final GLBT transition report."