Being a Republican and a gay-rights advocate is one thing. But being a pro-gay Republican and a devoted Catholic? That might be pushing it.
Leave it to Patrick Sammon, who recently accepted the position of president of the Log Cabin Republicans (LCR), to prove us wrong.
"If every gay and lesbian Republican got mad and left the party tomorrow, we wouldn't be any closer to achieving equality," says Sammon. "And for those GLBT who are politically conservative, there's really no alternative but to stay and fight to change the party. I'm a Republican because I don't believe government is the solution to every problem. It should be limited.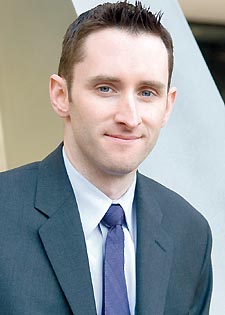 Sammon
"I believe in the core values of the Republican Party," he continues, "but they need to become more inclusive of gay and lesbian issues."
The 32-year-old former TV reporter is also a religious man.
"My faith is a very important part of my life," he says. "Like many gay and lesbian Catholics it has been difficult, so I'm still working through some of the issues related to being comfortable as a gay person in the Catholic church."
Sammon served as vice president of the Liberty Education Forum, a non-partisan educational and research gay-advocacy think tank partnered with the D.C.-based LCR, before taking the interim president position at LCR when Patrick Guerriero stepped down in September. As president of LCR, Sammon says he feels less restricted than he did during his tenure as interim.
"I can move forward on specific initiatives and plans that I couldn't do as the interim [president]," he says, adding that long-range strategic planning is at the top of his list.
Joe Solmonese, president of the Human Rights Campaign, expressed his approval of LCR's decision to appoint Sammon in a Dec. 18 statement.
"During his time as interim president of [LCR]…Patrick has established a reputation as a dedicated advocate and valued partner in our struggle for equality," Solmonese said in the release. "We look forward to continuing a great relationship with Patrick. As we enter a new session of Congress, it will be vital to seek out bipartisan support for our community's top legislative agenda items and Patrick's leadership will be essential to those efforts."
Sammon has said that the new session of Congress is a critical time for gay Republicans.
"We know that equality will never be achieved without Republican votes, so it's really critical to have good, loyal Republicans who are working from inside the party to educate and lobby Republicans about why the party should be more inclusive on LGBT issues," he says, adding, "It's more critical than ever before, because the elections showed us that the Republican Party lost because it didn't appeal to independent voters…. [T]here's a real opportunity for Log Cabin Republicans, working with other mainstream groups, to bring the party back to its core principals. There's a great potential to have real progress in the years ahead."
Sammon says the Republican Party is going through a "soul-searching process," trying to determine where it goes from here. He says it is vital to have powerful voices from Log Cabin Republicans as advocates for GLBT equality when discussing the fate of the party.
In addition to several goals, which include strengthening the 50 grassroots chapters of LCR around the country, as well as encouraging openly GLBT leaders to run for office, Sammon is also targeting anti-gay conservatives and people of faith. One way to do that is by having gays and lesbians talk openly about their lives, he suggests.
"Our stories are the strongest vehicles we have to gain new allies to equality," Sammon says. "[Gay] people who believe in God need to talk about their faith. Too often in the past we have surrendered that ground to the other side, the anti-gay groups that have tried to speak as though they own their relationship with God, as if it's theirs. We understand that God loves everyone."
The native of Seattle, who moved to Washington in 2003, grew up in a conservative Catholic household, one that prompted many political arguments around the dinner table. And even though he was only a child, Sammon would always offer his two cents.
His early interest in politics flourished at 13 when he found common ground with former President Ronald Reagan's ideology.
"It was the 1988 presidential campaign when I started looking at the issues and the candidates," he says. "I liked President Reagan a lot and his philosophy of government is one of the main reasons why I'm a Republican."
Sammon's faith intensified his struggle to come out and accept himself as a gay man. He finally did at 23.
"I came out after college," he says. "I grew up thinking I could never be gay. I tried to force myself to be straight, but when I got to college I knew that wouldn't work. When I started looking ahead to my life and my goals, I came to the conclusion that I didn't want to spend my life alone, or living a lie. So once I came to that realization, the process of coming out was very positive."