Imagine the typical rock-and-roll cover band. There might be some big hair, a few tattoos, and some die-hard groupies. And the whole scene looks pretty straight.
In grand "we are everywhere" style, however, Wicked Jezabel gives the gay and lesbian community a kick-ass party band all its own.
Of course, the gay community does have to share Wicked Jezabel with the band's devoted straight fans.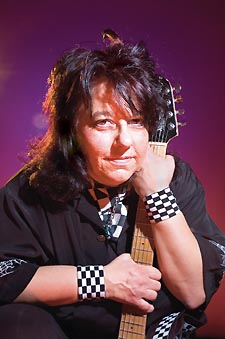 Pauline Anson-Dross
What began in the late '90s as The Outskirts of Town transformed into Wicked Jezabel in October 2004. Turns out the Outskirts name was already taken, forcing the change. Pete Borsari, owner and manager of The Frogg Bond, a Rehoboth Beach bar popular with the ladies, lent a hand in the band's transition.
"I'm from Massachusetts, where we say, 'Wicked hot!' or whatever," says Borsari, whose venue has played host to both the Outskirts and Wicked Jezabel regularly. "We were just talking one night and I said, 'Wicked!"' And thus, the Outskirts took their first step into a new, Wicked world.
Susan Souza, a Towson-based, lesbian musician and founder of Women's KISS (Kickass Independent Songwriter Showcase), has been following the band's success under both names.
"Most of their competition is from guy bands," says Souza. "I think that's what makes them special. They're a fabulous cover band. I would describe them, No. 1, as having fun. Each member sings as well as plays an instrument. They're very versatile and constantly changing. They can go from rock to poppy '80s tunes and do them justice equally. And they're all really good musicians. They really work hard, and you can tell."
Aside from their hard work and showmanship, the band is also ambitious. Take, for example, their latest project: the Wicked Rockin' New Year's Eve Ball 2006. On Dec. 31, Wicked Jezabel will headline a show in Crystal City that includes drag queens — Ella Fitzgerald, Destiny B. Childs, Regina Jozet Adams — and drag kings — Christopher Dane, Morgan Black, Diesel, Mickey McMann — for starters.
Wicked Jezabel is six women: Davi Anson-Dross, Pauline Anson-Dross, Ginger Starling, Mickey Dehn, Sandy Dumas and Meri Schaefer. Dynamic women all, Metro Weekly was able to pin down Pauline Anson-Dross long enough to the band's — and her own – rock-'n'-roll story. It's wicked cool.
METRO WEEKLY: What is the line from The Outskirts of Town to Wicked Jezabel?
PAULINE ANSON-DROSS: It was a transformation that was inevitable. The Outskirts were always the original pioneers of what we're doing. I think the Outskirts started this trend of party-band girls who play like the rest of the guys, play the sounds that you can sing to all night long.
It got to the point where we were still trying to trademark the Outskirts of Town and every time we tried, somebody had the name. That's why we didn't put out a CD. We could only go so far with that name.
So this was a perfect opportunity to change the name. If we missed any fans, it's only because they don't realize that it's a makeover. So we got the trademarks and now we're moving full steam ahead and continue to do what we're doing. Now we'll put out original songs. That's our plan in 2007. We can go full force and not worry about it.
MW: Who picked the name Wicked Jezabel?
ANSON-DROSS: Basically the name Wicked Jezabel came from a combination of two things. It's kind of a funny story. Pete, who is one of the owners of The Frogg Pond at Rehoboth Beach — we're friends as well as the band plays at the bar a lot. He knew that we were trying to come up with a name and he knew that with Jezabel we added a keyboard. He loves the '80s and he said we should call it "wicked something." We should use a word that was used a lot in the '80s.
Then it dawned on Davi. She just kind of woke up and said, "I've got the perfect name: Wicked Jezabel." Her ex-girlfriend's father lives in the South and whenever they'd go down there to visit, he'd call her "Jezebel." We did some research on it and it came out of some biblical figure who was strong, different and unruly. So it was perfect for a lesbian band, okay? [Laughs.] Most people get it. Some people don't, but most people say, "Yeah, that's a great name."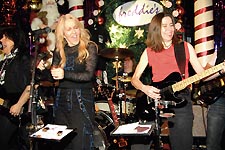 Wicked Jezabel wowing the crowd at Freddie's Beach Bar
(Photo by Henry Linser)
MW: In saying it's a "lesbian band," what does that mean exactly? How many in the band identify as lesbians?
ANSON-DROSS: Everybody in the band is a lesbian. But we just happen to excel in our instruments and what we do and it's a great chemistry. To me, the fact that it's all lesbians is great. But it doesn't have to be. Our first drummer was not a lesbian, and we've had subs who are not lesbians and they've been just fine. It's not required, but it happens to be that and we love that it is.
MW: You love it so much that one of these lesbians is your wife?
ANSON-DROSS: Davi. We met in January 1999 and married in April of 2000. It was so huge, we had two different invitations: one for the reception and one for the ceremony. Oh, my God, there were so many musicians. We had tons of entertainment, people donating musical talent, for like 400 people at this thing.
I wore a tux — black, white and purple. [Laughs.] We kept it kinda traditional. It was fun, like a big party. Davi and I are into entertainment, obviously, so it was fun and classy.
MW: How did you meet?
ANSON-DROSS: We met through music, which is cool. I was playing with a different band — GVB, Genuine Virginia Band. We were really big. We toured the East Coast back in the '80s.
Davi came from Alaska in 1996 and she started The Outskirts of Town in '97. We met in 1999 because our bands were playing together; we shared a gig. As we were trying to plan this huge Valentine's party at The Phase, we got to know each other. It was like, "Oh my God, we're so perfect."
MW: How old are you?
ANSON-DROSS: I'll be 50 on May 19, 2007.
MW: You don't look it.
ANSON-DROSS: [Laughs.] Rock-'n'-roll keeps you young.
MW: And you're a Virginian, born and raised?
ANSON-DROSS: I am homegrown, from Falls Church.
MW: Do you think if you were a 15-year-old wannabe rocker girl in Falls Church today, it would be easier to break into the bands than it was when you were young?
ANSON-DROSS: Absolutely. I think it has gotten easier for many reasons. With the Internet now there just seem to be more resources, or more support. [You can find] men and women who enjoy playing rock. And now you have 50 years' worth of music — a lot to pick from, you know? My nephew is under 30 and he's a big [rock] fan, as big as my sister was. It's funny how that goes.
MW: When did you first start playing music? What was your first instrument?
ANSON-DROSS: I've been singing since I was 4. I was kind of shy and self-conscious about it. It wasn't until I was getting older that I felt more comfortable doing it. I started playing guitar when I was 7 or 8. I got a guitar for Christmas and I played it left-handed. Nobody noticed I was carrying it upside down. You flip it around and the high notes are on the top instead of the bottom, and I played it like that. Nobody had the sense to say, "She needs to re-string that thing."
Then I got into drums. It was about a year later I got my first Toys-R-Us drum set. I ended up being a drummer for many decades. That was my first instrument I played [in bands]. I played in seven bands. I opened for Conway Twitty and other national acts. I played in Dan Aykroyd's Blues Brothers show. I did tons of drumming, but I would play the guitar in between. I would watch all the guys play [guitar] and afterwards we'd have our huge jam sessions and I would sit down with the guitar.
My parents were supportive of my music, based on something that I had potential for. They never discouraged me. My dad was in business with his brother in two restaurants. When I was 12, I'd play drums there on the weekends with a trio.
MW: That trio was your first band?
ANSON-DROSS: Well, income-wise, yeah. I would play this jazz-band, lounge stuff on weekends. Then during the week I would play Led Zeppelin and Jimi Hendrix with the guys. Once in a while, we'd do a teen-center dance, stuff like that.
MW: Was it hard being a girl in the early '70s, wanting to be a rocker with the boys?
ANSON-DROSS: Oh, totally. Totally. Even today, I still get that deer-in-headlights reaction. People, when they think of female musicians, especially on guitar, they think acoustic, or of overcompensating hardcore or punk or something. And there are definitely a few [female] musicians who are into funk or jazz.
But when it comes to classic rockers, you don't see [many women]. It's very male-driven music that I relate to and I'm fond of. I grew up with it and I understand it.
MW: How did the guys treat you when you were drumming with them?
ANSON-DROSS: I was always a drummer because for some reason there was a shortage of drummers. So I would play drums and watch everybody and soak up that knowledge and skill. But it was a little difficult, especially in the '70s — you didn't see women play guitar note-for-note the way the guys do. Women might do some rendition of a song, but they wouldn't absolutely carbon-copy it and deliver it the same way.
MW: It would've been more conventional to put a woman in front of the band singing, wouldn't it?
ANSON-DROSS: Once I was heard as a drummer, it was easy to keep me back there singing. There were several advantages to that. For one, it would minimize the number of band members, so more money. Also, it was very unique. You didn't see many drummers that could do a variety of stuff and sing.
In the '70s, we used to enter these contests, but I wasn't out front so we'd never get first place. We'd get close because I was drumming and singing and sounding as good as anybody. But the [winners] would put the frilly girls up front with their big dresses and that was just not me. That would have been a drag show for me.
MW: Where did you get your inspiration at the time?
ANSON-DROSS: The classic rock stuff that we know today was underground music at the time. I liked Aerosmith — they weren't known yet. He had that golden voice. They were rockers. And I like songs that are clever or have hooks.
MW: Coming back to your own all-female band, what are Wicked Jezabel concerts like?
ANSON-DROSS: You've got a full room and lights going and everybody's dancing and having a good time and screaming for encores. When it's smaller, it's cooler and more intimate. You can go out to the audience, sing and interact. You can't get right into everybody's face at all times, but we try to. We strive to connect. We try to make the audience participate. Some audiences love to participate. Davi goes to the tables and it's almost laughable, like karaoke just for that minute. It's just fun.
There are so few bands that play like us. We play like the guys. We're high quality, female musicians. And not just decent musicians, but we're entertainers. For the first set, we dim the lights. We start with our showcase stuff, because people don't necessarily start to get up and dance right away. First they have to get over their little fear of the lights and have a few drinks or something. Once we get over that stage, it's a free-for-all. The second set, everybody just goes nuts.
Our Outskirts fans still come to Wicked Jezabel shows. It carries right on over, because we didn't take a break. We made a smooth transition. Wicked Jezabel is an Outskirts makeover, because the oldest members of the Outskirts are in Wicked Jezabel.
And we will play anywhere, really. We usually do these weekend trips. We'll go to Rehoboth Beach to play. In 2007 we're planning to focus on more original material and getting involved with Women's KISS. You have to have original material to do it. We're accepting songs from other people, because that's probably the fastest way — and to listen to see what we might do for the CD.
MW: What sorts of crowds do you draw? Who's your typical fan?
ANSON-DROSS: The gay community has been supportive, but we get tons of support from the straight community. They just love us. They can be pretty much any age. There are a lot more gay men now, who never got exposure to us before. We love that.
Typically, we are able to take our show to places that would not normally get a lesbian band — Southern Maryland, for example. There's a gay group there, 30 to 50 people, and they all come out and they love it.
Now we're getting more gay men, but it's been mostly lesbians, mostly straight people. That's kind of the point of doing this New Year's Eve party. We're celebrating everyone. We want everyone to feel included. Being gay means teaching diversity.
MW: That's the Wicked Jezabel message?
ANSON-DROSS: Just be out there having a good time. Just come on out, have a few beers, dance, party, have a good time, laugh.
I think there's an energy that tends to happen when gay people get so much support within themselves that they forget the outside world. We want to make that little link, that little connection. We're a good band. We play in places where you'd think we wouldn't be accepted, and we love it. There are never any fights. Everybody has a good time. You have a lot of people who eat, spend money and everybody's really nice. We always get asked back. Always.
MW: In the Outskirts, everybody had a "skirt" nickname. With Wicked Jezabel, you have "ho" nicknames, with you being "Godmother Ho." Are you a sort of mother hen?
ANSON-DROSS: I guess I'm perceived as that. I'm the one who says, "Okay this" and "Okay that." And I decided to make rehearsals festive. I'm Greek, so I feed everybody.
For more information about Wicked Jezabel and the Wicked Rockin' New Year's Eve Ball, visit www.wickedjezabel.com. For more information about Women's KISS, visit www.susansouza.com/kiss/kiss.