Last summer, Washington's gay nightlife community bid farewell to a handful of gay bars and clubs in Southeast, including VelvetNation, to make way for the new Washington Nationals baseball stadium. It also endured a smoking ban, which took effect in all of the district's establishments, on Jan. 1.
But that may not be the last big nightlife change, at least for those under 21, who may see a few more changes in the coming weeks with new legislation that would restrict or regulate their access to nightclubs that hold liquor licenses.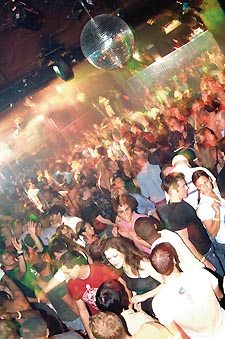 Apex is a popular nightlife stop for 18-and-over gays.
(file photo)
D.C. Councilmember Jim Graham (D-Ward 1) is currently looking over legislative proposals that would establish a minimum age requirement for nightclub patrons, in addition to enforcing a leaving time at each venue and possible license requirements to host an all-age event.
"We need to establish, not strengthen, as none now exist, rules on security, training, process for identifying underage persons, and other matters to govern nightclubs that admit minors for bands and other entertainment," Graham said in a press release following the D.C. Council's Jan. 25 roundtable discussion with community members following the death of Taleshia Ford.
Ford, 17, died after being accidentally shot during an altercation outside of a straight club on U Street NW on Jan. 20. The teenager's death has generated dialogue among the city's elected leaders, residents and business owners regarding D.C.'s current laws, which allow club owners with liquor licenses to admit people under 21, but only serve alcohol to those over 21.
Apex manager Joey Oldaker attended the roundtable discussion and is concerned about the possibility that the D.C. Council might restrict the age minimum to 21, which he says would dismantle Apex's popular Thursday night event, College Night, which he described as an important social outlets for gays between 18 and 21, who are offered free admission with a valid college ID.
"Gay youth look to the club scene for a lot things: friendships, relationships and social factors," Oldaker says. "You take that away from them, and you let them be lost. You're throwing them out on the street. At least at Apex they're under supervision."
Oldaker says that with the large number of colleges in the area, such a rule change would have a serious impact on both venues and students.
Tyrone Hanley, 24, president of D.C.'s Youth Pride Alliance, says a lack of social outlets is one of the major issues facing GLBT youth today and restricting access to nightclubs could add to that.
"Clubs become a place for [gays] to socialize because a lot of them don't feel safe in their schools, so clubs like Apex become important aspects of [their lives]," Hanley says, adding that clubbing serves a different purpose for gay people and straight people.
"Obviously, everyone's trying to have fun, but straight people don't necessarily need a club to socialize," he says. "[For gay people it's] an environment where they can feel comfortable with their sexuality. It's safe in the terms that they can visibly display their sexuality without the potential of being harassed verbally or physically [for it]."
But Lindy Garnette, executive director of Parents Families and Friends of Lesbians and Gays of Metropolitan Washington says she is hoping the recent dialogue opens discussions about why underage people are frequenting nightclubs and what can be offered as an alternative.
"We do think it's important for underage youth to have other social outlets as opposed to nightclubs," she says. "There's a dearth of other outlets, we're seeing kids coming out younger and younger, and there really aren't a lot of appropriate social venues.
"We don't believe that nightclubs are the appropriate social venues for youth under 21," she says. "We would like them to have affirming social outlets that don't revolve around drinking, dancing and music."
Oldaker says Apex has 10 security guards, and has been catering to underage patrons for more than 20 years. He describes the under-21 crowd as "very controllable."
Hanley can attest to that. He never tried to drink alcohol at Apex before turning 21, but can recall one instance where a group of guys were carded by security because someone in the mix, who was under 21, was sipping on an alcoholic beverage.
"One person in the group…was 21 and didn't have a drink, so they assumed he bought the drink for the underage person and they took his license and banned him from Apex for a year."
Hanley says the message is clear: "They are very strict about it at Apex, very hardcore."
It's a system that works, Oldaker says.
Apex places wristbands on patrons who are 21 or older, which can only be broken off. Under-21 patrons have black Xs stamped on each hand.
"Even if they try to wash it off, they still don't have a wrist band and all of my bartenders check," Oldaker says. "There are certain policies and procedures that can be put into place. All of the bars in town shouldn't have to suffer because of a few bad apples."
When speaking to Metro Weekly, Graham says he is not familiar with Apex or its policies toward people under the age of 21. His concerns stem from the lack of regulations demonstrated by various clubs that offer teen parties.
"We found that there are a few nightclubs that permit people under the age of 18 to enter, under any circumstance," he says. "I think we do need standards on security and training and underage drinking and how you identify those who are underage, otherwise you have a situation where anything goes."
Graham says the issue has resulted in an overwhelming concern expressed by parents who want to see regulations implemented "fairly quickly."
"Boy, have I heard from parents," he says, noting their concerns that children could be in clubs unsupervised without any regulations. "But I think there is a course we can take here that will be fair and reasonable and I intend to find it."