Even though it was 11 p.m. on a Tuesday night, Sak Pollert didn't think much of the two men who were following him as he walked home from his restaurant near 14th and U Streets. He was near the end of the five-block walk — his bicycle was out of commission with a flat tire — when he grew more concerned as the men came closer to him, but he believed he would make it home before it became a problem.
He was wrong.
"I saw their shadows move so fast towards my shadow and I thought — that was it," says Pollert, who is the co-owner of Simply Home and Rice restaurants.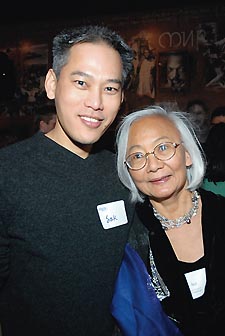 Pollert (left) and Chudnoff
The two men attacked Pollert in the 900 block of T Street.
"One grabbed my throat from behind and said, 'There's a gun in my hand,' the other came in front and kept slapping my face, saying, 'Don't look at me,' and, 'Do you know what time it is?"'
Pollert, 43, says the men asked for cash, searched all of his pockets and eventually stole his laptop, cell phone, messenger bag, payrolls from both restaurants and his wallet, which included a "substantial amount" of cash.
But the beating didn't stop there.
"After they got everything, they started punching me on my head from different directions," he says. "I lost count [of the punches], because in that moment, several times, I went unconscious. When I regained my connection with my body Â… I started screaming, and they ran away, and the neighbors came out."
Pollert had avoided another mugging in December 2004, the only other night he has walked home from work alone. That earlier night he ignored a man who approached him claiming to have a gun and demanding money.
"I just pretended like I didn't care or understand," Pollert says. "I walked past him and he was stunned by my reaction, that I didn't feel anything."
This time he wasn't so lucky.
After the attack, Pollert was rushed to the George Washington University Hospital, where he was treated for his swollen jaw, bruised body and head wound, which required five stitches. While he had not broken bones, the brutal attack left his coat soaked in blood.
Shortly after the incident, Pollert received a call from Joe Morquecho of the Metropolitan Police Department's Gay and Lesbian Liaison Unit, inquiring about the possibility that Pollert had been targeted because he is gay.
"I don't think it was a hate crime," Pollert says.
"I think it was a random robbery. The reason why they hit me so hard is that they wanted me to lose [consciousness]Â… and at least momentarily, if not permanently, lose the memory of their faces Â… . That's probably their fear."
Det. Brian Wise of the Metropolitan Police Department would not disclose any information about the case, because it is currently under investigation.
"We're following up on leads as far as some of the property that's been taken," Wise says. "[The suspects] are still being actively pursued. We're looking into the fact that they may be involved with other robberies in the area."
Candida Mannozzi of Candida's World of Books, at 1541 14th St. NW, is well aware of the recent rise of crime in the area.
"My shop was burglarized twice in two weeks," she says, "and everybody's been hit, up and down the street."
Mannozzi says shop owners who live in the area, like Pollert, are targeted twice.
"First we're targeted in our shops, and then like any other resident walking home at night, we're targeted for muggings, so it's unsustainable. We can't have the police drive by at 40 miles an hour, while something is happening to us. They're going too fast, they can't see it."
Mannozzi says businesses in the neighborhood have been targeted more frequently in more violent ways, and suggests that the police work to implement preventative measures, as opposed to solely reacting to a crime.
"We need the policemen to be…. a presence out here, because I can't move my store to a new address if this location becomes unsustainable for security reasons. We can't start changing our store hours, or changing our walking patterns and letting these people basically win and govern our lives."
Noi Chudnoff, owner of Go Mama Go!, a gift shop at 1809 14th St., refuses to let the recent string of crimes govern her life. She can afford to hire a security guard, she says, but would rather use that money for donations to various community organizations including the National Gay and Lesbian Task Force and Whitman-Walker Clinic, which Chudnoff has been giving to for several years.
"It's the responsibility of the city to keep people safe," Chudnoff says.
On Sunday Jan. 7, at about 3:30 p.m., Pop, a clothing and accessories shop with a large gay clientele located on the same block as Go Mama Go!, was robbed for the second time in a little more than a year. No one has been arrested, but the surveillance camera in the store captured video of the robber, wearing a ski mask and a jacket with a distinct logo.
"The oddest part is that I didn't know who did it, until the police showed me the photograph [of the suspect]," Chudnoff says. "This man [had] walked into here." The suspect had been scoping Go Mama Go! just a few minutes before police arrived in response to Pop's robbery.
Sheila Sharma, owner of Pop, says a flier with a picture of the robber from the store's video was handed out in the neighborhood and generated a response.
"We had a lead from a kid in the neighborhood who said he recognized the jacket and knew that the person also owned a shotgun," she says. "He gave us a first name Â… and said that [the suspect] lived in a housing project at S and 14th Streets."
Sharma turned the lead, which included the first name of the suspect, over to Det. Anthony B. Johnson, who was handling the case. She says the detective told her he "couldn't find anything."
When speaking to Metro Weekly, Johnson would not discuss the investigation and the reasons why Sharma's lead did not result in an arrest. He did offer that the trend of rising crime in the area around late December and early January is due to the holiday season.
"The city has a tendency to spike in robberies during that time of the year," he says.
Sharma has seen that first hand. She has suffered around $1,500 in cash and $300 in merchandise as a result of the two robberies that have taken place at her store during the holiday season. She says that while Pop's second-floor location may make it more susceptible to robberies, they're happening due to the lack of repercussions.
"Someone would only brazenly walk up a flight of stairs, masked, carrying a shotgun, [and] hold up a store full of customers and employees on a weekend afternoon if he sincerely believed there would be no repercussion, no chance of getting caught," she says. "Sadly that has become a truism in neighborhood."
Mannozzi suggests placing beat patrol officers back on the streets and creating a police presence in the neighborhood. This proved to be successful in the winter of 2005, she says.
"They put cops out on foot beats and everything calmed down. It really worked," she says of that time. "But after the New Year in 2006, they wrapped them up and we were back on an increasing trend. And now 12 months later, we're at a point of un-sustainability."
It's a situation that leaves Pollert questioning his future in Washington.
"I live in the city, so the amount of taxes that I pay and the protection that I did not have, [leaves] me to [ponder], what am I doing here?" he says. "I can't close my business at 5 p.m. so that I can walk home when it's bright and sunny."