Jennifer Hudson may steal the show, but not so much you forget about Beyonce. After seeing the movie version of Dreamgirls, however, you might forget about two other singing sensations. And both Jennifer Holiday and Diana Ross are trying to ward off that fate. In a case of life imitating art imitating life, the original Broadway Dreamgirl, Holiday, has gone public with her frustration about not being asked to participate in the film. And then there's Ross, the real-life leader of the Dreams — er, the Supremes — which inspired Beyonce's role in the story. On her first new release in years, Ross makes a point of gently, politely asking the listener to "remember me, please." Actually, what she says as I Love You opens is: "Long ago. Far away. Life was clear. Close your eyes. Remember a place from long ago."
The original girl-group superstar and later disco diva — one of the most successful female vocalists of the pop era — Ross is asking us to go back in time in more ways than one on her new release. She's telling us — and Beyonce and Hudson — she's not going.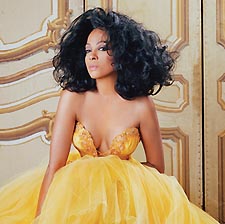 Time warped: Ross
(Photo by Randee St. Nicholas)
She's not changing, either. And so, she's not likely to stay. I Love You is an album comprised of covers of pop hits from the decades when Ross was a hit-maker — songs originally sung by her contemporaries, along with one new appealing ballad. But what some might call timeless pop will strike most contemporary pop listeners as stuck in a time warp. Ross — her light-touch voice a breathy beauty — hasn't sounded this good in decades. The one new song here, the single "I Love You (That's All That Really Matters)," isn't any kind of classic, but it is sweet, and Ross commands your attention with a surprisingly powerful vocal performance. But with a smothered-jazz/easy-sleeping approach to the production, it sounds almost as if she recorded this two decades ago, when her decades-long string of hit singles came to an end.
Just what kind of music should an aging pop star make if she wants to return to the spotlight? There's no obvious answer, but Ross has missed out on a couple of possibilities. It's been suggested that this album was released now to take advantage of Dreamgirls-affiliated hype. It does seem likely, and on paper, it seems like an attractive pairing. But the musical's raw passion and raucous energy is nearly absent on Ross's album. This was unquestionably a rushed, slapdash affair. As vocally inspired as Ross sounds on a number of songs here, again and again you ask: Why couldn't her producers be as inspired? Ross positively swings through "More Today Than Yesterday," putting real feeling into the song about a love that keeps growing stronger, but the song lacks inspired production to carry it through.
What's with all the ballads here anyway? Ross may have registered more hits with ballads over the course of her solo career, but she isn't considered a disco legend for nothing, and she's been no stranger to dance music. Why not now? Even if not exactly dance music, I Love You would have been significantly better with just one or two additional up-tempo numbers to give it some life. Another missed opportunity.
Ross kicks off the album with a cover of a relatively obscure '70s ballad "Remember," and she briefly returns to it at album's end for a sweet reprise. It's one of the few times here when the instrumentation gets the mood just right: it's quiet and respectful, allowing her to shine. Generally, though, the stronger songs here work in spite of the production that surrounds them. And nearly as often, the stronger songs — "Remember" and "To Be Loved" — are the ones that have undercurrents of autobiography. Despite overdrawn production, most egregiously marked by a canned saxophone solo, Ross makes this exuberant Jackie Wilson tune her own. She puts her all into it, showing once again that she's got powerful pipes once she sets her mind to using them. It's her Dreamgirls-worthy moment, and it serves as her m.o.
"Oh, what a feeling to be loved," she sings. It is quite a feeling, to be sure. But when you only feel it for about five minutes out of an hour run time, you can't exactly call it love. Maybe call it a love hangover.