This is how it goes: You're riding the Metro and sitting in the window seat. Suddenly you hear people yelling. You turn and see a woman, about three rows behind you, has fainted and slumped to the train floor. You can't move because the person sitting beside you is staring straight ahead, purposefully ignoring the commotion. You are unable to do anything but sit and anxiously watch everything unfold.
This is the sensation of watching This Is How It Goes at The Studio Theatre. Brilliantly threaded out by a small and marvelous cast, the play inspires a delicious, slowly accelerating panic. Like most of writer Neil LaBute's work, This Is How It Goes considers a topic that is sometimes discussed in polite company, using language and a fearlessness that is not.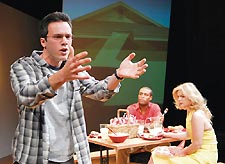 Hardly innocent: Feldman, Greene and Bowles
(Photo by Scott Suchman)
Set in an unnamed Midwestern town, This Is How It Goes admits from the outset that everything about to take place is false. "Sets" are largely projected on a screen off to one side of the stage: A grainy image of a Sears store, an overexposed photo of a restaurant interior, an oddly cropped corner of a suburban house. Crew members emerge from backstage to exchange one piece of furniture for another: A sofa for a backyard grill, a bench for a perfectly manicured rectangle of grass. The world LaBute's characters occupy is flat and subject to quick and complete revision.
We are greeted by a character known only as Man (Eric Feldman), our admittedly unreliable guide to what we are about to see. Throughout the show, Man periodically steps out of the action to share additional information with the audience. Sometimes back story, sometimes bald-faced lies, almost always delivered with a pleasant good humor meant to keep us at ease.
Man returns to the town where he grew up and runs into the pretty, blonde Belinda (Anne Bowles), the girl he's been in love with since high school. They chat and innocently flirt with one another. Belinda, it turns out, married Cody (Benton Greene), another high-school classmate.
Cody was one of those high-school gods who never stopped excelling. Tall and muscular, handsome and incredibly successful, he and Belinda should be the town's most sought after couple. But Cody is black and Belinda is white and that is more than some in town are prepared to tolerate. Or that's what Man tells us. He also tells us that beneath the perfect façade of Cody and Belinda's marriage there is hatred and violence. It's a bad marriage which, if that is in fact the case, makes it okay for us to hope that Belinda will leave Cody for the seemingly gentle, endearingly awkward Man.
But the love triangle, referenced in all the advertising for This Is How It Goes, is as much a false front as any of the set's projected images. And to simply say that this is a play about racism is inadequate. This Is How It Goes is not a lecture on the inexcusable existence of racism. Instead, it asks what kind of racism we are more comfortable with as a society. Is it better out in the open where we can greet it with disdain and derision? Or better when it is explained away as a momentary and unexplainable outburst (perhaps at a comedy club) and rolled quickly offstage?
This Is How It Goes
Studio's Mead Theatre
1501 14th St. NW
To Feb. 11
$39-$55
202-332-3300
Despite the complexity of its subject matter, there is something almost austere about This Is How It Goes. As directed by Paul Mullins, it's an efficient work that relies on all three of its lead characters delivering without hesitation. Feldman has the gruesome task of unearthing some of the show's ugliest and most unapologetic material with a quiet smile and innocent chuckle. He does an outstanding job, keeping the audience completely, even comfortably, by his side.
Bowles and Greene lack some of the ease Feldman carries to the stage. There is, however, a professional chemistry between the two that brings the constant tension of Belinda and Cody's failing marriage quite physically into the theater.
This Is How It Goes is not a show for anyone looking for resolution in 90 minutes — you leave with more questions than answers. More disconcertingly, you leave wondering if this is really how it has to go.