Breaking and Entering is an adult film with adult themes, an adult pace and adult sensibilities. It's awash in a sea of adultness.
And why shouldn't it be? It's written and directed by Anthony Minghella, who might as well be known in the cinema world as the king of adulthood. A smart, sophisticated director, Minghella has helmed, among other movies, The English Patient; Truly, Madly, Deeply; and The Talented Mr. Ripley (we'll just conveniently forget about Cold Mountain for now).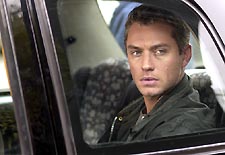 Blandly appealing: Law
Minghella's films have a certain rhythm and richness. They're smart, compelling, methodical little wonders. But Breaking and Entering, although it has a few strong dramatic instances, and a final act that is at the very least moderately engaging, is miles away from wondrous. Dramatically, it's somewhat pale and wan, an almost defiant bore. It sits there, like a month-old stew hiding in the back of the fridge: thick, gummy, indigestible.
Jude Law ratchets up his blandly appealing Jude Law persona as droopy and gloomy landscape architect Will Francis, whose firm specializes in transforming urban blight — "squeezing in bits of green," as he calls it. His current project is a beautification of London's King's Cross, an area besot with low-life rouges and unhappy hookers. And his fledgling firm, which he co-owns with a mousey partner (Martin Freeman), is located smack dab in this hellhole. The new offices are robbed twice within a week, setting a plot in motion that is as preposterous as it is remotely plausible.

Area Showtimes Breaking and Entering
Starring Jude Law
Rated R
118 Minutes
Area theaters
To fully understand the ramifications of what eventually ensues, you need to know this about Will: he's in a relationship with (but not married to) a documentary filmmaker, Liv (Robin Wright Penn), and is acting as a surrogate father to her emotionally troubled daughter, Bea (Poppy Rogers). Liv, at least from the point that we meet her, is just about the most depressing human being on the planet. She's sad, so sad, sad, sad. And Will's half-hearted attempts at romantically reconnecting with her seem to make her even sadder.
Will goes off in search of what all men in movies such as these seek: a connection with another woman. He finds that sudden, surprising spark of amore in the arms of Amira (Juliette Binoche), a Bosnian refugee whose teenage son Miro (the athletic and agile Rafi Gavron) is a member of the gang responsible for the break-ins at Will's office.
All together, now: Gasp!
Truth is, Will had made the connection about the boy before falling truly, madly, deeply for Amira, but his feelings cloud his judgment — or perhaps they clarify things for him. In any case, by the final five minutes of the movie, we can all see the sun peeping out of the storm clouds for everyone involved. It's a redemption buffet, grab a plate!
I'm not meaning to suggest that Breaking and Entering is entirely worthless. Binoche, for instance, is stunning. Her Amira overflows with a mother's fierce, protective instincts. And the cinematography is frequently gorgeous. But the movie never becomes a fully formed motion picture. It withers, as love sometimes does, on the vine.
---
Finally! It looks like it's really going to happen. Martin Scorsese is going to get his Best Directing Oscar.
And if he doesn't… well, let's just say the Academy members who vote on such matters have their heads — how should I put this politely? — buried in the sand.
Never mind the fact that Scorsese should have won for Goodfellas and Raging Bull, two superior films to this year's multiple-nominee, The Departed, it's just nice to see that the odds are falling in the favor of America's greatest living director.
This year's race seems easier than usual to call — although some of the categories are pretty competitive. But, c'mon, does anyone doubt that Helen Mirren is going to trot off with a Best Actress statuette for her remarkable portrayal of Queen Elizabeth? The most difficult category to hone in on? Best Supporting Actor. It could go in any which way imaginable, but I think a certain Eddie might be flashing his gap-toothed grin from the podium this Sunday, Feb. 25.
In any case, here's who I think should win and what I predict will win in the top categories.
BEST PICTURE — What I Think Should Win: The Departed. What Will Win: The Departed.
BEST DIRECTOR — Who I Think Should Win: Martin Scorsese. Who Will Win: Scorsese.
BEST ACTOR — Who I Think Should Win: Forest Whitaker, Last King of Scotland. Who Will Win: Will Smith, Pursuit of Happyness.
BEST ACTRESS — Who I Think Should Win: Helen Mirren, The Queen. Who Will Win: Mirren.
BEST SUPPORTING ACTRESS — Who I Think Should Win: Abigail Breslin, Little Miss Sunshine. Who Will Win: Jennifer Hudson, Dreamgirls.
BEST SUPPORTING ACTOR — Who I Think Should Win: Jackie Earle Haley, Little Children. Who Will Win: Eddie Murphy, Dreamgirls.
BEST FOREIGN FILM — Who I Think Should Win: Pan's Labyrinth. Who Will Win: Pan's Labyrinth.