You may have heard that a Scissor Sisters show is exercise in energy — if you're not ready to dance in the aisles, why bother?
But you may be surprised that bringing that level of energy to the stage wasn't the most natural step for the band. The quintet hit the road for their successful (and eponymous) first album and learned a lot about what it takes to be an actual band, says guitarist all-around Sisters musical guru, Baby Daddy.
"We started out as two guys singing to a CD," he says of the early days with co-founder and front-man Jake Shears. "We grew out of being a little studio act performing at dance clubs [and] we readjusted to that rock-and-roll attitude."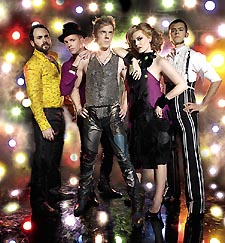 Scissor Sisters
Being a "proper rock-and-roll band" is a priority for the group as they've toured the world for their sophomore outing, Ta-Dah.
"I'd love to think that we're a band that works well playing to really big audiences," he says. "We love the challenge, we love the idea of making this larger than life."
While they overbooked themselves and took too few days off during their first tours, this time around Baby Daddy and his bandmates are making sure to take a little time for themselves — although bowling night with the Scissor Sisters in Australia sounds like the kind of relaxation where you hope someone brought along a camera.
The band brings their sold-out show to the 9:30 Club on March 4, where they'll "try to exhaust people by the end of it." It's their fourth show in the space, and they look forward to hitting the stage there again.
"We've had such a good time playing that," says Baby Daddy. "There's just something very right about it."
Scissor Sisters made an early splash with an upbeat cover of Pink Floyd's classic dirge, "Comfortably Numb." Asked who he'd like to hear cover one of their own songs, Baby Daddy goes right to one of country's queens, Dolly Parton.
"We love her audacity," he says. "We really connect to someone who on the surface is one thing, and deep down is an absolute master of their craft. You can see that in what we do — taking ourselves seriously, loving what we do, and having a sense of humor about it."