Like a colorful circus poster come to life, the Kennedy Center's production of Bob Merrill's Carnival! leaps with song, dance, magic and an abundance of good old-fashioned pizzazz. Director and choreographer Robert Longbottom has created an evening of drama, spectacle and joyously tight choreography all squeezed into the intimate confines of the Eisenhower Theater — no small feat for a lot of big musical theater.
At the heart of this 1961 musical, based on the film Lili, is the familiar story of the country girl who makes good after overcoming the usual big-city odds, such as the charming cad and the vagaries of an uncaring employer. In this version, Lili finds herself in the midst of a traveling French circus replete with talent, enthusiasm and a subtle dose of post-war angst. The charming cad comes in the form of circus magician Marco the Magnificent, while true love takes the shape of Paul, the circus puppeteer. There are dancing girls, acrobats, a friendly bear, a quartet of lithesome roadies and some big circus personalities.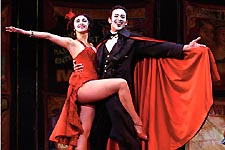 Showtime: Diaz and La Cause
(Photo by Joan Marcus)
While all this was no doubt a reliable recipe back in its day, some subtle 21st century pacing and dramatic re-tooling keeps this production just on the right side of too much cotton candy. The original book by the late Michael Stewart has been revised by his sister Francine Pascal. Walking this tightrope, so to speak, between past and present is the sweet-voiced Ereni Sevasti, who gives Lili an under-stated innocence. She comes across as a striver worth rooting for, instead of the annoying, over-grown girl she might have been. Sevasti has a gentle, lilting voice, recalling at times a young Julie Andrews. She is particularly effective in quieter moments.
Lili's counterpoint is the bold as brass Rosalie, played by Natascia Diaz. As Marco's on-again, off-again paramour, Diaz swings her fabulous legs through a couple of neat dance numbers and belts out her tough-girl tunes without a hitch. A genuine all-around performer, Diaz provides an infectious, tassel-busting exuberance.
Initially, Sebastian La Cause as Marco came across like the popular boy at school — more looks than talent. But once into his stride, La Cause's animal charm and stage presence fall into place, keeping the mood and flow of the drama moving nicely. He is an able singer and a very fun dancer to watch; it's not often one gets to see a hairy-chested he-man avec cape at the Kennedy Center. He also gets to deliver, with aplomb, some of the funnier one-liners.
Carnival!




To March 11
Kennedy Center
202-467-4600
www.kennedy-center.org
And then there is Marco's nemesis, the miserable puppeteer Paul, played by Jim Stanek. Stanek doesn't have an easy job here — Paul vacillates between twisted misogynist and heart-sick lover with giddying speed, creating a challenge in gaining the sympathy of a 21st century audience. Between the puppets popping into action for long, albeit charming, interludes and the volatile man in the box underneath them, there are whiffs of Chucky in the air. Still, Stanek brings a noble voice and, when he doesn't get too loud for the microphones, sings with enough heart to douse fears of death by puppet. His long-suffering ally, Jacquot, is played by Michael Arnold, another consummate professional who understands exactly what is required to make Jacquot a memorable dramatic cornerstone. Johnathan Lee Iverson as Schlegel, the emcee and all-around circus boss, seemed a tad tentative at times, but overall lent the production an essential air of showmanship and theatricality.
And along with this core of great performers is the circus itself. The work of numerous behind-the-scenes designers and artisans all beautifully realizing Mr. Longbottom's vision with fast, rich and effective lighting, evocative costuming and make-up that suggests far more than your average clown. So come one, come all, and join the littlest circus with the biggest heart in town.