Why Rachel Crites and Rachel Smith committed suicide may never be known. When the two Montgomery County teens disappeared in early February, becoming a major local news story, speculation ran rampant in part because of a diary entry by Crites, 18, that referred to Smith, 16, as her "true love." That led many to conclude that the girls were romantically involved.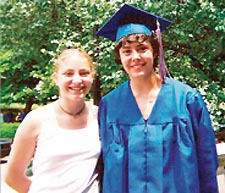 Smith and Crites
(Photo by Courtesy Montgomery County Police Department)
It's unknowable whether that was the case, just as it's unknowable why the girls chose to end their lives by carbon monoxide poisoning in their car in a remote area of West Virginia.
But jumping to conclusions, before or after the death of the girls, has likely been unproductive.
"Assumptions are problematic," says Lindy Garnette, executive director of Parents Families and Friends of Lesbians and Gays (PFLAG) of Metropolitan Washington. Garnette says she is frustrated by all the speculations surrounding the case. She says that if the teenagers had been gay, and if that had anything to do with their two-week disappearance, they might have been more reluctant to come home because of all the speculation in the media.
The double suicide hit a personal note for Garnette, whose younger sister attempted suicide more than 20 years ago.
"I watched my own mother go through lots of stuff, and end up with 'a gay kid is better than a dead kid' [philosophy]," says Garnette. "I don't know if these parents were given an option to approve or not."
It's possible that they were accepting, says Donna Futterman, a lesbian medical doctor that specializes in HIV/AIDS and currently serves as the director of adolescent programs at Montefiore Medical Center in New York City, Futterman has co-authored a number or publications about gay youth.
"People can have all the support in the world and be so profoundly depressed or suicidal," says Futterman. "That happens in the most loving and supportive families."
Todd Peterson, chair of the Sexual Minority Youth Assistance League (SMYAL) board of directors, says the organization has steered clear of speculations about Crites and Smith "out of respect" for their families. SMYAL does, however, work to raise awareness about suicide among GLBT youth.
"Making assumptions about their sexual orientation cannot undo this tragedy and may cause further unnecessary pain for their loved ones," Peterson says.
Instead, Peterson hopes that the community will address the broader issue of suicide among youth.
Garnette echoes those sentiments.
"Whether or not they were gay, we will never know, but their deaths have raised awareness about suicide among GBLT teens," she says.
According to Futterman, suicides are related to depression in most cases, which she says is "serious and treatable." Gay youth also face other challenges.
"If there is one word to categorize many lesbian and gay youth, it is 'isolation,"' she says. "When gay youth discover their identity, it's a period of isolation and crisis for them. If they're afraid that the people they might want to turn to might reject them, it might cause them to become more afraid and more isolated."
Futterman says some surveys show an increased risk for suicide attempts among gay and lesbian youth, but the numbers are "unclear" due to the difficulty in obtaining a representative sample of gay youth.
While the numbers may be unclear, Futterman says finding a way out of suicide is not.
"Feeling suicidal is a medical emergency and through counseling, therapy and medication to address underlying issues, people can really be helped," she says.
Laura Garnette, Lindy's younger sister, attempted suicide when she was in high school and living with her mother in Roanoke, Va. She says having twin lesbian sisters, which include Lindy, did not make things easier, because they were both living away from home at college.
Laura's problems escalated while attending Roanoke Catholic High School. At that time, Laura was heavily involved in her school's basketball program, and her relationship with her first girlfriend had come to an end. Teammates started to question her sexuality and she was honest, she says.
"I was naïve and at first they were supportive," she recalls, "but I had no idea what the consequences for that would be."
It was only a matter of days before Laura's locker was vandalized with slurs, including "dyke" and "fag."
"It was devastating. Having both of those things happen at the same time was too much."
At 16, she raided a friend's medicine cabinet. She made phone calls to family and friends and told them that she loved them, swallowed a mixture of pills and went to bed, hoping to never wake up. But when her mother was unable to wake her, she was taken to the hospital and then placed in an adolescent psychiatric facility that was unsupportive of her sexual orientation.
"I had a psychiatrist telling me to envision kissing a girl and then envision her being covered in trash and that kind of thing," Laura says.
Things didn't improve until the family moved out of Virginia to California.
"That whole change of scenery started to help. I started seeing a psychologist in California and it was completely different," Laura says.
But not everyone needs to move to another state to overcome problems like Laura did. She says that if there had been a helpline for suicidal gay teens in the early '80s, it would have made a "world of difference."
Peterson says any young people who have thought about suicide or harming themselves, should immediately seek help from an adult that they trust. If there isn't one, he suggests calling the National Hopeline Network at 1-800-SUICIDE (784-2433), or the Trevor Helpline at 1-866-4-U-TREVOR (488-7386), a national, toll-free 24-hour suicide prevention helpline for GLBT young people.
SMYAL provides support groups and individual counseling for youth, Peterson says.
"Although we do not have the capacity to provide the clinical care needed to help youth with significant mental-health difficulties, including suicidal ideation, we maintain close partnerships with other service providers who do," Peterson says.
Now 42, Laura lives with her partner of 17 years in Santa Cruz, Calif., and they have two young sons. Laura works with troubled youth as the director of the city's juvenile probation department.
She says suicide among gay youth is a topic that needs to be more openly discussed.
"It can't be this hidden, awful thing," she says. "It's got to be talked about, and kids need to know where to go for support."
For more information about SMYAL counseling or support group services visit www.smyal.org. For more information about PFLAG and its local chapters, visit www.pflag.org.