After nearly eight years heading the nation's largest lesbian health organization, Kathleen DeBold announced her resignation from the Mautner Project just four months after going on a paid sabbatical.
"To me, leadership is inspiring other people to do their best and that includes encouraging people to step up and take the lead," DeBold says. "That's one of the wonderful opportunities a leader has. Stepping down is one of the gifts you can give others by giving them the amazing opportunities that [you've] had."
DeBold, 51, says she took a sabbatical in December to decide whether or not it was time to leave the Mautner Project. She's reached that conclusion.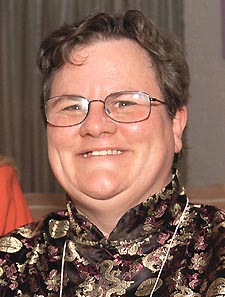 Kathleen DeBold
(Photo by File photo)
"It is exactly the right time to leave the Mautner Project. We have an excellent staff, outstanding process, dedicated volunteers, committed supporters, national visibility and a clear focused [and] meaningful mission. It's the perfect time to make a transition. Someone [else] can take it to the next step."
Kathleen Maloy, who had previously served as a Chair of the Mautner Project Board, stepped in as interim executive director when DeBold began her sabbatical last winter. Maloy says she will continue that role until a replacement is found, which she expects will take "several months."
"When an E.D. steps down, the things that a non-profit can do and should do that will strengthen the organization and the search for an E.D. is to take time — especially since [DeBold] has led the organization for seven years," Maloy says.
Maloy confirmed that she does not intend to apply for the position.
"Probably because I'm in my fifties and maybe I feel like the E.D. of a small non-profit is a pretty backbreaking job," she says. "I dearly love the organization, but I feel that in terms of the new E.D., I don't think that's the right place for me to be in my iteration of paid work."
Maloy says she plans to volunteer for the organization when a replacement is found.
Since December, DeBold, a resident of Burtonsville, Md., has been taking classes related to social-justice issues. She's been volunteering for refugees and helping them with citizenship preparations, she says. DeBold, a member of the Peace Corps who has traveled to Africa, speaks French and Sangho (the national language of the Central African Republic).
DeBold, whose mother passed away in November, says she plans to spend more time with her father, who lives in Rockville, Md., in addition to her "wonderful and long-suffering" partner, Barbara Johnson.
"It's nice to see her again," she quips. "She's lovely."