Hot Fuzz is a cross between Die Hard and The Full Monty. No, that's not quite right. Maybe it's more like Point Break meets Four Weddings and a Funeral. No, this one has four funerals and no weddings. I know — Hot Fuzz is what The Queen would have been had Wes Craven directed it.
Or maybe Hot Fuzz is unique enough, fun enough, and gory enough to avoid comparison.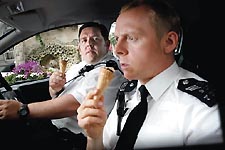 Coneheads: Frost and Pegg
(Photo by Matt Nettheim)
Director Edgar Wright and star Simon Pegg reunite after their successful 2004 B movie-mockery Shaun of the Dead to create Hot Fuzz, which pays homage to male-bonding action movies. Like Craven's Scream, which embraced every stereotype of a slasher flick, Pegg and Wright are fully aware of the finer points of the genre. Hot Fuzz takes the best (or is it the worst?) aspects of action movies and turns them on their head.
Sergeant Nicholas Angel (Pegg) is an overachieving, tight ass of a police officer in London who alienates his colleagues by being too good. Rather than live up to his standards, Angel's superiors promote him and promptly ship him off to Sandford, a Stepford-esque place voted best village in England.
For most, this transfer would be a dream come true: a low crime rate in an idyllic setting where the worst punishment doled out at work is having to provide chocolate cake for the rest of the office. But for an anal-retentive control freak like Angel, it's a nightmare that's only compounded by his often-drunk misfit of a portly partner, Danny (Nick Frost). However, since Danny is the son of the police chief, there is little for Angel to do but deal with it.
Pegg and Frost, who starred together in Shaun, revive their chemistry as partners in solving crime and kicking arse. And chemistry it is — but more about that later. Pegg's finely-tuned comedic timing allows him to perfect the finer points of a man who could easily turn a lump of coal into a diamond. Frost, on the other hand, is more gregarious in his role as a cuddly teddy bear of an overgrown adolescent. An overgrown adolescent who gets to carry a gun. Not a wise idea, really.
For the first hour, the most frightening thing about Hot Fuzz is how slowly and methodically director Wright sets the stage. But once the gore kicks in, the real fun starts. Initially, the film relies on dry British wit to entertain, so the first grisly murder is indeed a shock. A black-hooded, ax-wielding madman is on the loose in Sandford and Angel alone believes there is more to the deaths than meets the eye. He has only his lug of a partner to help him sort through the clues which all point, like a flashing neon sign, to the shop owner, Simon Skinner (Timothy Dalton). Dalton might as well twist the ends of his mustache and laugh manically every time he's on screen, but fortunately he plays it a little cooler than that. Barely. But that's okay because it's always obvious who the bad guy is in these movies.

Area Showtimes
Hot Fuzz






Starring
Simon Pegg, Nick Frost, Timothy Dalton
Rated R
121 Minutes
Area Theaters
As predictable as Hot Fuzz is in so many ways, it completely defies expectations in so many others.
The most important thing is that it's a smart film. Once the deadly events start to unravel, it's quickly obvious that each and every step of the set-up was needed. It would be easy to dismiss the film as wallowing in its "impersonation" of a male-bonding action flick, but that would be to miss the point entirely. You can enjoy it for the action alone, but you would be doing yourself a great disservice.
In one of the few understated points in an otherwise over-the-top film, Pegg and Frost actually come off as a really cute couple falling in love. That's not to imply there are any overt gay scenes, but the platonic affection that Angel and Danny grow to have for one another is not hidden behind back-slapping and arm-punching. Instead, it's sweetly embraced. And then there's an awesome fight scene.
Hot Fuzz is very much like a roller coaster ride — it starts with a long slow climb to the top and then slams you back in your seat. The film may start off lukewarm, but in the end it is hot indeed.