There was no seat to be found on Friday morning in Courtroom 111 at the D.C. Superior Court, as Preston Randolph Logan awaited his sentence for murder.
But the room was filled for different reasons. Scheduling conflicts, officials running late and backed-up cases resulted in an overcrowded gallery of observers who before, April 20, had never heard of Logan or his crime.
Logan, 43, murdered his girlfriend, Grafton Lee Person, 42, a transgender woman known in the local community as "Diamond." The two met at a drug rehabilitation center.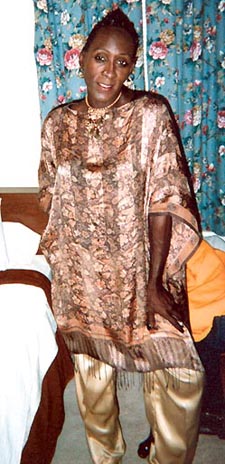 Diamond Lee Person
(Photo courtesy Transgender Health Empowerment)
People in the courtroom gasped and murmured as prosecutor June Jeffries and Judge Wendell P. Gardner Jr. discussed details of Logan's videotaped statement, a brutal account of how he repeatedly beat Person in the head with a hammer, how she had pleaded for her life, and how he finally killed her by wrapping a plastic bag over her face. Photographs from the scene, presented to the judge, showed Logan's efforts to clean up the blood that had spattered throughout the apartment he shared with Person.
And for those who had followed the case since day one — like Person's family and Earline Budd, a friend of Person's and drop-in center coordinator at Transgender Health Empowerment — there was new information. They learned that Logan was on probation for a robbery when he had killed Person; he had also served 120 months in the early '90s for stabbing a woman in Michigan. Now, after pleading guilty to second-degree murder and waiving his right to have a trial by jury, Logan was being sentenced for 26 years in jail, followed by five years of supervision after serving that sentence, for killing Person.
"This guilty plea was a sure thing," Jeffries said. "Given that the maximum sentence for second-degree murder was 30 years, he got 26, which was at the top of the guidelines…."
While not perfect, the prosecutor says the sentence does bring some comfort.
"I'm not a fan of the word 'closure,' but certainly this part of the experience comes to an end sooner for the victim's family then if you had gone through trial."
Defense attorney Heather Pinckney suggested that Logan suffers from mental disabilities and asked the judge to send him to the Bunter Federal Correctional Complex in Butner, N.C., which includes three facilities, including a medical center. Jeffries did not object to that request. During her testimony, Pinckney said the gay and transgender community is "always asking for acceptance," and that she is hoping they will now "accept" Logan's efforts to treat his mental disabilities.
"I thought it was an eloquent allocution," Jeffries said.
Logan offered only a brief statement before he was taken from the courtroom: "I'm sorry for what I've done. I did love Grafton … and I would just like to get better."