As soon as Placido Domingo, wearing his Washington National Opera General Director hat, stepped on stage to tell us that former Domingo-Cafritz Young Artist JiYoung Lee would be replacing Stefania Bonfadelli in La Fille Du Regiment (The Daughter of the Regiment), we were rooting for her. Here was a fledging star scheduled to sing just one performance as heroine Marie deep into the show's run, but suddenly she takes the stage on opening night. And this is one of Donizetti's most popular operas, an evening of light entertainment with a few laughs and a few sigh-worthy arias.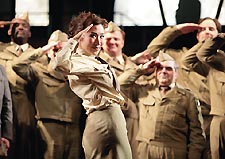 Lee
(Photo by Karin Cooper)
In other words, it was a great opportunity for a young artist.
Lee gave it a gutsy go, but what we got in the end was the gist of a performance rather than the real deal. Yes, she hits her notes. Yes, she has a pretty soprano. But Lee doesn't quite deliver the kind of complete sound that comes from experience. The essence is there, but the articulation is not. The ability is there, but the convincing emotion is not.
And although she had energy and staying-power, there was, in the words of one British comic, altogether "too much acting." Marie is a jaunty tomboy raised by the regiment of soldiers who found her abandoned as a child. As one would expect, the clichés lurk in every corner. Lee pretty much went for every one. This is as close to saccharine-sweet musical theater as she should ever get.
Of course it must have been very hard to step into a role rehearsed mainly by another singer. Lee couldn't have had much time to work on subtleties of character. She had to move fast and she opted to give us a show rather than an interpretation. It is understandable but not necessarily pleasurable to watch.
La Fille Du Regiment



April 7, 10, 12 and 15
Kennedy Center
Opera House
202-295-2400
www.dc-opera.org
Providing balance and a solid framework for the drama are seasoned professionals Jose Bros as Tonio, the man who falls for Marie, and Simone Alberghini as Sulpice, the most fatherly of all her regiment fathers. Alberghini's performance is high-energy and consistent and he sings well, and Bros elevates the entire production the minute he opens his mouth. He is a tightly-sprung noble tenor, a bit too barky on his high C's but otherwise full of verve. He is also a nicely understated actor and someone Lee would do well to watch. These two give this production pretty much all the credibility it can muster. Victoria Livengood sings La Marquise, the matron who tries to turn Marie from tomboy to lady. She is a stunning mezzo-soprano and quite charismatic, but her Marquise is woefully heavy-handed.
Yet even the skills of Bros and Alberghini cannot carry a production that relies too heavily on the actors to spice it up. The choreography is weak, the vision scattered, and it all takes place in front of some truly unimaginative sets. On this night, no one was quite enough on the boil to make magic and it showed. Scenes that should have sparkled with visual wit — such as the Marquise's attempt to teach Marie to sing while the servants stumble around incompetently in the background — fail to ignite. It doesn't help that they are rattling around in front of a vast hackneyed backdrop of a chateau and a boring bit of hedge. Later, when the Marquise's guests arrive to meet Marie, there is one awkward greeting after another. Are these stage-struck supernumeraries or just badly choreographed members of the chorus? One has to wait for the choral bits to find out who's who — unless the supers are singing along! Egad!