There's something intriguing about the intimate, something about limited scale that gives rise to daring creativity. Think of the rise of the hip boutique hotel. Think D.C. culinary marvel José Andrés and his exclusive, six-seat Minibar. Think ARK.
There is little doubt that Signature Theatre's new 99-seat ARK Theatre will quickly be recognized as an important incubator for new work. With determined strokes, Artistic Director Eric Schaeffer has already demonstrated the creative tightrope he intends the space to be. And while this fearlessness will undoubtedly reap rewards, it also means that some experiments will fall short.
Currently residing in ARK is Nest, a world-premiere work commissioned from Bathsheba Doran and the second installment of Signature's Female British Invasion Play Festival. A British-born Fulbright Scholar, the award-winning Doran's work includes the Off-Broadway Living Room in Africa and an adaptation of Great Expectations.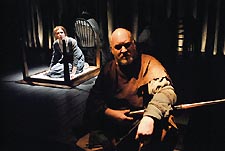 Scandalous: Veal and Richard Pelzman
(Photo by Scott Suchman)
According to the dramaturg's notes, Nest is Doran's first "history play," inspired as it is by the story of Susanna Cox (Anne Veal). Cox was an indentured servant in 19th century Pennsylvania, charged with the murder of her own newborn child. Following her trial, Cox would become the first woman hanged in the state of Pennsylvania.
But Nest, as should be expected from a playwright like Doran writing for a space like ARK, is no simple costume-drama rendering of the young woman's life and death. Doran has elected to fill out the action, transforming this gothic moment in American history into a careful study on the uneasy balance between freedom and safety.
The playwright has done this by electing to blend fictional characters into Cox's story, a struggling young writer and his publisher. This is a canny move, particularly in our own media-saturated time when it is impossible not to note that action — whether it is horrible or heroic — seems not to exist until it is written about, reported on or, for that matter, blogged. This is the balladeer as the CNN of the 1800s.
The publisher, Drumble (James Slaughter), claims to be seeking the American Shakespeare; an artist who will guide literature away from the old world and establish something bright and fitting of the new. What we discover, as we watch the decline of his young protégé Joe (Michael Grew), is that dreams of a great American art form can be quickly trumped by the lure of money. Particularly the money a scandal like the Cox case can offer. When the money is right, the old forms will suffice.
Ironically, there is a temptation to say that the struggle between old forms and new are what causes Nest to ultimately fall short.
There is an uncomfortable split in the play, as it moves from a series of fairly traditional vignettes, which provide the story's narrative background, to an unbounded and looser segment that takes the audience from the murder up to Cox's hanging. It is in this final portion that Doran's work truly hits its stride. When the artificial walls of the earlier scenes fall away and the stage is flooded by the cast working as a kind of chorus, one feels the heart of the playwright. There is a sense of relief as the writing becomes more surefooted and the insights become sharper.
Unfortunately, this is also the point when it becomes clear that some members of Nest's cast are not equal to the challenge Doran has offered them.
Veal delivers a wonderful turn as Cox. Her commitment to the difficult role is instantly clear and matched by a wonderful bravery onstage.
Vanessa Lock plays Cox's mistress while Charlie Matthes plays Jacob, Elizabeth's husband and the man greatly responsible for Cox's misfortune. Lock manages to craft something lovely out of a fairly thin character. Matthes, however, never seems to fully occupy his role. While there are scenes where his strength as an actor is evident, they are sadly overwhelmed by his reliance on a brooding, albeit handsome, posturing that reduces his character to a single dimension.
Most misplaced is Michael Grew. While the remaining members of Nest's small cast carry themselves through admirably, Grew replaces emotion with volume. In another theater this might not have been so striking, but ARK is unforgiving in that regard. Without a set or curtain, actors and material are laid utterly, almost brutally, bare.
And this is why ARK will continue to be a space to watch. Unafraid to break new ground, Signature's creative laboratory will undoubtedly give life to something important and transforming. But there will also be times when the work presented will fail or, as is the case with Nest, simply fail to flourish.