It's been too long since we heard anything good from the Cranberries.
Remember them?
Think back to the '90s and some of the Irish band's hits from then, like the lush "Linger," or the up-tempo "Dreams," heard in way too many romantic-comedies from that era. And who could forget the post-grunge rocker "Zombie," in which the band's lead singer, Dolores O'Riordan, repeatedly sings: "In your head / In your head / Zombie / … eh eh eh."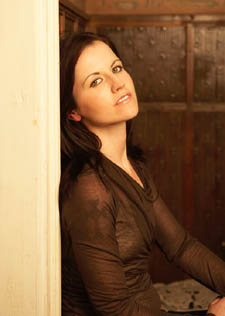 Who needs Ocean Spray? O'Riordan
Yet despite the fact that the band released its final album of original material in 2001, before completing its contract with Island/MCA Records a few years later with a greatest hits collection, they didn't really make much noise statewide after 1994's No Need to Argue. And don't expect that to change with O'Riordan's first solo effort, Are You Listening? (



)
That's not to say it isn't good.
On the contrary, for fans of the Cranberries who thought they might never hear O'Riordan again, Are You Listening? is a sure thing: 12 new tracks in which O'Riordan's vocals range from soft whispers ("Ecstasy") to her trademark deep yodel ("Angel Fire"). What's changed since the last good Cranberries album, however, is the mainstream music scene, if one still exists at all. In other words, don't expect to see O'Riordan making an appearance on MTV.
On Are You Listening? O'Riordan flirts with both pop and rock, and much like the work she did with the Cranberries, the songs are simple, repetitive and safe. Despite the fact that O'Riordan tapped Dan Brodbeck and Youth, who's worked with the Verve and U2, to co-produce more than 30 songs, which together they pared down to the 12 that comprise Are You Listening?, she doesn't really try anything new here. It still sounds like a Cranberries record.
The only difference is that Are You Listening? doesn't sound forced. It's fresh, genuine and sincere.
This becomes evident as soon as you hear O'Riordan's vocals on the opening track singing, "This is just an ordinary day." It becomes apparent right away, that O'Riordan has bid farewell to the notion of writing a song to land a spot on a hits chart, and is instead reveling as a musician, singer and mother of four.
"Ordinary Day" is followed by perhaps the best track on the album, "When We Were Young," in which O'Riordan remembers how things seemed easier and tasted better, when she was a child. Another standout track on Are You Listening? is "Human Spirit," in which O'Riordan uses various instruments including flutes, violins, and piano to successfully mesh Irish folk with modern rock.
It's hard not to conclude that some of the songs are about her former band mattes. For example in the chorus of "When We Were Young," O'Riordan sings, "I wanna get out / I wanna go home." She raises more eyebrows in "Loser," when she sings, "The moral of the adventure is this / Take me for granted you'll be taking a piss / I rather wind up with nothing at all / than take a loser like you through it all."
A similar theme is heard in "October," which happens to be around the same time in which the Cranberries announced its decision to call it quits in 2003. She sings, "It's my evolution / The only solution… I'm sorry my friend / This is not the end / I'll do it without you / I'll do it again." Ouch!
Yet when talking to Metro Weekly, O'Riordan says "October" is "actually about somebody I encountered in the music industry who was listening to this music and they weren't really listening. And they bugged me.
"There's a lot of people like that in the industry, that unless it's a kind of straightforward commercial pop hit, they don't really get it, and they say, 'I don't really hear the hit honey,' and I'm like, 'I'm about to hit you honey!"'
Overall Are You Listening? is a solid effort, one that reminds us how much we've been craving the Cranberries lately.