Never mind what Brandy might say. As of this weekend, the boy is most definitely Monica's. The gay boy (and gay girl), at least.
After performing last year for her hometown Atlanta's Black Pride event, pop and R&B sensation Monica heads north to make her debut this year headlining D.C. Black Pride. Monica is looking forward to entertaining the throng, several-thousand-strong, standing up and respecting themselves as gay, lesbian, bisexual and transgender people.
"I enjoy the atmosphere of pride weekend because the people are celebrating who they are," the singer says. "That's something that I've learned to do everyday."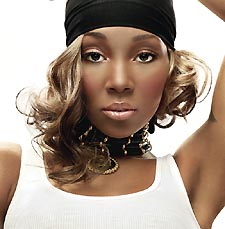 Monica
Monica Denise Arnold, 26, burst onto the pop scene on a first-name-only basis half her life ago, with the hit "Don't Take It Personal (Just One of Dem Days)." Since then, she's had her share of ups and downs. The ups came rather quickly, including collaborating on one of the '90s biggest pop hits, that dueling duet with Brandy "The Boy Is Mine." The Grammy-winning singer has since scored many pop, R&B and dance hit singles (from "The First Night" and "Angel of Mine" to "So Gone" and "Get It Off"), as well as released several multi-platinum-selling albums. With her appealing smooth alto and sharp, stylish music, Monica nearly always displays composure and class, as well as a level of maturity that belies her still-young age.
But Monica has also had more than her share of strife, mostly personal. Most significantly, in 2000, over a span of just a few months, Monica lost a cousin, her grandmother and her first love. Her first love actually shot himself — in front of her. Naturally, that dealt a blow that took her many years from which to fully recover.
"[His] committing suicide changed my life in a lot of ways," Monica says now, in an official biographical note. It brought her closer to God, for one. It also made her more aware than ever of just how public her life is, and just how much she values her privacy. While she touched on her struggles on 2003's After the Storm, she says it took her several more years to gain the perspective needed to become comfortable fully and publicly sharing what she went through. She did that on her most recent album, last year's noteworthy The Makings of Me. The album revealed a side of Monica that she says is "a lot more sensitive and vulnerable" than people might otherwise have expected.
"People assume nothing affects me," she says. "And I am extremely strong-natured — I stand with both feet planted firmly and don't bend. But I know now sometimes I need to bend.
"I remind myself that the last decade of struggle has meaning," she further reflects in an email message. "And I don't take anything for granted. I'm very thankful to still be here."
Monica can also be thankful for a happier go of it the past couple of years. She found love again with music industry veteran Rodney "Rock" Hill, Jr. And two years ago, she gave birth to her first child, Rodney Hill III. In fact, she just threw her son a big birthday bash the weekend prior to D.C. Black Pride.
Monica has even personally reunited with Brandy, her oft-rumored-to-be rival. Monica says there was never really any rivalry between Brandy and her. "We had never even met when the rumors started," she points out. The two have recently spent time together socializing as mothers, with children in tow. As far as working with Brandy again, Monica says, "We have never discussed that but I'm one who believes you should never say never."
For now, Monica is writing and putting songs together for her next album. She adds that the next album will see release far sooner than her typical three-or-more year wait between albums.
But she's also still touring in support of last year's The Makings of Me. And that album continues to be near and dear to her and to her fans. Many of the lyrics are based on what she had written in her personal journal. Monica told an Associated Press reporter last fall that through the album she felt compelled to share the joy but especially the pain she's faced. "I had to tell my story," she said at the time. "There are too many people who have been in the same situation as me and really don't know their way out. Hopefully through my words, what I say can open a door."
Her intent is to help others get through their own struggles while holding onto their self-respect. As such, the message particularly resonates with gays and lesbians.
"I agree with that completely," she says, when this is mentioned to her. "I have found that people respect you more when you just be you. Don't change or conform for anything."
Monica will headline on the main stage of the D.C. Black Pride Festival this Sunday, May 27, in Hall C of the Washington Convention Center, 801 Mount Vernon Place NW. Festival hours are from noon to 6 p.m. Admission is $15.