D.C. Police Chief Cathy Lanier said there are no plans to disband the city's award-winning Gay and Lesbian Liaison Unit, despite media reports and an e-mail action alert sent out by the Gay and Lesbian Activists Alliance last week urging readers to "Stop Decentralization of GLLU." Instead there was a lack of communication, regarding the original date, June 17, on which the unit's services were to be expanded, she said, which is now delayed for several weeks.
"I think some of the terminology that's going around in the e-mails has been what's gotten people very upset," Lanier said Tuesday night during a meeting with the Mayor's LGBT Advisory Committee, and other members of the gay community.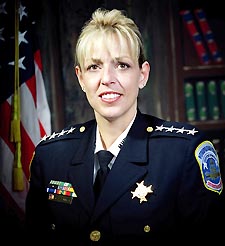 Lanier
"The terms 'disbanding' or 'decentralizing' are not completely accurate," Lanier added, noting that she still plans to expand GLLU's services to all seven police districts in the city, and has asked Sgt. Brett Parson, who headed the unit between June 2001 and January, to help formulate that plan of action.
"She thought all this outreach had been done," Parson said. "She thought the community had been consulted — that just didn't happen."
Parson said during the next few weeks he will head up efforts to get community input and address concerns.
The GLLU will still operate under the supervision of Lt. Alberto Jova and Sgt. Tania Bell. Lanier emphasized her vision and plans for the GLLU during Tuesday's meeting.
"We need the [GLLU] to start being part of the police department as a whole, because I've got to change the mentality in the police department," she said. "All of it."
Lanier has spoken publicly about her vision to expand the GLLU's services beyond the Dupont Circle neighborhood, where its office is located, since being appointed to her position by Mayor Adrian Fenty. It was then that Parson introduced Lanier to 11 members from the GLBT community during an informal meeting, in which they expressed some of their concerns.
"The one thing that stuck with me more than anything in that meeting was a member of the transgender community who, with tears in her eyes, said to me, 'I live over in the Sixth District, how come we don't have an office like the one in Dupont Circle …? I need the [GLLU] as well, I don't like the way I am treated by your police officers,"' Lanier said.
By expanding the GLLU's services, Lanier says, she is hoping that in five years, there will no longer be a need for a specialized liaison unit.
"We have some insensitive people in the police department, I am not going to say we don't. But you know what? Time for them to get up to speed," she said. "And if they can't get up to speed, and interact with every member of our community, then they are in the wrong profession."
Patricia D. Hawkins, a licensed psychologist who works with GLBT crime victims, including rape and hate crimes, told Lanier victims will not perceive this transition as safe.
"I think having [GLLU] officers in [other districts] is great, but I think disbanding the unit will be extremely [problematic]," she said. "People will not feel safe walking into these other police districts and reporting some of the crimes that we have. It will take a long time to build that [comfort]."
During the meeting, Adam Tenner, executive director of Metro TeenAIDS, told Lanier that there is a lack of communication regarding her plans.
"The message is not expansion, the message is dispersion," he said. "There seems to be a perceived loss going on here. … We don't actually understand what the new thing is going to look like, even as you're describing it now, I don't clearly hear an expansion of the current program, I still hear dispersion."
Tenner said members of the community need a go-to person, like Parson, because they "want to feel safe, and want to have a face that they're accustomed to."
"People feel like they're losing that," he said.
Lanier responded by saying that the Lt. Jova and Sgt. Bell will continue to serve out of the Dupont Circle office and that other officers of the GLLU will still be a part of the unit and accessible by pager.
According to Lanier, there are hundreds of gay and lesbian officers who are reluctant to serve in the GLLU, because it would isolate them from other officers and it is seen as a "privileged assignment" that does not include some of the day-to-day duties of patrol cops.
"I'm very confident that there are a lot of police officers on the police department that want to be a part of this, but they want to be a part of it as their everyday job," she said. "They don't want to be separate. They don't want to be set apart."
Reserve Officer Vince Micone said the gay community should take an "open-mind" approach to dealing with change involving the police department.
"If the department wasn't open to change, we would be locked in the position that we were seven years ago," he said, pointing to the distrust many in the GLBT community, including himself, had for the police.
Micone noted that "it wasn't that long ago" that police in riot gear attacked the Halloween crowd on 17th Street, during the 1991 high heel race event.
"There's been a complete and total change [in] the perception that people have about the police in this community," he said. "That is not to say it's perfect, but it is much better than it was. So maybe change can take us to the next step."
Toni Collins, board chair of Transgender Health Empowerment, said it was the GLLU and Parson's efforts that changed her perspective about police officers in Washington.
"It gave us a sense of safety," she said. "I'm in agreement with what [Lanier is] saying with that transition … but I still will be calling the GLLU office if anything happens to me."
Collins said the issue is about more than public safety, but about "when we can feel safe as a community." She pointed to the series of murders of transgenders in recent years. "It was comforting for the transgender community to know that Brett and his unit were going to be on top of those murders. We did not have faith… in the homicide division because some of those murders are still unsolved.
"It's just a sense that we all get as a community that this is a unit that's there for us 24 seven."
Lanier responded by saying that she used to work in the Sixth District, where Collins lives.
"There were days in the early years that I was not proud to be a part of the department," she said. "That's why when I heard that person talk in that meeting [in January] with tears in her eyes, it meant something to me.
"I know how large the transgender community is in the Sixth District and I know how the police officers have traditionally treated that community," Lanier said. "If I get one shot at changing that, Mayor Fenty just gave it to me."