BEFORE D.C. BLACK Pride existed, there was the "Children's Hour," an annual Memorial Day gathering for members of the black LGBT community, spread by word of mouth, and held at the Club House. When the Club House closed in 1990, three concerned men, Welmore Cook, Theodore Kirkland and Ernest Hopkins, joined forces to not only keep the tradition of the "Children's Hour" alive, but also to channel it into making a difference in the African-American LGBT community. With the help of the D.C. Coalition of Black Lesbians and Gay Men, and the Inner City AIDS Network, they organized the very first D.C. Black Pride, on May 25, 1990, with an emphasis on raising funds for HIV/AIDS organizations.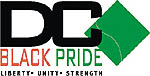 Seventeen years later, D.C. Black Pride, which on Sunday, May 27, held its annual festival at the Washington Convention Center, has grown to plan events all year long, says board president James W. Hawkins. "We're going to be gearing our efforts to whole events throughout the year, with a specific emphasis on HIV prevention and education within our community," notes Hawkins of efforts initiated last fall to expand the all-volunteer organization's outreach.
Expect to see a calendar of various events, at the D.C. Black Pride's booth at this year's Capital Pride, all centering around one theme: "Building awareness and pride in the diversity of the black LGBT community," Hawkins says. "We envision a world where all people are fully empowered to participate safely, openly and honestly in society, regardless or race, gender identity or sexual orientation."
For more information visit www.dcblackpride.org.