The good news is that nobody was hurt.
The bad news for local lesbian activist Cheryl Spector and other members of metropolitan Washington's gay community involves what has been lost: history.
Spector was at work on Wednesday, June 6, when she heard that her Rosslyn, Va., apartment — where she had stored more than 500 videos, various photographs and other memorabilia documenting more than 21 years of Washington's GLBT history — had caught on fire.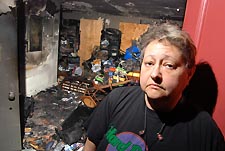 Spector at her fire-damaged apartment
(Photo by Todd Franson)
Over those past two decades, Spector has built a reputation for attending and videotaping nearly every GLBT-related event in Washington; whether it be Capital Pride events, the funerals of the many people who died from AIDS in the late '80s and '90s, memorials like that of Leonard Matlovich, or even drag performances. More recently, you might have spotted her videotaping the Capital Pride forum, or D.C. Drag Kings events.
And she kept almost all of the videos in her apartment, the one place she thought they'd be safe.
One day after the accidental fire, caused by an electrical problem involving a power strip, Spector's condominium, which she has owned since 1991, is unrecognizable. The aftermath is similar to what you'd expect a room to look like after a bomb has gone off: the ceiling and walls burnt and covered in black; the floor covered with ash, damaged furniture, papers and photographs; the windows sealed off; and the building filled with a potent odor.
"It's tremendous pain. There's no other way I can put it," says Spector, realizing that the videos she filmed earlier in the week of Pride-related events, including a GLBT interfaith service, and other events over the last two months, were resting on her coffee table, and are now destroyed.
"I think this is a real wake-up call for me," she adds. "There are other people with video cameras now, and there are other people taking pictures, and… I'm going to have to slow down. I have nowhere to put the stuff."
The loss has also caused her to look differently at her life.
"As far as I'm concerned, God didn't take me … God left me here for a reason, and my reason is to live." She would like to devote her time to other aspects of her life, like dating and finding a partner.
"My new life is going to be very different, because I'm not going to accumulate stuff. I'm not going to be at every event with a video camera anymore," she says. Spector turns 50 in February and wants to use the opportunity to find a new direction.
"I want an apartment that is not full of archives so that I can have people over for dinner, and I can entertain."
Members of the gay community and friends of Spector reacted with shock when they heard what had happened.
"She didn't have the [archive] in a storage unit, she had it in her apartment," said Kendra Kuliga, founder of the D.C. Kings. "Her biggest fear was that one day it would go up in flames, and today, it did."
According to Kuliga, Spector had just started to transfer the videotapes to DVD format. Sandy Mohler, a friend and a local performer, was assisting Spector with that process and said they had just started and "didn't get very far."
Spector said they had started the transfers because of "the possibility of something like this happening."
Mark Meinke, founder of the Rainbow History Project, said the fire resulted in a "terrible loss" for both Spector, who serves on the Rainbow History Project's board, as well as the gay community, in terms of a visual archival record of its history.
"She had an enormous collection of videotapes," said Meinke. "She had over 500 videotapes dating back to 1986. And she also had a nearly complete collection of the Washington Blade and Metro Weekly."
Spector says most of the videos may be salvageable, as they were kept in plastic storage cases. It will take some time for her to inspect them and determine what can be saved. She is now asking the community for help in finding a place where the archives can be kept, and be accessible to the general public.
"I think it's time for someone in this community to realize that our archives are important enough to fund a building, a warehouse, [or] several storage facilities," she says. "That's what we need."
Mike Sessa, president of The Center-Home for GLBT in Metro D.C., says The Center could possibly provide that space, but there are financial issues that need to be addressed.
"The Center can offer anything that the community wants," he says, though he also points out that a volunteer-based organization such as The Center "can't offer anything for free."
The problem of paying for storage affects anyone who may be concerned about archiving the history of the GLBT community, says Sessa.
"Why was Cheryl putting stuff in her place? It's because no one has the money to rent space, to store this type of stuff, and a lot of organizations don't want to pay for it. We would have the same problem as Cheryl — how does the storage get paid for?"
Sessa says he envisions a drop-in center where the hallways are decorated with archival materials illustrating Washington's GLBT history.
"D.C. should have something," he says, "some type of archival place. [You've] got to get people together and talk about it."
Sessa says that the fire has had unexpected results for those people who try to record the history of the community: "It's unfortunate that it takes a tragedy for people to realize the importance of some of the things we do."