Destiny B. Childs has racked up a lot of titles in three short years of life: Miss Gaye Dreamgirls. Miss International Gay Rodeo Association. Miss American Gay Rodeo Association. Miss Zodiac.
Even more surprising, this Childs beauty queen sprang whole-cloth — or whole-garter, if you will — from the body of a macho, bow-legged country cowboy. Or the body of a handsome former Mr. Remington's, at any rate.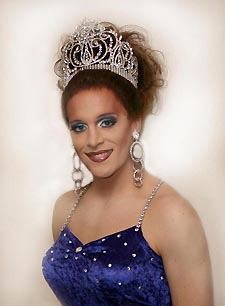 Destiny B. Childs
Ric Legg had only dressed in drag one Halloween before his reign as Mr. Remington's in 2003. But after an impromptu drag performance during his Remington's reign, Legg realized he liked it. Really, really liked it. And so Destiny was fulfilled.
As much time as he devotes to title competitions, what ultimately distinguishes Legg is his tireless commitment to the community. For this year's Capital Pride alone, Destiny B. Childs will host or co-host the Bachelor's Auction, the Capital Pride Pageant and the entertainment lineup at the Festival Mainstage.
"A lot of people — especially my husband — call me the 'yes' queen," Legg says, who works by day at the National Institutes of Health. "Any time I'm asked to do anything for the community I say, 'Yes.' And I never ask for anything in return." In fact, he insists on keeping things volunteer, refusing to take money. As he told Pride organizers, "You're not paying me. I'm honored to be able to do this."
Legg, 29, also works as Childs to bridge gaps in the community: by connecting drag kings with drag queens, and the drag community with the leather community and with the gay rodeo circuit. The host of Freddie's Beach Bar's Freddie's Follies, Childs competes in the gay rodeo.
"I wrestle steers and ride steers, all of it in full drag, honey," he says.
A native of New Mexico who moved to D.C. while in the Army, Legg didn't get so involved in the community until the year he won the Mr. Remington's title and focused his time on raising money for charity. "It just gave me such a good feeling, such a sense of accomplishment," he says. "It just made me want to do more."
Although the past three years of Destiny have been a "whirlwind" for Legg, he has no plans to slow down.
"I love getting out there and helping the community in every way I can," he says. "This is such a great community."
Destiny B. Childs will perform Sunday, June 10, at approximately 11:30 a.m. on the Capital Pride Festival Mainstage. She will emcee from 11 a.m. to 1:15 p.m.