It's not automatic, but Ultra Naté sure made it look that way at first. She just picks up right where she left off half a decade ago, and bats out another hit. It's so exciting.
Dismiss, if you must, Naté 's new hit dance single "Automatic," a cover of an '80s standard that very well may hold special meaning to you all its own. If so, Naté 's cover of The Pointer Sisters hit will be problematic. These days there are too many covers made with too little attention for too quick a buck. But Naté carefully considered what to do here. Her cover functions like a well-oiled machine whose amazingly complicated circuitry you may overlook, paying too much attention to Naté 's soulful, sensual, sweet alto.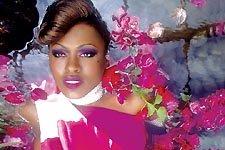 Not quite automatic: Naté
It's been a decade since the Baltimore-based singer-songwriter moved us quite like this. That was the time of her mega-hit, the gay anthem "Free." Then a year later, in 1998, there was yet another dazzlingly re-imagined cover, "If You Could Read My Mind," recorded with Amber and Jocelyn Enriquez for the film 54. In the interim, Naté has had several hit singles and one appealing album, but she's focused her time starting her own record label and a family, and putting on, even DJ'ing for, Sugar, a weekly Friday night house music party at Baltimore's Club 1722. She told Billboard she decided to take her time with Grime, Silk & Thunder (



), which comes six years after Stranger Than Fiction, to make it as strong and as representative as possible of who she is musically.
"Automatic" is not exactly an exception, but the album is not quite as strong as it promised to be. Naté worked with some of today's better-known dance producers, including Eric Kupper and Quentin Harris. But her disco-dipped soul-house sound hasn't changed much since she got her start in the early '90s. The question is how much she'll appeal to a younger audience or newer dance music fans — not to mention whether older fans move the same way now as they did a decade earlier. Despite her fantastic update of "Automatic," the remakes of two of her own first hits included here aren't so revolutionary. "It's Over Now" and "Scandal" are both just as pleasing as they were the first time around, but sound more 1990 than 2007. "Freak On" is another number that sounds dated, even though it was produced by hip new Swedish dance producer StoneBridge, who also mixed the entire album.
Grime, Silk & Thunder has its share of appealing moments. There are even a couple big-room, mood-enhancing anthems in the manner of "Free" that should move gay dance floors. "Give It All You Got" is the obvious next at bat, with its lyrics about striving until you have it all. And there's also "Falling," a sweet churchy ode, the kind you'll want to sing to that special companion you're dancing with — though technically it's an ode to Naté 's young son.
Armand Van Helden struggles with the same problem as Ultra Naté : how to revive the past for the present. Despite the continued popularity of '80s pop hits, it's an open question whether anyone who didn't grow up during that decade will care for his new album, Ghettoblaster (



). It's not altogether a given that even today's thirtysomethings will want to listen to it repeatedly.
But it sure is a hoot at least the first time through. Like many of Van Helden's previous albums, including 2005's Nympho, Ghettoblaster is a gimmicky, guilty-pleasure dance album perfect for play at a party. Van Helden comes as close to sampling two-decades-old beats and melodies as you can get without actually using samples. One minute, you hear a near-copy of Expose's "Point of No Return," another its the Cover Girls's "Show Me," then it's the booming bassline from Rob Base and Easy Rock's "It Takes Two," and so on. "This is the sound of my first nightclub," Van Helden has said, the time the album's press release notes was "dance music's joyous infancy." Van Helden is a DJ and a producer, and this album is as hodge-podge as it sounds, since it's more a producer's album than an artist's album, with each track featuring a different obscure singer or rapper.
But it does sound like what you heard in clubs circa 1988, before house splintered into sub-genres, before hip-hop came into its own, and before remixes were standard eight-minutes-long. It all seems a bit too retro to stand the test of time, or repeated listens. But it sure is fun for now. To take just one example, when Van Helden works his retro snare drum beats into a frenzy to match Nicole Roux's vocals about her baby on the fantastic "Je T'aime," you feel the love, too. And you can't help but smile.
YouTube match for Armand Van Helden (NYC Beat)