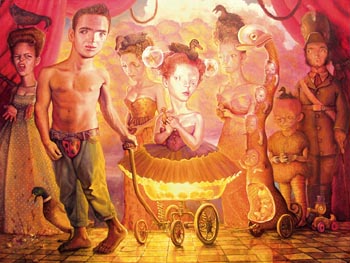 Scott G. Brooks
"Royally Ducked"
36" x 48"
oil on canvas
2007
Broken Eggs. Downtrodden fairy tale figures. Princesses, fairies, carnival sideshows. Amputated stumps. Wide-set eyes. Really wide-set eyes.
These are but a few of the recurring motifs in the extraordinary works of Scott G. Brooks, an artist who, in the past decade or so, has gained prominence in the D.C. art community and beyond. The 46-year-old Flint, Mich., native moved here in 1990 and a few years later landed a government-commissioned makeover of Smokey Bear, turning the forest-fire prevention icon into a growl-worthy, musclebound side of beefcake with plenty of fur.
"I was just becoming aware of the whole bear community at the time," recalls Brooks with a laugh, "so [doing Smokey at the time] was kind of funny."
The "gayed" up Smokey didn't last very long — and Brooks now couldn't care less, although at the time Smokey was important to him. Equally important: the massive mural of a rapt audience he created for the now-shuttered Visions movie theater on Florida Avenue. When the owners rashly painted over it, replacing the intricately-detailed masterpiece with a stark red wall, Brooks himself saw red. "I learned a big lesson with that experience," says the artist.
These days Brooks focuses on his success as a fine artist and an illustrator of children's books. He's fashioned a strong career from his art, which is as provocative and probing as it is visually, emotionally and intellectually engaging. In the world of Scott Brooks, figures take on a distinct, slightly distorted look, as though viewed through a funhouse mirror. Adults are infantilized and children awarded a bleak, sobering inner-awareness, a feeling of innocence not just lost, but forever shattered.
Through a blend of wit, whimsy and the macabre, Brooks gets across what's on his mind at the time, whether on a national political scale or on an intimate personal one, such as when he went through a break-up and created an arresting assortment of male figures with missing limbs.
"I think some of it might come from growing up gay as an outsider, being demonized by society and cast as a villain," the soft-spoken, gentle-spirited Brooks says of the dark themes that infuse his work. "It's also just all the shitty things going on in the world. I kind of take all that and [put it] into my work. The paintings are just an opportunity to go crazy and get it all out. It's cheaper than a therapist, I suppose."
Brooks gradually settled into his current surrealistic style to get away from the rigid trappings of photorealism.
"I can manipulate the figures any way I want to as well as kind of fit them into the scene that I'm working on," he says. "I can abstract the figure. By manipulating the bodies and distorting them, I can also make them do whatever I want them to do — I'm not constrained by any kind of physics. It lets me create my own world." Hence, the trademarked wide-set eyes, which Brooks notes are "pretty much the first thing I work on when I'm doing a figure."
As for specifically gay content, Brooks concedes he used to do "more blatantly gay stuff," but now doesn't "include as much of that." Even so, in his newest work, "Royally Ducked" (2007), which will have its debut at "Art in Heat," there is a chiseled young man sporting a ladybug codpiece. Call it metaphorical food for a nearby hungry duck.
For more information, visit www.scottgbrooks.com.
Click to Read More About Each Artist