FOR THE LONGEST time, Alex Voegele had no idea she could sing. It was only after her post-high school indie band, for which Voegele played bass, called it quits, that she decided to give the microphone a whirl.
Though her first attempt at singing in front of an audience, three years ago at an open-mike night at Whitlow's On Wilson in Arlington, was a disaster ("I had the worst case of cotton mouth known to man"), Voegele has come a long way.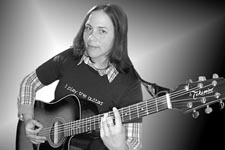 Alex Voegele
The 24-year-old Reston resident describes her sound as "contemporary folk," along the same lines as other percussive acoustic musicians like Ani DiFranco.
Voegele is currently splitting her time between Alexandria, where she works as a teacher's assistant at an adult community and education center, and New York City, where she meets up with a full band to put the final touches on a four-song EP scheduled for release next month.
The EP is in production with the help of David Seitz, who is credited for producing music for Natalie Merchant, Jeff Buckley and R.E.M.
"I came across an advertisement from his label. They were advertising to produce an independent artist. So out of like 100 submissions they had to narrow it down to 10 people, and they just happened to say that my music was fitting to his style," Voegele says, adding that she writes about a variety of topics.
"It varies from time to time," she says. "I've written a lot of songs about ex-girlfriends, but now I'm writing a lot about nature, politics, [and] I've had to focus on the environment because that's one of my passions."
Alex Voegele performs Saturday, Aug. 18, at 1:45 p.m.