While music moves people in primal ways, there is, arguably, nothing more primal than a person's sex drive. The organizers of Phase Fest are acknowledging that wholeheartedly on Saturday, Aug. 18, with two workshops. The first is dedicated to harnesses, the second to lap dancing.
"I think it's incredibly important that dykes and trans folks have more access to positive sexual workshops," says Peggy Sue, employing her nom de lap-dance. "Most lesbians and trans don't have bath houses or old gay uncles who teach us about responding positively to sexuality. I think it's a very big deal."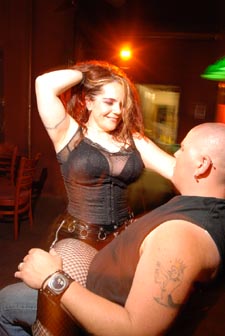 Peggy Sue
While Peggy Sue will share her years of lap-dance expertise with Phase Festers, Jacq Jones, co-owner of Baltimore's Sugar, a "lesbian owned, women and trans operated, for profit, mission driven sex toy store," will lead the harness workshop. Though Jones was attending the Michigan Womyn's Music Festival and unreachable by Metro Weekly deadline, the Sugar Web site hints at the points she'll be touching on. From fabrics, to how to wear a harness, to what you do once you're strapped in, there is a world of possibilities.
Lap-dancing, says Peggy Sue, is also more than meets the eye.
"The lap-dance is a very simple concept, but the execution can be very intricate, measured, layered," she says. "I try to create a bubble between myself the people to whom I'm giving the dance. I want them to feel safe and comfortable and ready to receive something that might be sexual, a little scary — ultimately something that makes them feel good about being sexual with another person."
Beyond technique, Peggy Sue emphasizes that lap dancing can be for exactly those people who think this sort of expression is for anyone but them. Calling herself a "big, queer, femme dyke," she points out that most environments where a person might watch or otherwise enjoy lap dancing or not venues where many lesbians and trans people would feel safe, including the club where she first learned lap dancing years ago in San Francisco. She says she's hoping to give just that audience a chance to see and learn this form of sexual expression she enjoys so much.
"It's a queer, safe space. That is non-negotiable," she insists. "For the dykes and queers and members of the trans community, this is your opportunity to come and learn a wicked-sexy lap-dance in a safe environment."
Sugar's Harness Workshop will be held on Saturday, Aug. 18, from noon to 1:30 p.m. Peggy Sue's Lap-Dancing Workshop will be held later that same day from 2:15 to 3:45 p.m.