Thelma Houston had one big hit, "Don't Leave Me This Way." The song is not only one of the disco era's biggest and best, it's also enduring enough to have propelled her career for three decades, helped along, of course, by her unflappable energy and stage presence. It's brought her regular and repeat engagements at gay pride events and at AIDS benefits. (Notably, Houston was one of the earliest celebrities to take up the cause, back when it was thought of as only a gay disease.)
But technically speaking, no one lived up to her shouted pleas. Except for those pride performances and occasional turns on TV or concert tributes to disco and one-hit-wonders — as well as a few short-term roles in staged musicals — we left her that way. No record labels gave her much support to create another major hit, and quickly the public mostly forgot about her.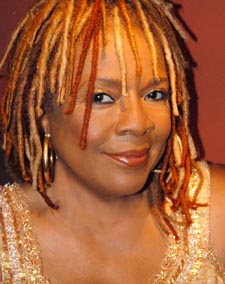 Thelma Houston
Now, some 30 years after that hit and 17 years after she recorded her last album, she's finally returned with a new set. A Woman's Touch (


) is an album of 10 songs originally recorded by male singers whom she cites as "among the best artists of our time," from Sting to Smokey Robinson to Al Green.
Houston is in fine voice here, and she occasionally shows herself a skilled interpreter of adult-contemporary pop. But overall, A Woman's Touch leaves a lot to be desired. This is decidedly not what we hoped would result after having to wait so long.
Apparently, Houston had to have a gimmick in order to convince a label to invite her back into the studio. In this case, the gimmick that's been so successful for other aging pop singers in recent years: a covers album. Her idea was to remake songs originally recorded by men, though not to make any real kind of feminist statement, as Tori Amos and others have done before her. No, Houston just wanted to add a woman's touch to these songs she treasured. Just what is a woman's touch for Houston? Think pink. It's the predominant background color in the album's liner notes, and it colors her name and blouse on the cover. A woman's touch a la Houston is about positive thinking in the face of all adversity — about persevering as a woman in what remains too often a man's world.
Houston started out a gospel singer, and the new album reflects that. Even the two times Houston actually dances here have gospel coloring. Her cover of Luther Vandross' "Never Too Much" opens with a call from her, the elder pastor, to women everywhere. She counsels them to expect a lot from the man who is to be the one. And her medley of two disco burners, including Sylvester's "You Make Me Feel (Mighty Real)," launches with her leading a choir in praise to feeling mighty real.
The album opens with an African-inspired crying chant, and then a few exotic wilderness sounds, including a didgeridoo, before Houston gives us a pep-talk sermon over a '70s-era programmatic R&B beat. "Everybody, I want you to listen to me for a little bit, right here," she says, as if she were a preacher before world-weary congregants in need of uplift. But she says this is no time for passivity. "Wake up everybody, no more sleeping in bed/No more backward thinking, time for thinking ahead."
Advertisement

| | | |
| --- | --- | --- |
| Thelma Houston: A Woman's Touch | This is Tom Jones | Best of Thelma Houston |
Did I mention the '70s-era programmatic R&B beat?
Yeah, well, unfortunately, thinking ahead doesn't just happen if you say it sweetly. A Woman's Touch is thoroughly dated in its musical ideas and sound. Whether it's '70s R&B or even traces and remnants of disco, there's little fresh on offer. The only value in the set, actually, is the few ad-libs here and there, most notably her wild vocalizations at the end of her Sting cover, "Brand New Day." Well, that, and the fact that her voice is still as strong as ever; still a joy to listen to — if you can get past the instrumentation, that is.
It's a shame that Houston has only had one hit. It's a shame that she really didn't get much of chance to have another, with one record label after another not getting and supporting her varied musical interests, from gospel to R&B to disco, or pushing her aside for other more popular female artists. It's a shame that this is her first shot at a full album in nearly two decades. But the real shame at the moment is that this is all we've got. She ends the album with a bad case of the blues that only reinforces our frustration. "Please send me someone to love," she begs and pleads, sounding as good — as pained — as we remember her. It's as if she's still waiting, still pining for another classic that still hasn't happened yet.