You probably know their names. You may even personally know some of the 28 people featured in the Rainbow History Project's new exhibit of portraits, "Community Pioneers," celebrating those who've contributed to GLBT equality in the District in the past 40 years.
"I wanted the portraits to reflect who the people are," says Patsy Lynch, a local lesbian, who served as portrait photographer, and who is herself a featured pioneer. "I basically let people tell me how they wanted to be photographed."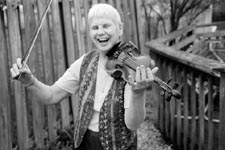 Lilli Vincenz
Lynch's method worked particularly well with Lilli Vincenz, one of the first to picket the White House for gay equality, some 40 years ago.
"Literally, about 20 minutes before I left, she goes, 'Would you like me to play my violin for you?'… She had just finished that last note, and she threw her arms up. I knew that was the photo."
Mark Meinke, chair of Rainbow History, says the featured pioneers were limited to local people who are still living, though future exhibits may feature those who have died or left the area.
"Without community pioneers, there wouldn't be a community," he says. "You look around, there are bars, there are clubs. There are churches, there are synagogues. Thirty years ago, none of that existed. Somebody had to create it, and these are the people who did."
Lynch says she is hoping those who attend walk away with a newly found sense of history.
"I really hope that when people come to the show,… they really take the time to look at the images and read about it," she says. "If we don't know our history we're going to become forgotten. We need to let people know that we are here, and we're not going away."
An opening reception is scheduled on Thursday, Sept. 27, from 6-9 p.m. at Busboys and Poets, 2021 14th St. NW. The exhibit will be on display through Oct. 19. For more information, visit www.rainbowhistory.org.