SOME GAYS AND LESBIANS have found the best of both worlds, urban and suburban, in D.C.'s backyard: Maryland's ever-developing Silver Spring. Barely outside the District line, it's the home of Maryland's GLBT-rights organization, Equality Maryland. It's no wonder it's also home to the group's executive director, Dan Furmansky.
"I hear crickets outside my bedroom window at night, there are rabbits in my yard, and yet I'm a half-mile walk to the American Film Institute and Burmese and Peruvian restaurants," crows Furmansky, who has lived in Silver Spring for seven years.
Prospective gays and lesbians should know that it's "incredibly gay-friendly," Furmansky says, adding that he's always felt comfortable expressing public affection in Silver Spring.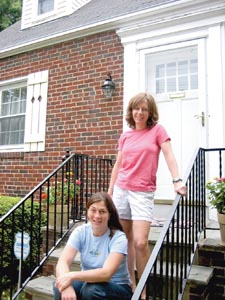 Heidi Whitesell and Lisa Fitzpatrick
"There are a 'gazillion' gay people here. You can go to the Silver Spring [Downtown] promenade at night and see old, Orthodox Jewish couples; young, West African immigrants; a lesbian couple with a baby; and your run-of-the-mill, suburban yuppies all hanging out in one area. It's a great place…. It's vibrant, suburban-urban living at its best."
Furmansky says part of the reason he decided to live in Silver Spring is that, aside from the amenities for people, this close-in enclave is also welcoming to his dog.
"I wanted more green space," he says. "I wanted the quiet of the suburbs and the ability to be close to an urban center and public transportation."
But Silver Spring, particularly downtown, wasn't always so inviting.
Lisa Fitzpatrick and Heidi Whitesell say things have changed greatly since they moved into their home a few miles away from the heart of Silver Spring nine years ago.
"It used to be that you wouldn't go downtown at night alone," says Fitzpatrick.
Whitesell also recalls those days. "It was a pit. It was completely rundown and there was nothing to do."
Once Whole Foods opened an upscale grocery store in the heart of downtown and Discovery Communications, parent of the Discovery Channel, moved in, everything changed.
"[Now] there's something for everybody in Silver Spring," Fitzpatrick says, adding that the downtown area is an ideal location "if you're looking for more of an urban setting." And if that's too pricey, Fitzpatrick recommends other areas in the Silver Spring area further away from downtown, such as Wheaton or Forest Glen.
As for pricing, a newly remodeled, one-bedroom, one-bathroom, high-rise apartment with a den goes for about $1,400, including all utilities. That's with parking, though three Metro stations are nearby. A tiny, furnished, one-bedroom unit is offered for $1,300, walking distance to the Silver Spring Metro and downtown. With its own small yard, dogs are welcome — no small perk, considering the hoops dog owners must often jump through to find pet-friendly housing in the District.
A three-bedroom condo near downtown goes for about $295,000, including a priceless view from its 12th-floor balcony. A standalone house with a large yard, three bedrooms and two bathrooms, a bit further from downtown, is on offer for $385,000.
"The important thing to note about Silver Spring is that it's a very large area. There is a contrast between inside the Beltway versus outside the Beltway," Fitzpatrick explains. Downtown Silver Spring is, like D.C., inside the Beltway. Forest Glen and Wheaton, for example, are outside. "I think that's something that, if [you're] gay, you might want to take into consideration."
In addition to downtown's shops and services, Silver Spring offers several parks and hiking trails, including Rock Creek Park, Sligo Creek Park and Acorn Park, which is located in the downtown area and is respected by many as the place where a "mica-flecked" spring was discovered by Francis Preston in 1840, giving the town its name.
The people are just as diverse and inviting as the town itself, Fitzpatrick insists, adding that the neighbors are the icing on the couple's domestic cake.
"When we moved in, the neighbors all came over to welcome us," says Fitzpatrick. "They're the type of neighbors who will lend you something if you're short of it."
As for Whitesell, the most significant aspect of living in Silver Spring is the fact that the couple's transition into the neighborhood was unremarkable.
"That to me is the most significant [memory] because [being gay] was just never an issue," she remembers. "We've just been always comfortable — welcome and welcoming."
The neighborly love stems from frequent dog walks the couple took with Hannah, their 13-year-old German Shepard, the only guest at the couple's intimate ring exchange five years ago. Hannah died recently.
"We got condolence cards from the neighbors," says Fitzpatrick. "People came by and asked how we were doing and said how much they're going to miss Hannah and how she was such a big part of the neighborhood. We have a real sense of community here."
---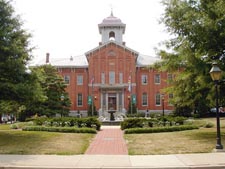 Frederick City Hall
THERE IS GAY LIFE outside metropolitan Washington and its surrounding cities. Take Frederick, Md., for example. About 50 miles from D.C., the Frederick government includes an openly gay alderman, David P. "Kip" Koontz, who has lived in Frederick for the past 15 years.
"This is not a town for young people who want to party, party, party," Koontz admits. The closest gay bar is about a 30-minute drive away from Frederick's historic and peaceful setting.
Instead, this affordable alternative to Washington should appeal to those in their late 20s and up, Koontz says, "who are more settled."
And just how affordable is Frederick? For less than $2,000 per month, you can rent a four-bedroom house with a mountain view. A few minutes from Old Town Frederick, a two-bedroom, two-bathroom, luxury unit rents for $1,500 a month. A three-bedroom townhouse sells for $315,000.
Despite its relative isolation, Koontz says Frederick is an ideal location for gay and lesbian couples to settle down and raise families.
"We have great schools here. We have very progressive programs in place that upset the religious right, and I think that's a good thing," he says with a laugh. An active member of the Evangelical Lutheran Church, Koontz moved to Frederick for employment, and quickly fell in love with what he describes as a "beautiful town" with a rich history. That includes being the hometown of Francis Scott Key, best remembered as the man who wrote the lyrics to "The Star-Spangled Banner."
In the '90s, Koontz and his partner, J.D. Hulse, held a commitment ceremony with 150 guests near the City Hall's recognizable, picturesque fountain.
"People still drove by and blew their horns and waved," says Koontz. "I don't know if they actually comprehended what was going on, but nobody heckled us or anything."
Koontz currently lives in a three-bedroom "California rancher" with Hulse, a designer-decorator, and their three dogs.
Several years ago, he wasn't as gung-ho on Frederick. But times, he says, are changing. "I would have said, 'You know, it's not the greatest place for a gay person.' But that is long gone," he observes, adding that the he did not have any difficulty running for office as an openly gay candidate.
"I chose to take my husband up on stage with me when I did my swearing in. I thought that some of the backlash would be very negative. Even some of the most conservative Republicans I knew were in the room…[and] congratulated me for doing it. [They] thought it was a courageous thing. It just showed that my life is no different than anyone else's."
Jarvis Brooks is hoping to spread the same message, but in a spot a bit more remote than Frederick: Hagerstown, Md.
While Hagerstown is home to the Deer Park Lodge, a gay bar for the tri-state area, as well as Rainbow Connection, a GLBT gift shop, Brooks says he wanted to create an alternative avenue of "fun" for the GLBT community. To that end, he launched "Reel Awakenings," a gay, monthly, movie event.
"I felt like we needed to have more options in the rural, suburban areas, things to do, that were positive things, versus just a gay bar, and so I decided to start Reel Awakenings, the idea [being] to provide a positive, safe entertainment, to educate and enlighten the community."
Hagerstown may be even more affordable than Frederick, especially for someone who's dreamed of opening a bed and breakfast. An eight-bedroom house, previously used for senior housing, is up for $269,000.
Brooks is currently trying to get the ball rolling on organizing and putting together Hagerstown's first Pride event for 2008.
"For four years I was on the advisory committee and also the chair of entertainment for [Capital] Pride, and the one thing that always got me is that I was the only one outside the metropolitan area," Brooks says.
Koontz looks at this own spot of rural Maryland and concludes, "It's very easy to look at Alex X. Mooney (R-Dist. 3) for instance, who's our state senator, who is extremely right wing, and paint him as being who Frederick is. But when you look at these types of things that are happening in [and around] Frederick…. he's actually diametrically opposed."