It's time for yet another Washington gala, replete with awards, entertainment and pricey tickets. And with Tim Gill, the gay founder of the Quark software company who has channeled millions of dollars into the fight for gay equality, as an award recipient; James Hormel, the nation's first openly gay ambassador, as an award presenter; and lesbian comic and commentator, Kate Clinton, making an appearance, one would reasonably wonder, "Which GLBT organization are we talking about?"
None, actually.
The organization in question, celebrating its 25th anniversary on Tuesday, Sept. 25, is the Washington-based People For the American Way (PFAW), and its affiliated People For the American Way Foundation (PFAWF). And while the organization has a broad mission, which could loosely be seen as a counterbalance to the fundamentalism of the "religious right," much of the group's energy has gone to advancing the cause of GLBT rights.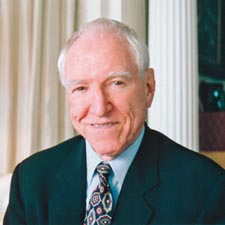 James Hormel
Hormel, a PFAW board member, sparked a backlash from those same right-wing quarters after then President Bill Clinton nominated him to serve as U.S. ambassador to Luxembourg in 1997. Already involved with PFAW to some degree, Hormel did not join the board till his return from Luxembourg in 2001. The experience of being held up by social conservatives as something nearly subhuman — "Senators who are so angry at [then Sen. John] Ashcroft for opposing Hormel should be far more angry at Hormel for his attempts to recruit children into the homosexual lifestyle," spewed Andrea Lafferty of the Traditional Values Coalition, at the time — certainly must have given Hormel a greater appreciation for PFAW's mission.
"The organization represents a general philosophy to which I adhere," Hormel says today, just ahead of the 25th anniversary celebration. "I'd look at the name for a moment: People For the American Way. The name, to some, could sound like a right-wing nut organization…. I think PFAW has been guided since inception on the principles of fairness, equality, of creating an even playing field for all citizens, pointing out where things are not even, not equal, not fair. [PFAW is] doing research and providing education on all the policy issues that revolve around fairness, with a very close relationship to our Constitution and what it stands for."
That sense of fairness has put PFAW front and center in the so-called "culture war." In the trenches, PFAW has fought for same-sex marriage, sought to extend hate-crimes legislation to include sexual orientation and gender identity, worked with African-American clergy to combat homophobia in places of worship, and won a 14-year battle against anti-gay activists in Cincinnati, among other GLBT flags PFAW has carried.
So why, if PFAW is not specifically a GLBT-rights organization, is the organization so invested in the gay community?
"There are probably several answers," responds Hormel, whose activist roots also go back to helping to found that organization that is today the Human Rights Campaign. "One is from the perspective of the general public, that PFAW is not specifically a gay-related organization. It has chosen to speak out, set a priority on GLBT issues, partly because it feels it's not primarily a gay-related organization. It's in a position that sets it apart, to say, 'Look, we're not committed to advocate for the rights of the GLBT constituency. We just think it's part of the fairness that PFAW stands for.' That makes [PFAW] more influential in some aspects….
"My guess is [advocating for GLBT rights] has been since the very beginning [of PFAW], reinforced by 25 years of research on the various, radical, religious organizations, which have more and more used GLBT issues as wedge issues for their own fundraising and growth…. One of the primary reasons I'm so supportive is that they are so clearly dedicated to issues around our constituency."
Aside from a chance to show his support for PFAW, the upcoming "2007 Sprit of Liberty Celebration" is also a chance for Hormel to hang out with friends. His relationship with Speaker of the House Nancy Pelosi (D-Calif.), to whom he'll be presenting a Spirit of Liberty Award at the gala goes back more than 20 years to when they worked together hosting the 1984 Democratic Convention in San Francisco. He fondly recalls one of her early speeches to the Human Rights Campaign, years ago in Chicago: "During the course of her speech, she tried to explain what it meant to be the 'House Whip,' with amusing results."
But while Pelosi doesn't usually play for laughs, that's the trademark of Kate Clinton, another friend of Hormel's.
"Kate Clinton is my girlfriend," he says with a laugh. "I adore Kate Clinton!"
PFAW and PFAWF celebrate the 25th Anniversary Spirit of Liberty Awards Gala on Tuesday, Sept. 25 at the Kennedy Center, honoring Speaker of the House Nancy Pelosi, Tim Gill, Rutger's women's basketball coach C. Vivian Stringer, and filmmakers Heidi Ewing and Rachel Grady (Jesus Camp). Award presenters include BET co-founder and Mystics president Sheila Johnson, and PFAWF Board member Kathleen Turner. Opening reception begins at 6:30 p.m., with awards presentation at 7:30. Ticket prices start at $250, and are available online at www.pfaw.org or by calling 202-467-2344.