It's hard to think of one without the other. Just as Microsoft often comes to mind when you think about Apple, so you wonder about Tiesto when the topic is Paul van Dyk. The analogy is not really fair to either DJ, of course, and it only goes so far. For years rated in DJ Magazine's popular poll as the world's second-best DJ after Tiesto (who is Dutch), van Dyk (who is German) has turned the tables for two years running.
The comparison also only goes so far. Tiesto is unashamedly a merchant, out to appeal to as many people as possible. When van Dyk came to D.C. a few months ago in advance of his new album, In Between (




), he performed at the 9:30 Club, which holds approximately 1,200. This Saturday, Tiesto took to the street outside Club Love (once known as Dream) and entertained for about seven times as many people. Van Dyk isn't above marketing himself or selling his music for commercial purposes — most recently in a Jeep commercial giving new life to his four-year-old club hit "Time of Our Lives" — but his focus is on his art and his music. It even tends to outshine his DJ-ing.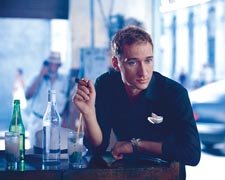 Out of Trance: van Dyk
And it's the music — not the DJ-ing — that makes the comparison with Tiesto increasingly irrelevant as the years go by. Whereas Tiesto's latest Elements of Life sounds much like (and, truth be told, as good as) his previous artist albums, van Dyk has subtly but surely solidified his sound over subsequent albums. Van Dyk says the title of his new set is in part a reflection of the set's sonics falling between techno and the airy trance he (and Tiesto) became known for. More than before, you do get a sense of gravitational pull. The music moves as fast as before, but it never really gets weightlessly airborne. In Between moves with full intention and effect. You'd never expect a track like "Sabotage" from van Dyk. This is angry, blippy and fierce minimal techno that all by itself destroys any notion that van Dyk isn't impressively versatile within the dance genre. "Another Sunday" channels decade-old Chicane, but without the "Don't Give Up" out-of-body escape. The music and the message here — "It blows my mind" — is very much an in-body experience, even as it is every bit as much a freeing one.
Van Dyk increasingly uses male voices in his music, but even now when he hires breathy female vocalists (or lets his fingers flutter up his keyboard's register), he keeps control by landing especially forceful, hard-hitting beats that don't let up and don't allow for much sentimentality. Ashley Tomberlin coos and cries over how "Complicated" her situation is, but van Dyk doesn't let her get carried away. He allows her to only occasionally plead her case. By song's end, everything's as cloudy and stormy as it was before — and Tomberlin is silent.
In Between could use a bit more punch in other ways, and definitely needs editing: 17 full-length tracks is about three or four too many. The album would do better to end with "Let Go," the notable successor to "Time of Our Lives" with a moving Bono-esque vocal from Rea Garvey. Instead, the David Byrne-led "Fall with Me" feels tacked on, as if it were only included for an extra, unnecessary dose of celebrity cachet.
Van Dyk calls the album his most personal and strongest to date. There can be no argument about that. Van Dyk does a fine job of mixing the tracks so that they quickly but effortlessly blend into each other, with no gaps, just as Madonna did on Confessions on a Dance Floor, which won last year's Grammy for Best Dance/Electronica Album. Van Dyk's last set, 2003's Reflections, was nominated in the category. This time he just may win. That would further distance himself from Tiesto, who has yet to garner a Grammy nod.
Advertisement

| | | |
| --- | --- | --- |
| Paul Van Dyk: In Between | Tiesto: In Search of a Sunrise 6 | JES: Disconnect |
Jes Brieden, known as JES, is often billed "The voice of Tiesto" because of her work with the Dutch DJ, who regularly includes the American singer-songwriter on his productions and in his live sets. But the sound of her debut artist album is more in line with Paul van Dyk's latest, and especially the work of Gabriel and Dresden — with whom JES first garnered attention, as the voice of their huge club hit, "As the Rush Comes." JES calls the sound "roctronica," and she's titled her album Disconnect (



). It is a bit of a departure from the norm, but the set should easily connect with anyone who loves slightly rocky, slightly atmospheric electronic music — the kind Bjork might make today, if she weren't so experimental. JES never forgets that you want to dance or enjoy a good song, with a strong melody.
JES has a deceptively little-girl voice that never becomes overly precious. She's an expressive yet refined singer, and she writes poignant lyrics imparting optimistic but hardly naïve reflections on life. On "Ghost," the set's fittingly haunting lead track, JES says she's played a ghost and a slave — perhaps she means as the often under-featured vocalist for bigger-name DJs? Now, however, she's on her own.
From YouTube:

Paul Van Dyk: White Lies