In a world where gay professional sports icons are few and far between, Martina Navratilova definitely stands out. But even if the pro playing fields and courts were filled to overflowing with gay players, Navratilova would likely remain head and shoulders above the rest.
Navratilova became a professional tennis player in 1975, the same year she defected to the United States from her home nation of then Czechoslovakia. Not only did she amass a stellar record — six consecutive Grand Slam single victories, nine Wimbledon singles titles, a plethora of doubles titles — she helped change women's tennis into a professional sport that required equal parts skill and athleticism.
That dedication to fitness led to one of the longest careers for a pro athlete. Although she retired from singles play in the early 1990s, Navratilova continued to play professional doubles at the highest levels, until her retirement in 2006.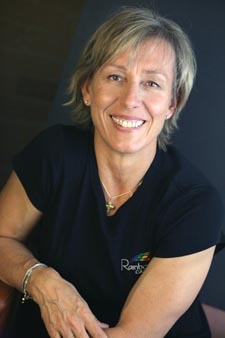 Martina Navratilova
Although her path to becoming an icon for the gay community wasn't an easy one — endorsement contracts and other support never flowed her way as easily as they did for stars such as Chris Evert or Steffi Graf — it has been a fulfilling journey for her. Always eager to speak her mind, Navratilova, who will be honored with the NGLCC/American Airlines Extra Mile Award on Friday, Nov. 2, at the National Gay and Lesbian Chamber of Commerce's National Dinner, obviously wants to make as much difference off the court as she did when she was on it.
METRO WEEKLY: First off, in the October issue of Tennis, you had a full-page response to a joke the magazine had printed implying you were leaving the U.S. for the Czech Republic. You've always been very politically active and the subject of commentary — why was this incident so important for you to respond to?
MARTINA NAVRATILOVA: This was something completely out of left field and, I thought, completely unwarranted and inaccurate. That's why I had to say that it was not even funny. I was really upset that my own tennis community would comment on me like that. It was obviously a [person of a] politically opposing view who wrote that and let their personal feelings get in the way of proper reporting. It was very hurtful, which is why I took the time to call them and say, "What the heck is going on there?"
They gave me the forum to write a page and speak my piece, which was great. Usually when a newspaper or magazine writes something inaccurate, they write a correction on the back page or buried somewhere — it's a big article and a small correction. This one was sort of a small dig, but to me it was a very deep dig, obviously, and I was able to write a rebuttal that was much longer than the original article. It was a good thing to explain where I was coming from.
MW: Was it so important because it was questioning your commitment to being an American?
NAVRATILOVA: It goes back to 2001 in the spring when I criticized the Bush administration for making all its decisions based on money and Bill O'Reilly was saying that I if I didn't like it here why don't I just go back and live in the Czech Republic. And the whole point of democracy is that you can speak your mind. Dissent doesn't mean being unpatriotic.
It's really amazing, and sort of shows that the philosophy of the right wing is that you can't disagree. In 1992, when Clinton took on the military's policy on gays and came out with "Don't Ask, Don't Tell," I said that Clinton wimped out. So there was a little blurb in USA Today: "Martina Navratilova called President Clinton a wimp." And that was the end of that.
Imagine if I called George Bush a wimp. They'd want my head on a platter. Roasted. So I had dissent from Clinton as well because I did think that he wimped out — "Don't Ask, Don't Tell" is a terrible policy and needs to be overturned. But now when I'd make a comment about the Bush administration I get pilloried. If I had had records like the Dixie Chicks, they would have burned them, too. I take exception to that because the whole point of living in this country and why this country is so great is that we can speak our mind without repercussions, without being demonized.
MW: Having lived in a communist society and defected to the U.S. in 1975, do you think you have a perspective that many Americans just don't get?
NAVRATILOVA: Absolutely. I think if you've lived in two different countries, two different cultures, it gives you a different perspective. I had a very large perspective of what it's like to be in a repressive regime where you can't speak your mind. It was a totalitarian regime where the government ruled the corporations — actually it owned them. Now, here we have a country where the corporations run the government. So we've flipped it completely. There's no balance. So, yes, it gives me a unique perspective and a reason to speak out because I can see that kind of repression coming from a long way away. I can see it before the average American can see it, I think.
MW: Was there ever a point during your career that you felt afraid to speak your mind about all kinds of different subjects?
NAVRATILOVA: Prior to being a [U.S.] citizen, I couldn't speak my mind about being gay or even gay issues. I had to muzzle myself, although back then it wasn't [as much] a topic of conversation. But since then I have pretty much said what I think, which has cost me dearly in endorsements. I think one reason why I haven't gotten the endorsements [that other players have] is as much about my being outspoken as about being gay. I sort of hit the Daily Double there.
MW: I realize that tennis as a sport isn't all-embracing of gay and lesbian players, but with high profile stars such as you, Billie Jean King and Amelie Mauresmo, it does seem like there's a better place for at least lesbian athletes with professional tennis than with a lot of other sports.
NAVRATILOVA: I think all individual sports are better for gays because it's based on merit, not on personality. If you are gay in a team-sport situation, if you have a homophobic coach, you don't get to play. And if you have a homophobic front office, they trade you. They don't play you on the pro level.
In tennis, they can't keep you from entering a tournament if you're gay. It's a lot easier to be open because you don't lose your livelihood, you don't lose the possibility of performing and playing your sport. But it's still funny to me that no men have come out. There are certainly gay men players. It's funny that on the golf tour and the men's tour nobody has come out on the men's side. And in the entertainment field I think there are more gay guys out than women.
MW: You can't stop them from coming out.
NAVRATILOVA: [Laughs.] It should be irrelevant. That's the whole point. And for some of these guys it is. T.R. Knight [being gay] is irrelevant. He's playing a straight character, he's a gay guy. Maybe the fact that he wasn't that well known when he came out makes it easier, but the whole point is that being gay should be irrelevant as to whether you get to play tennis or be a teacher or an actor or anything else.
MW: Is there anything that tennis fans can do to help create an environment where the players could come out more comfortably?
NAVRATILOVA: Cheer for them when they do. There are plenty of people who didn't cheer me on when I was playing because they didn't like my sexuality. That should not be the defining factor in deciding whether you like somebody or not. It should not be a positive or negative. It's part of the biography but it's not a defining quality.
MW: You've done televised commentary on tennis matches. I've always wanted to ask somebody about this — I know so much about the straight players' boyfriends and girlfriends, husbands and wives from the focus the commentators put on them. But you never really hear anything about who Amelie Mauresmo might be dating. It seems like with players who are out, you don't get that kind of stuff from them.
NAVRATILOVA: Well, you've got a very small pool to pick from. A lot was written about who I was with. Amelie was very public with her first girlfriend but after that didn't work out, she's been very private about who she is with. Her girlfriend doesn't sit in her box they way Roger Federer's girlfriend, Mirka [Vavrinec], does. So it's still up to the player.
I think Amelie decided to lay low on that front because they make such a big deal about it. And I don't think it's really a heterosexual or homosexual thing here. I know I was talking with a movie star a couple of months ago at an event. I thought she was single and she had been married for about 10 years. Her husband just wants to keep a low profile. He doesn't want to be in the limelight. I don't think it has anything to do with gay or straight. My partner wants to stay private, so that's why you don't see her. It's not about being in the closet, it's just about being private.
MW: Do you get a lot of questions about your partner?
NAVRATILOVA: I do, but I don't talk about her. People don't need to know about who I'm with. I think the relevant fact is that I'm gay. The irrelevant fact is who is my partner, because that's just curiosity. But really, it doesn't affect social change or anything like that.
MW: How important for gays and lesbians in tennis would you say having the USTA National Tennis Center re-named as the Billie Jean King Tennis Center was?
NAVRATILOVA: That's just big for women, period. Billie didn't get that [honor] because she's gay, but that didn't get in the way, which is exactly what we're striving for. It showed the lifetime of work that Billie Jean has put into the sport and put women on the map as athletes, which is what she has been fighting for and a lot of us have been fighting for, and she was the pioneer and she spoke her mind and spoke for what she thought was right.
So now a little girl can Google Billie Jean King and she'll find all kinds of things: Here's this lesbian who is supposed to be a bad person if you listen to the religious right, but there's this huge center named after her, so it must not be all that bad. You don't see anybody from the Ku Klux Klan having a center named after them. [Being gay] ceased to be such a negative in this case, which is just great. I don't need it to be a positive, it just needs to stay neutral. We're heading towards that direction, which is great.
MW: What is the thing that you as a tennis player look back on or are proud of that you did to change the sport?
NAVRATILOVA: For me it was the fact that I really put physical fitness into the sport and just tried to become a better athlete and therefore a better tennis player. I tried to become the complete, total athlete so that I could be as good as I could possibly be hitting a tennis ball. I took it to another level physically as well as mentally because it takes a lot of mental strength to do that kind of physical work.
MW: Everybody knows that male pro players hit the ball hard, but do you think people really get how physical women's tennis has become?
NAVRATILOVA: No, they don't. Even the guys on the tour don't realize how hard the women hit. Whenever guys practice with the women or play mixed doubles with them, they come off the court saying, "God, she hits the ball a lot harder than I thought." They're surprised. We just don't have the spin and particularly the serve that they do. The guys have a big advantage with their height and their upper-body strength. They can really smack the ball on the serve, but off the ground where the legs come in more, the women hold their own pretty well. I think Lindsay Davenport and Maria Sharapova and Serena Williams would hold their own against a lot of guys just trading ground strokes.
MW: Now that you have actually stopped playing professional doubles, do you miss it?
NAVRATILOVA: I think every tennis player misses some parts of the game. What I miss is just the simplicity of it all. You know what you need to do every day. You make your plan and you work on something and you see the results. It's quite immediate gratification in tennis. If you start working on something, you see results within weeks or months at the most. In the business world, you might have a project going on for two years that still doesn't work out and it has nothing to do with the effort you put in. So tennis is very satisfying that way. What you put in, you pretty much get out.
MW: I think it's hard to classify anybody, really, if you look at their whole spectrum of opinions, but for the most part how would you label yourself politically?
NAVRATILOVA: I think what they would call me is a bleeding-heart liberal, because I love the environment, I love the animals, I want to help old people, I want to help kids, I want to help all the ones who can't help themselves. But what really pisses me off is that that's become a dirty word. Being a liberal somehow is bad, yet it comes from the word "liberty," which means freedom, which everybody wants. We're all fighting for that but if you're a liberal, that's bad. I don't like the connotation that these words have taken on in this country. Being a liberal in Europe is not a dirty word, but being a liberal in the United States somehow is.
MW: Earlier, you mentioned the country being out of balance because the corporations own the government. Does that make it at all inconsistent that you're appearing at a gay chamber of commerce event, which is really the result of a lot of gay business and corporate activism?
NAVRATILOVA: There's nothing wrong with business as long as they're not in it just to make money — if they're trying to make a difference, trying to make the world a better place. Again, that sounds like a bleeding-heart liberal, but there is a way to do business and do it in a socially conscious and ecologically sustainable way. So whether the business is gay or straight, if you adhere to those principles you're going to do well. There's nothing wrong with business but there is something wrong when all business cares about is the bottom line and how much dividends they're going to give to their shareholders, rather than how many people are they going to give jobs to and how are they serving their customers.
MW: What would be the best advice you'd give to a young gay or lesbian player who wants to make it on the pro-tour circuit?
NAVRATILOVA: I would give the same advice to a straight player: Make sure that you love what you're doing and give it your best shot every single day.
Martina Navratilova will be honored at the National Gay and Lesbian Chamber of Commerce National Dinner, "An Evening of Courage," this Friday, Nov. 2, at the National Building Museum, 401 F St. NW. Reception and silent auction begins at 5:30 p.m. Dinner starts at 7:30 p.m. For information on how to purchase tickets to the event, please visit www.nglcc.org/nationaldinner2007. For more information on NGLCC, visit www.nglcc.org.