With Halloween down, it's time to start thinking of Thanksgiving and the rainbow of similarly family-themed holidays to follow in December. Along that theme, Peter DiMuro, producing artistic director of Takoma Park's Liz Lerman Dance Exchange, has been trying to redefine family for some time. And now he's inviting the entire community to join by participating in Gumdrops and A Funny Uncle.
"'Gumdrops' becomes a term of endearment for the little ones. 'Funny uncles' is used as a portal into funny families, what's quirky, what's odd. We're all 'funny uncles,"' says DiMuro, who is gay. "Paul Lynde was a 'funny uncle.' Here we are 30 to 40 years later, though, and now we talk about sexuality, so 'funny uncles' has to have a new definition."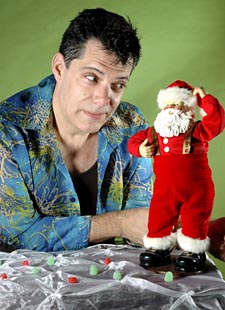 Peter DiMuro of 'Funny Uncles'
At a practical level, this means that DiMuro is planning to put on a show. The content, he says, should come from everyone who has a story to share about his or her own family's quirks and idiosyncrasies, whether that is two opposite-sex parents with 3.5 kids or not. DiMuro is asking that people visit his Web site, www.funnyuncles.org, to read peoples' contributions and to share their own.
"If you think you're normal, think again," DiMuro insists. "It's the quirks in our lives that make us whole. We all deserve to be reminded of what makes us part of any family.
"It's about biracial adoption," he continues. "It's about families of choice. Being gay is a huge part of that. In some ways, we sort of lead the pack in finding language, framing the situation. I want to broaden and own the definition of what family is, rather than settle for the definition narrow-minded people might use. It's like taking the definition of religion away from the radical right. I can't imagine a world where each family is a cookie-cutter image of the next. That just isn't so."
The resulting mix of this collective sharing will be a series of performances beginning in December at Round House Theatre, then traveling to Los Angeles and Baltimore.
"All these other stories started filtering in," he says of this ongoing process, which should run through November. "Then we got the idea of blogging. Then adding text, video clips."
For the debut of Gumdrops and Funny Uncles, "there will be live dancing, video projection, shadow puppet work by Molly Ross, lots of text…. The week of the performances, we will hold a movement workshop with families and we'll teach them an ending dance so that they can join us onstage. Let's break down that fourth wall…. Audiences today are not able to sit through one medium anymore. We're appealing to the 21st century version of ADD."
For more information, or to contribute a story, visit www.funnyuncles.org.