"Don Giovanni is sort of a personification of the sex drive," says John Pascoe, director and designer of the new production of Mozart's classic, Don Giovanni, which opened last weekend at the Washington National Opera. "He's just undiluted sexuality, the idea of 'I'm going to get what I want: sex.'" And that, says Pascoe, is what Giovanni's costume is meant to express. "It's very much an internal statement rather than being something limited to a very specific period."
The chest-baring suit, with its fetishistic undertones, is not, Pascoe concedes, something too many singers could don. But Erwin Schrott, who sings the role Nov. 1 and 4, and Ildar Abdrazakov, who performs it Nov. 7, 10, 13 and 16, more than fill it out.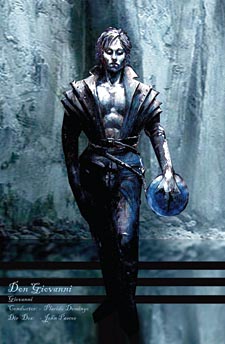 Though he himself identifies as gay, the 58-year-old, British-born Pascoe stresses there is no explicit homoeroticism in his direction of Giovanni. Still, he notes, "the important fact [to viewing] any great work of art is, 'What does this work of art have to do with my life? To be very specific about it, what relevance does it have to do with gay life? And I think it has an enormous interest for the gay world.
"The story that Don Giovanni tells us," he continues, "is of this man who's on a sexual rampage…without concern to the effect he has on other people. It takes two seconds to translate the reality of what Mozart has given us into any of our own lives or any of our own experiences. It's dealing with the idea of sexual freedom vs. responsibility."
Still, notes Pascoe, "[The opera] goes to a very specific place in personal development, one that is not concerned at all with human relationships and is only concerned with sex. We all know there is such a thing as Sexaholic Anonymous and that there's a reason for it."
Don Giovanni plays in rep with A View From the Bridge through Nov. 16. At the Kennedy Center Opera House. Call 202-295-2400 or visit www.dc-opera.org.