In its final two productions before the winter break, the Washington National Opera gives us a fascinating compare and contrast in its scheduling of Mozart's Don Giovanni alongside William Bolcom's A View from the Bridge. In View, Eddie Carbone obsesses over saving his niece from some imaginary "hit-and-run" guy, while in Giovanni we have the very hot rod himself, bending fenders like there's no tomorrow (which, in his case, happens to be the case). Both operas are of Italy in one way or another: View with its hard-scrabble look at Brooklyn's established and incoming Italian immigrants, and Giovanni with its fanciful take on the Old Country itself. Perhaps most interestingly, the protagonist in each opera allows his passions to drive him quite relentlessly towards his own personal hell.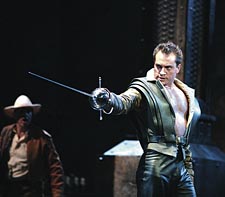 Swordplay: Schrott as Giovanni
And yet the contrasts are just as notable. Despite a few nods to modernity in libretto and scenery and a rather fuel-injected sexuality, Giovanni remains a classic late 18th century masterpiece: flowing, melodic, emotionally predictable and linear even as it engages the soul with its beauty. Though we may be intrigued by director John Pascoe's contemplation of Giovanni's mix of charm and evil, Mozart-lovers will find no surprises.
Not that this production is a bore. Erwin Schrott, rapidly making this role his star turn, commands the stage and everything on it as if the world is not enough. He also, by operatic standards, spends a spectacularly large amount of time with his shirt off. Luckily, he has the voice to carry off both the display and the swagger. His is an earthy, chocolately-rich bass with enough power and flexibility to convey much mood and intensity. Still, Schrott would do well to keep his energy on tighter rein at times. There is something ineffective about the way he paws the unrequited Donna Elvira every time she appears, leaving us no space to consider what he may really feel about her. And Schrott is a chronic growler — one or two would have been enough.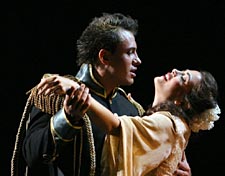 Ildar Abdrazakov as Giovanni's side-kick, Leporello, provides some strong dramatic continuity to Giovanni's descent, conveying the perfect mix of humor and frustration. Among the women Giovanni scorns, soprano Erin Wall as Donna Anna delivers her Mozart with strong, sweet angst, giving this not particularly fleshy (if you will) character as much pathos as possible. Anja Kampe, as Giovanni's nemesis Elvira, uses her powerful yet velvety smooth soprano to interesting effect. She is not typical but she is good. Tenor Shawn Mathey as Donna Anna's ever-patient suitor Ottavio is technically fine but seems slightly ill at ease with the demands of the role.
A modern audience must wonder on Giovanni: Is this just an old-fashioned tale of a fascinating rogue and his comeuppance or is there metaphor to be found here? Pascoe must have grappled with this question, but what ideas he has do not surface with sufficient clarity. Mozart in all his glory trumps all — along with Giovanni's biceps.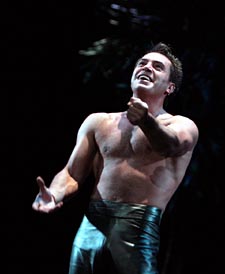 And then just over 200 hundred years later we have View, which premiered in 1999. Based on Arthur Miller's play by the same name, this production was born of contemporary theater and, in a most positive way, stays a close relative (Miller even helped with the libretto, among other aspects). This is a thoroughly modern musical piece, a very different vehicle from Giovanni. And though this production is very accessible — vibrant, full of melodic narrative, touched by modern musical references — some may find it harder to love. Even as composer Balcom does not adhere to the traditions of the atonal, there is that special emphasis on sound that requires an "open-minded" ear. Put another way, it is as if he asks, for example, what does anger sound like? Some may find the result aurally strident and even jarring. And yet, with some patience, this music is revealed as exceedingly poetic. When coupled with the frank, down-to-earth drama on the stage, the entirety reaches a most potent form.
And this cast, many of whom played the premiere, makes for a powerful musical and theatrical ensemble. Baritone Kim Josephson as Eddie Carbone comes so alive one feels he could jump the stage and tear off out of the Opera House. He positively channels the tortured negativity of this man. His ability to emote through song is brilliant. His unraveling, as the un-wholesome need for his niece takes over, is a truly memorable blending of music and theater, with some superb choreography to boot. Soprano Catherine Malfitano, so wonderful in last season's Jenufa, plays Carbone's tough but broken-hearted wife Beatrice with a compelling mix of strength and vulnerability. Her voice is a striking, mournful instrument amid the roiling emotions of the piece. Tenor Gregory Turay as Rodolfo, the new immigrant who comes to live with the Carbones and unwittingly becomes Eddies' rival, sings with sweet haunting delicacy, especially in the aria, "New York Lights." Christine Brandes as Catherine is sadly less convincing as the young niece ready to find love. She carries herself too maturely for the role, both physically and musically. Her Brooklyn accent is uneven and listening for it becomes a distraction.
DON GIOVANNI






A VIEW FROM THE BRIDGE





In Rep
To Nov. 17
Kennedy Center
Opera House
202-295-2400
www.dc-opera.org
Overall, everything about this production is beautifully conceived and emotionally rich from the sets and projected back-shots to the tightly paced and bound drama. Kudos to director Frank Galati.
And so with View and Giovanni, two stories of men controlled to the point of ruin by their passions and yet two very different musical and theatrical productions. Both stellar.