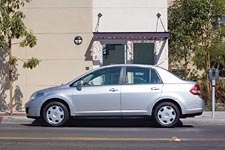 2008 Nissan Versa
From seat warmers to intermittent wipers to keyless entry, the luxuries of the automotive past inexorably become the necessities of the present. Just take a look at the standard and optional equipment for Nissan's 2008 Versa, the company's latest entry into the crowded econo market.
Essentially unchanged since its 2007 debut, the Versa sports such once-high-end standard features as keyless entry and automatic power windows. And an extra $650 adds in push button ignition and Bluetooth phone connectivity.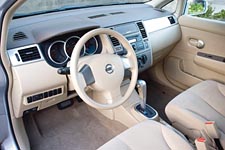 Not a bad deal for a car aimed at first time buyers and budget-conscious drivers.
None of that makes the Versa a luxury car by any stretch, although Nissan did well to create a roomy interior and ample trunk space for the sedan (the Versa is also available in a hatchback model). Given that interiors of sub-$16,000 cars tend to have obvious signs of cost cutting, the Versa is a pleasant and fairly comfortable surprise.
2008 Nissan Versa
Base MSRP: $15,550 ($17,290 as tested)
MPG city/highway (est.): 27/33
Highlights: A high-selection of standard and optional features, including
Bluetooth connectivity.
Lowlights: Floaty steering and handling highlight its econo roots.
The exterior doesn't have the flair of some of the youth-oriented economy models, such as Toyota's Scion brand or Honda's Fit. It incorporates a number of Nissan's company-wide styling cues, but to no particular success. Neither beauty nor beast, the Versa occupies a somewhat too safe middle ground.
While some of the Versa's features are exemplars of luxury creep, actually driving it will remind you of its budget status. The steering and handling feel floaty, leaving the driver without any connection to the road. It's not a nimble little city car set to flit through traffic.
Nissan's continuously variable transmission — a system that eliminates herky-jerky gear shifts — is a nice addition, however. And the Versa's stingy gas consumption is something to smile about in days of

Tough Love
Finishing up the year with a handful of models, I recently took the 2007 BMX X5 on an extended trip to Kentucky. With a refreshed design, BMW's SUV certainly looks sharp both inside and out. But as with all of the German automaker's models, the X5 is a tough one to love.
They drive like a dream — pretty much every BMW I've driven, I've enjoyed purely from the experience of holding the steering wheel, pressing the accelerator and making it go. It's just all the other stuff that gets in the way.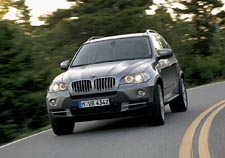 BMW X5
The infamous iDrive — BMW's proprietary interface for controlling everything from air conditioning to navigation system — is as counter-intuitive and frustrating as ever, sitting on the center console like a clumsy doorknob. Sometimes you twist the dial to get what you want, other times you jog it in one of four directions, and other times you press it. Perhaps it's because I'm an Apple Kool-Aid Drinker and therefore used to elegant design solutions for control interfaces, but I expect an interface to have some sort of logical consistency. With the iDrive, I'm constantly dialing when I should be jogging, or vice versa, and having to clumsily navigate backwards to escape my error.
That off-putting, figure-it-out aesthetic permeates the X5. Even the turn signals are nontraditional — a slight push gives you a signal for switching lanes, but slightly more pressure locks it into a full-turn mode, which requires you to apply pressure in the opposite direction to turn it off but that generally fires up the turn signal in the other direction, and suddenly all the traffic behind you is wondering where the hell you're actually going.
"Once I got the hang of it" pretty much sums up the BMW driving experience. The car expects you to do a lot of work to gain proficiency. Maybe it's not such a bad thing — my father thinks cars are way too easy to drive these days, which enables such buffoonish behavior as applying makeup, reading newspapers and texting friends while nominally "driving." He may have a point. But BMW sets the hurdle awfully high, even if the reward is a remarkably entertaining drive.