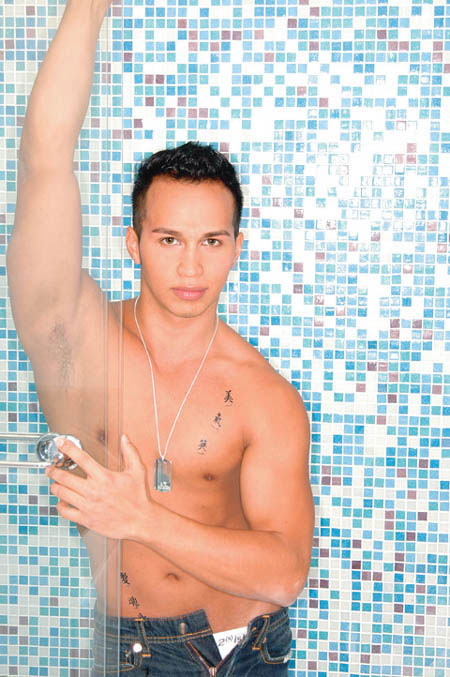 Jhimy Diaz
Jhimy Diaz was 22 when he decided to leave his native Peru for "a new life" in the United States.
And while he says he is "100 percent proud to be Latino and gay," Diaz, now 27, says, "I wanted to be free, and in Peru it's not easy walking with another man down the street. Peru is dangerous. The lifestyle is completely different from here."
Browsing the Internet, Diaz discovered Caregivers Home Health Services, a home health agency in Falls Church. The agency was recruiting qualified nurses fluent in French and other foreign languages. Diaz, who in addition to his native tongue had mastered English and French — and dabbled with Portuguese and Italian — was an ideal candidate.
After applying for the position, the wheels were in motion. But by the time Diaz was set to board a plane for the U.S., he encountered just one problem — his parents, six older brothers and two older sisters had no idea Diaz was leaving Peru for good in just four days.
Though well aware of being gay at the age of 6, Diaz says he never discussed it with his family, instead adopting a "Don't Ask, Don't Tell" policy when it came to his sexuality.
But keeping his departure plans a secret would be impossible, and the best way to break the news to everyone, Diaz thought, was over a home-cooked meal. With everyone laughing, eating and drinking, he broke the news.
It was an emotional scene, he recalls, with his mother in tears and his father arguing that everything he needed was in Peru. But Diaz was adamant in his plan.
"I have a lot of dreams, and I have to do it by myself," he told his father.
That was more than five years ago. Since then, Diaz has continued as a private nurse. He traces this aspiration to his father, who in Peru, worked as a military nurse.
"We lived in a nice area, but a couple of blocks from our house was a bad area. Most people knew my father was in the military and some neighbors would come to our place where he would help them for free," Diaz says. "Sometimes when I would help my father, I would say, 'One day I want to do this,' because I love to help people."
When he's not helping others, Diaz can be found four days a week at what he describes as his "second home" — Gold's Gym in Ballston.
"I work out for two hours and a half because I talk too much at the gym," Diaz laughs.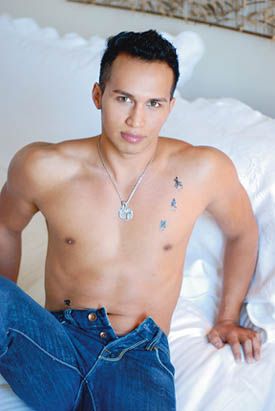 But there was a time when Diaz avoided exercise, while growing up in Peru. He would often come up with excuses to skip physical education. When he arrived in the U.S., Diaz weighed about 115 pounds.
"My best friends used to go to the gym, so when I came here, I saw that and I tried to follow them."
With the help of a personal trainer and nutritionist, he's built up to about 155 pounds.
"I feel more comfortable," he says. "I feel attractive."
Unlike his strict gym schedule, Diaz's diet is a little more laid back. As long as he drinks a "fresh" fruit drink every morning, which he makes with bananas, strawberries and papaya, the rest of the day is free of diet restrictions.
And while looking like a model can't hurt, when searching for love, Diaz says looks aren't everything.
"It's not just about the body, it's also about your energy," he explains. "People who have a nice body, if you have no personality, nobody wants to talk to you — it's very empty inside."
If anyone understands "Work hard, play hard," it's Diaz. He likes to hit various clubs, including the city's latest addition, Town, and other destinations all over the globe, including in Miami, Puerto Rico and other hot spots.
That's because Diaz, a resident of Arlington, loves to dance. He might not have attended a single gay club while living in Peru, but he didn't waste any time in this hemisphere.
While Diaz says he thinks he's going to meet the love of his life any day now, he's been single for nearly a decade and is in no rush to get "serious" just yet.
"I had a boyfriend when I was 16 years old. After that I never had a serious relationship in my life, and I'm 27. I have lovers and dates, but never boyfriends."
That doesn't necessarily mean he's not a family man.
Like any parent shopping for the little ones around the holiday season, Diaz's credit cards are nearly maxed out as he's been shopping around the clock for his "seven kids" back home.
"I have a lot of nieces in my country," Diaz says. "They call me 'Daddy Jhimy,' and ask me to bring everything for Christmas. So why would I want kids?"
Prize Package – First Runner Up
$250 Cash · 18th & U Duplex Diner — $75 Dinner Certificate · Apex — $25 Bar Tab · BeBar — $100 Gift Card · Cherry — 2 Tickets to Saturday's Main Event · Club Fuego — $25 Bar Tab · Cobalt — $50 Bar Tab, 5 complimentary entry passes and a selection of continuous mix CDs from resident DJs Jason Royce and Darryl Strickland · D.C. Eagle — Black Eagle Sweatshirt · Fireplace – $25 Bar Tab · Freddie's Beach Bar — Sunday Champagne Brunch for 2 · Halo — $75 Bar Tab · JR.'s — $50 Bar Tab · Landmark Cinemas — 10 VIP Passes · Leather Rack — $50 Gift Certificate · Mid-Atlantic Leather Weekend 2008 — 2 Tickets to Reaction Dance · Nellie's Sports Bar — $25 Bar Tab · Omega — $25 Bar Tab · Reel Affirmations XVII — 2 Lincoln Theatre Passes to next October's GLBT Film Festival · Signature Theatre — 2 Tickets to any of the shows in the Kander-Ebb festival · SKIN: Cosmetic Dermatology of Georgetown — $50 of professional skin care products · Town — $50 Bar Tab · Woolly Mammoth Theatre Company — 2 Tickets to Measure for Pleasure ·
Please Note: Some restrictions may apply to certain prizes.
Our thanks to all those businesses and performing-arts venues who graciously provided prizes to this year's Coverboy winners.